Poetry Challenge a Resounding Success
Last fall, members of the NEHS Advisory Council crafted a Poetry Challenge writing contest, encouraging members and Advisors to submit poems centered on monthly themes. We have been surprised, actually thrilled, with the responses. Each month, upwards of 40-45 poets have submitted wonderfully written pieces that reflect the best traits of writing and creativity. Each month, the best of the poems were selected for publication; in the past few weeks, all members of the Advisory Council have re-read all of the monthly winners, seeking to select the best examples of student and Advisor submissions. We now proudly announce the Poets of the Year and invite you to learn more about them in the brief bio submissions below, then spend some time savoring the poems that have been selected. Each of the poets being recognized is receiving, in addition to having the poems published, a $25 gift card. When school resumes in a few months, regardless of its configuration, look for a new writing challenge to be announced!
Congratulations to all of these fine writers.
Student Poets of the Year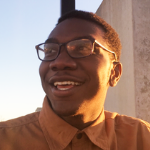 Malachi Levy
March Poetry Challenge Winner: Coming of Age
Alpha Beta Gamma Chapter, Peer Tutoring Center Coordinator
Northwood High School, Pittsboro, NC
Malachi Levy is an 11th grader at Northwood High School, and a 2nd year member of his school's National English Honor Society chapter Alpha Beta Gamma. Malachi serves as officer for his school's NEHS program, being the Peer Tutoring Center Coordinator. Malachi began writing rap songs in the 8th grade after telling his friends that he could "easily" become a famous rapper, and transitioned to poetry writing after being exposed to it by his 9th grade English teacher. Malachi cites his inspiration of writing from his Mother, who is a writer, and his brother, a poet and hip-hop musical artist. Along with his family, Malachi's favorite poets are Saul Williams, Jahman Hill, Adam Falkner, and Common.
Read: "The Growing Black Boy's Interpretation of the Alphabet"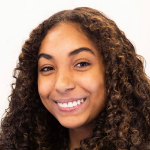 Elyse Thomas
April Poetry Challenge Winner: A Place to Belong
Quintessential Quibblers Chapter
School for Advanced Studies—Wolfson, Miami, FL
Elyse Thomas is a junior at the School for Advanced Studies—Wolfson. Her work has received several National Gold Medals in the Scholastic Art & Writing Awards. Elyse has been published in Bridge: The Bluffton University Literary Journal, Polyphony Lit, Gyroscope Review, and more. Elyse uses poetry to root her feelings into a tangible source of her own consciousness. She explores her identity as a woman of color via her craft. Her favorite poet is Ocean Vuong, and she is often inspired by Vuong's "Night Sky with Exit Wounds." Outside of writing, Elyse enjoys stargazing and listening to Jakob Ogawa.
Read: "star-spangled black girl"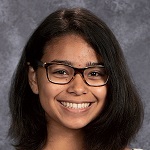 Yuriko Chavez
November Poetry Challenge Winner: Courage and Heroism
Beyond the Book Chapter, President
Edgewood High School, West Covina, CA
Yuriko Chavez is the President of the Beyond the Book Chapter of NEHS at Edgewood High School. She is also the editor-in-chief of the school yearbook and has performed her spoken word poetry as part of EP3C, Edgewood's performance group that writes and performs an original play each year. Chavez is a senior and is an IB full diploma candidate who shares her love of poetry and literature both in class and beyond class.
Read: "Shield of Power"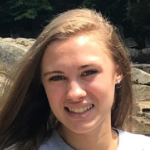 Nicole Golemboski
March Poetry Challenge Winner: Coming of Age
Linganore High School Chapter
Linganore High School, Frederick, MD
Nikki Golemboski is a junior at Linganore High School in Frederick, MD. This is her first year in the National English Honor Society and she enjoys reading and writing, with much of her inspiration to do so stemming from her motivating teachers and her mother, who is a writer. She enjoys writing and reading poetry because it offers a different way to think and express ideas. When she is not in school she enjoys skiing, playing club volleyball, and doing other outdoor activities like hiking and kayaking.
Read: "Then and Now"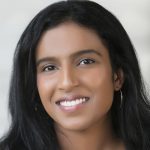 Shilpa Gunuganti
February Poetry Challenge Winner: Dreamer
Charles Dickens Chapter
Saint Mary's Hall, San Antonio, TX
Shilpa Gunuganti is a senior at Saint Mary's Hall in San Antonio, TX. She is an active member of her school's NEHS chapter, often volunteering at local literacy events and helping to organize chapter initiatives. Shilpa's favorite poet is Canadian writer, Margaret Atwood, because Atwood's poetry compels readers to identify constraints in their lives and pursue distinct identities of their own. Shilpa believes this idea of self-determination is an important one, since it can be used as a means to empower traditionally marginalized groups. In her poetry, Shilpa seeks to highlight the unifying experiences of the Indian diaspora, through a truthful perspective on the struggles of her own family, as they navigated a new life in the United States.
Read: "Mother"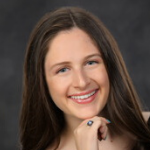 Lauren Frison
April Poetry Challenge Winner: A Place to Belong
Innisfree Chapter
Saint Thomas Aquinas High School, Fort Lauderdale, FL
Lauren Frison is a senior at Saint Thomas Aquinas High School in Fort Lauderdale, FL. She would like to major in English and Political Science in college. Lauren is an active member of the school's NEHS chapter and has participated in fundraising and service projects as well as tutoring for the society. She has enjoyed writing poetry for many years because it helps her to understand and communicate feelings and thoughts. Lauren finds that the best way to slow the fast moving world and truly process struggles, as well as triumphs, is to write; poetry can give you insights into yourself that you never knew existed but always wanted to understand.
Read: "An Ode to Life"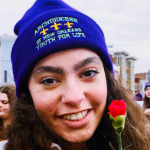 Madison Ferguson
March Poetry Challenge Winner: Coming of Age
Veritas Chapter
St. Mary's Dominican High School, New Orleans, LA
Madison Ferguson is a sixteen-year-old who loves to read and write. When she is not nose-deep in a book, she can be found watching Netflix or jamming out to music with friends. She aspires to travel the world and one day hopes to study abroad. For now, she lives in New Orleans with her parents, brother, and her puppy.
Read: "The Room"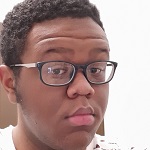 Aaron Alexander
January Poetry Challenge Winner: Opportunities
Skull and Jones Chapter
Jones College Prep, Chicago, IL
Aaron Alexander is an 11th grade junior currently hailing from the Skull and Jones Chapter of the National English Honor Society at Jones College Prep in Chicago, IL. Ever since his childhood, poetry and literary work has always been a personal passion of his, having written poems and excelling in English and writing courses ever since his early childhood. He is heavily inspired by the works of authors during the Harlem Renaissance, especially those of Langston Hughes and Countee Cullen.
The initial stages of the writing process have always been the hardest part for Alexander to go through, but once this hurdle is overcome he uses very colorful and vibrant language in his literary catalogue.
Read: "prophetic"
Chapter Advisor Poets of the Year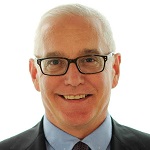 John McKeown
December Poetry Challenge Winner: Friendship
April Poetry Challenge Winner: A Place to Belong
POE Society Chapter
Üsküdar American Academy, Üsküdar, Turkey
John McKeown, Canadian, has worked in education for 25+ years in Bahrain, Angola, Qatar, UK, UAE and Canada, as a teacher, researcher and administrator. He currently serves as Deputy Head of English at Uskudar American Academy, Istanbul, and as POE Chapter Advisor. Previously, he was Founding Director of the School of Foreign Languages, MEF University, Istanbul, where he and his team designed and implemented the first flipped learning environment for an English foundation preparatory year program. While he loves poetry and chips away at some doggerel, this time he managed to finish an entire piece!
Read: "Remembrance of Coffees Past"; "Longing together"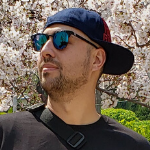 Philip Metz
March Poetry Challenge Winner: Coming of Age
Bishop Thomas J. Grady Chapter
Bishop Moore Catholic, Orlando, FL
Philip "Pj" Metz is an English teacher at Bishop Moore Catholic in Orlando, FL, and is the Adviser for the Bishop Thomas J. Grady Chapter of NEHS. He has taught English for ten years, including two years teaching ESOL in Busan, South Korea. He is a published poet and finds joy in encouraging his students to experience and create new works in his class every day. Pj's favorite poets include Shay Alexi, Terrance Hayes, and Emily Dickinson.
Read: "Just an Earth Bound Misfit"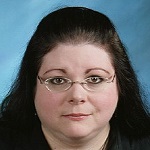 Audrey Nagel-Schoonmaker
January Poetry Challenge Winner: Opportunities
February Poetry Challenge Winner: Dreamer
March Poetry Challenge Winner: Coming of Age
Cardinal Letter Society Chapter
Antioch Community High School, Antioch, IL
Audrey Nagel-Schoonmaker is the Lead Advisor of the Cardinal Letter Society, Antioch Community High School's (ACHS) chapter of NEHS. She has been teaching for 25 years, 21 at ACHS, and is recently National Board certified. She is proudest of creating both the curriculum for her school's Creative Writing course, and initiating/creating the Creative Writing Advanced course after seeing a desire in her students for a place to further their love of writing—and to receive credit for it. Audrey loves dark, lyrical poetry such as Edgar Allen Poe's, and her favorite thing about writing poetry is the language play: finding just the right word, just the right rhythm, to express her ideas. She writes alongside her students in Creative Writing classes because she wants to foster a writers' community for all who enjoy the art form.
Read: "The Delineation of Disappointment"; "Contemplating Honey"; "Hey, Snowflake"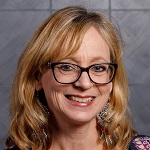 Natalie Rebetsky
February Poetry Challenge Winner: Dreamer
April Poetry Challenge Winner: A Place to Belong
Linganore High School Chapter
Linganore High School, Frederick, MD
Natalie Rebetsky is the Advisor of the Linganore NEHS chapter and the award-winning school newspaper, Lancer Media. In these uncertain times, she turns to poetry and novels, including the works of Naomi Shihab Nye and Ann Patchett. She is adapting to virtual teaching, and, in her spare time, plays Uno and Battleship and BINGO on Zoom with her grandson.
Read: "Dreamer"; "On Belonging"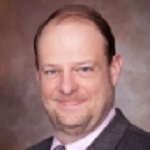 Scott Richburg
October Poetry Challenge Winner: Beginnings and Endings
March Poetry Challenge Winner: Coming of Age
April Poetry Challenge Winner: A Place to Belong
Robin Goodfellow Chapter
The Montgomery Academy, Montgomery, AL
Scott Richburg is the Advisor of the Robin Goodfellow Chapter of The National English Honor Society at The Montgomery Academy in Montgomery, AL. He is a lifelong writer and finds the inspiration for his work in the shallows of a quiet, small life where joy and longing and confusion and hope break out in fairly equal measure. Phillip Larkin, Wallace Stevens, Stevie Smith, and Robert Frost are among his poetic idols. Richburg happily shares his little life with his wife, their eleven-year-old son, and their two dogs, Abby and Lulu.
Read: "For My Mother's Birthday"; "Metaphor Morning"; "Which Way to Innisfree"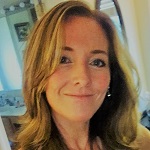 Diana Ricker
January Poetry Challenge Winner: Opportunities
Harper Lee Chapter
Gerstell Academy, Finksurg, MD
Diana Ricker is the English Department Chairperson and 10th grade English teacher at Gerstell Academy, a private school in Finksurg, MD. Gerstell Academy was established in 1996 and the NEHS Harper Lee Chapter was formed in 2016, the year she passed. The students wanted to name the chapter after Harper Lee in honor of her leadership and classic novel, To Kill A Mockingbird. We value her words and her legacy and write to inspire greatness in others. In this month's poem, Aurora, the message of hope is one to hold onto, and like Scout in To Kill a Mockingbird, we cherish the innocence of children who always see the world through the lens of hope, love, and optimism.
Read: "Aurora"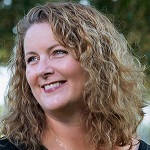 Andrea Rinard
November Poetry Challenge Winner: Courage and Heroism
April Poetry Challenge Winner: A Place to Belong
Phoenix Chapter
Brooks DeBartolo Collegiate High School, Tampa, FL
Andrea Rinard teaches English at Brooks DeBartolo High School in Tampa, FL. During the pandemic, she's been working on teaching virtually, playing Mario Party, and reading a lot. There may also be way too much candy involved in those activities. Also, while sheltering in place, she has been writing, finding solace in words during this epoch in our human history.
Read: "Thursday"; "Our Orbit"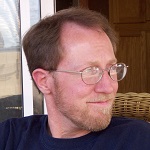 J. Scott Shields
October Poetry Challenge Winner: Beginnings and Endings
Black Hawks Chapter
Williams Field High School, Gilbert, AZ
Long ago, J. Scott Shields left the arctic Midwest for the Arizona desert where he has taught English for the past twenty-three years. Music, literature, and writing are his passions, and he strives to share his love of the written word each day with his 12th grade English students and NEHS Black Hawks Chapter members at Williams Field High School in Gilbert, AZ. Scott believes that inspiration for writing may be found everywhere, if people take the time to look and listen. Scott's articles, fiction, and poetry have appeared in English Journal, Mused Literary Review,Canyon Echo, Serials and Short Stories,101 Words, and Treoir magazine (a publication of Comhaltas, an international organization that promotes traditional Irish music and culture).
Read: "Alphas and Omegas"