Door of Opportunity
Ryana Aboul Hosn
A door opened
Waiting for me to take a step in
I had two options:
Enter the door of opportunity
Or fall into the dark hole of regret
Be joyous or be envious of all who became who they wanted to be
I was just a small girl
Hoping to be something
And able to say I have succeeded
I knew I could be more than what others have made me to be
I wanted to be up there and give the speech
I made the best decision I have ever made
I entered to door
Stepping into a world full of promising light
Feeling the warmth surround me
In a world where clouds were beneath my feet
And the sun was always above my head
The way I ended?
Definitely not feeling envy
My name was said through the intercom followed by "winner"
Here I stand
Proud of where I am
Giving the speech I have always dreamed of
I took the path I knew was one of a kind
The kind that is seen only once in a lifetime
This opportunity allowed me to become
The person I have always wanted to be
One who never constantly thinks of what they could have been
Everyone else is trapped in a hole of regret
Always feeling cold and entangled by thoughts of what they lost
Angry they did not the opportunity
That comes only once in an eternity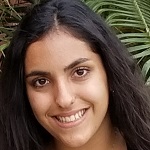 Ryana Aboul Hosn is a sophomore at Edgewood High School. She joined the National English Honor Society this year. This poem was inspired by a moment in which she auditioned to deliver a speech in eighth grade and knew she will regret it deeply if she did not try. An idea that inspires her writing is the notion that we should not miss the opportunities in our life because regret is a feeling that never diminishes. She has learned to take any opportunity that comes her way because she will think about the missed opportunity for a long time if she did not take it. She cannot wait to see what is in store for her and keep learning about the ways of life.
---
prophetic
Aaron Alexander
when i was born, my family was just another example
of the tragic black experience in america.
Untapped dreams and unlimited potential
brutally whipped out of existence by booze, drugs, and
other afflictions White America coincidentally decided to
Turn the other cheek to.
not to be prophetic, but my birth served as
yet another chance for the alexander family name
poisoned by generations of
alcoholics, suicide victims, and centuries of pain
to be Redeemed, washed away from its proverbial
sins and allowed to spread Free as all of
God's children ought to be.
not to be prophetic, but it seemed as if i was
Immune from the demons of my ancestors as i
Cruised through school, conquering english
With ease and breezing through the basics of arithmetic.
when i first got the news that i was accepted into Jones,
my Father burst into tears and welcomed me
with such a Warm embrace that almost shook me to my core.
"you'll be the Family Messiah, the higher power to lead us out of
Poverty and into the comfortable confines of middle-class
America."
I still think a piece of my heart truly leaped out of my
chest on that very day.
The World is Yours by Nas rang throughout my brain during
the few days before 8th grade graduation, middle-school
Salutations, and the emergence of a new phase of my life . . .
. . . as i look back at my freshman naivete, it almost hurts.
not to be prophetic, but i feel empty and isolated
in a Cold world filled with Uncaring and Belligerent people
not to be prophetic, but i feel my grasp on reality
Slip as i start to doubt my intelligence and
start to question whether "college is the right choice for me".
not to be prophetic, but i am a dead man walking
Languishing in Fear as i feel the weight of 200 years of
Underachievement scratch and chafe at my raw, brittle
Shoulders
not to be prophetic, but it seems history will repeat itself.
my past achievements fading away into the abyss
as i remain stuck in the Trap of Procrastination and Self-Pity . . .
. . . yet not to be prophetic, these are minor challenges compared
to my past demons. bottles and pipes and needles strewn across
the Floor as i walk through the valley of temptation and
Peer pressure without even a slither of fear.
Not to be prophetic, but I've made it too far in my journey
To stop here. Whatever and whoever's out there, they've
Clearly got a plan for me and I plan on not wasting it.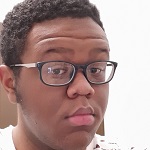 Aaron Alexander is an 11th grade junior currently hailing from the Skull and Jones Chapter of the National English Honor Society at Jones College Prep in Chicago, IL. Ever since his childhood, poetry and literary work has always been a personal passion of his, having written poems and excelling in English and writing courses ever since his early childhood. He is heavily inspired by the works of authors during the Harlem Renaissance, especially those of Langston Hughes and Countee Cullen.
The initial stages of the writing process have always been the hardest part for Alexander to go through, but once this hurdle is overcome he uses very colorful and vibrant language in his literary catalogue.
---
You/They
Elizabeth Anderson
You had the opportunity to change,
And you didn't.
That's what our children will say
As they plead for the earth to give them mercy
For crimes they did not commit.
You had the opportunity to change,
And you didn't.
They will beat on their chests
And howl the floods to stop,
For the savage fires to die.
You had the opportunity to change,
And you didn't.
They will foam at the mouth with rage
And weep with all-encompassing fear,
Wondering why we never stopped it.
You had the opportunity to change,
And you didn't.
The blood of their voices cut short
Will trickle down the riverbeds
Dry as scattered ash.
You had the opportunity to change,
And you didn't.
They will watch the water rise
And drown in its dark embrace
As it fills the land.
You had the opportunity to change,
And you didn't.
Their scars will be their burden to bear
With no one past
And no one future to see them.
You had the opportunity to change,
And you didn't.
They will never forgive us.
They will never forgive us.
They will never forgive us.
We had the opportunity to change,
And we didn't.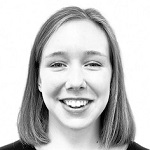 Elizabeth Anderson (@_elizanderson_) is a member of the Class of 2020 at Linganore High School and a fourth year journalist for Lancer Media. She edits the school creative magazine, The Watermark. She is an avid reader, writer, dancer, and musician. In her spare time, she likes playing ukulele and guitar and spending time with her lab/coonhound mix Oshie. She hopes to major in international relations.
---
The Pursuit of Dreams
Brenna Bruffey
Do not just wish for dreams to come true
Make them answer to your command
That is the action you must pursue
Do not subject the past to constant review
Focus on the future unplanned
Do not just wish for dreams to come true
Explore, discover something new
Take adventure by the hand
That is the action you must pursue
Do not dwell on what you cannot undo
Look forward and take a stand
Do not just wish for dreams to come true
Greet new people and develop a new world view
Dare to take a chance and to understand
That is the action you must pursue
Remember the experiences you've been through
Imagine a time just as grand
Do not just wish for dreams to come true
That is the action you must pursue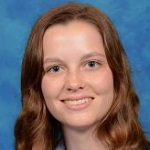 Brenna Bruffey is a junior at Gerstell Academy and is the Secretary of the Harper Lee Chapter of the National English Honor Society. She enjoys reading and spending time with friends and family. Her passion for literature and her family serve as inspiration for her poetry. One of her favorite poems is "After Winter" by Claude McKay.
---
Another Chance
Hunter Linton
I feel defeated.
I've given everything I can give
And yet it seems as though what I have
To give is not good enough.
My jaw is clenched; my chest feels heavy.
The weight of the world is on my shoulders.
And as it rests on my shoulders,
I feel myself sinking, thinking what I can give
The world in return for a reprieve of this burden so heavy.
I ask myself, "Isn't being me enough?
Why do we put such pressure on ourselves to have
Everything figured out? To be winners, leaving the rest defeated?"
The truth is, I suppose, I was already defeated
The minute I told myself to be perfect, to stand head and shoulders
Above everyone else; to hold such heavy
weighing views in my mind. Potential is what I have;
Effort is what I give;
And, with that, I must learn that my best is enough.
Failure should not be the time to say, "I think I've had enough,"
To throw in the towel, or to curl up my shoulders
And cry; it is an opportunity to learn from being defeated;
To be proud of the fight I had to give,
And to be grateful for the life lessons I now have.
I must not give up, even when the pressure feels heavy.
Because, in truth, the pressure that is most heavy
Is the one that I have put on myself—on my own shoulders.
No one else cares if I had a day where I was defeated.
They still see the same me and it is the same love they give
Regardless of whether I have "won" enough.
So, right now, I am once again giving it all I have.
I now remember that what I have
Inside of me is willpower—oh yes—I have enough.
Although I felt defeated
In a gloom cloud with rain so heavy,
A new mindset gives me another chance to posture up, to stretch my shoulders,
And to once again give it all I have to give.
I refuse to feel defeated any longer. I look inside of myself to once more give
Me the newfound strength to bear heavy weight on my shoulders
And see that I have a world in front of me, if I want it badly enough.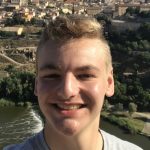 Hunter Linton is a junior at Gerstell Academy and serves as the Historian of the National English Honor Society's Harper Lee Chapter. He enjoys writing poetry as he believes it serves as a creative outlet for his thoughts and feelings. His favorite poems are the ones that allow readers to have a moment of self-reflection and change their perspective on life.
---
The Delineation of Disappointment
Audrey Nagel-Schoonmaker
Construction paper attacked
with blunt safety scissors,
handle and medium both pink:
the blush of unconditional devotion.
"Trace the half, like so,"
her ever-patient teacher—
dressed in denim jumper with
embroidered heart appliqués—
patiently explains as she draws
upon the board a half-heart,
"but don't cut the fold,
or it won't work out."
Her little brow knits with each snip,
careful to avoid the center as she
cuts along the comma shape,
just as she's told.
Paper lace, edges stiff with glue,
overlap the pointy tip, the rounded tops;
red marker bleeds sanguine over the center,
still damp—"Mommy" and "Daddy"
emblazoned in a childish scrawl.
Years later come
the high school desires for
roses and romance, for
hands held in hallways, for
proms and promises that fade
away soon after graduation day—
despite what she's told—
and after that,
the hopes that transient dormitory trysts
will lead to storied lasting love.
So far away seems
the yearning of the still-single
woman, alone in a one-room city loft,
clicking at computer keys,
uploading hope as she's
perusing advertised websites
desperately for the perfect mate.
There will be a day when
she pines for paper Valentines:
a day when she realizes too late
she's cut the fold.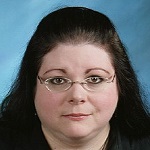 Audrey Nagel-Schoonmaker is the Lead Adviser of the Cardinal Letter Society, Antioch Community High School's chapter of NEHS. She has been teaching for 25 years, 21 at ACHS, and is recently National Board certified. She is proudest of creating both the curriculum for her school's Creative Writing course, and initiating/creating the Creative Writing Advanced course after seeing a desire in her students for a place to further their love of writing—and to receive credit for it. Audrey loves dark, lyrical poetry such as Edgar Allen Poe's, and her favorite thing about writing poetry is the language play: finding just the right word, just the right rhythm, to express her ideas. She writes alongside her students in Creative Writing classes because she wants to foster a writers' community for all who enjoy the art form.
---
Neighbors
Natalie Rebetsky
The two white 1970's-era Camaros
Never move.
The clothesline posts, metal crosses,
Lines limp and naked, sag in the yard.
A tree came down last summer—its sharp
Branches and trunk rot untouched.
The step ladder framed in the second window
From the left, waits for the
Unfinished chore—
Has waited for the ten years we have
Lived one house
Apart.
I could not say if one, two, or more
Live in the rancher identical to mine,
Its twin interior so familiar.
At night, the house is dark, save
For the sometimes
Bright work lights in the basement.
I want to creep across the weedy
Yard to peer in, imagining
Stranger Things Season 4,
A portal to the Upside Down.
I make up stories about the
Bodies they carry out in
A black delivery truck
Backed to the stairwell
Its headlights glaring,
Daring me to ask.
Once, when a bill was misdelivered,
I had the perfect excuse.
To knock.
To know.
To be a neighbor.
I've always had the opportunity
To march up their driveway and introduce myself.
"I am a neighbor."
"I am your neighbor."
"I am your neighbor."
Instead,
I open their cavernous mailbox.
Shove the letter inside.
And slam that door shut.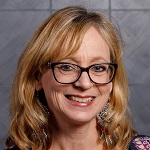 Natalie Rebetsky is Linganore High School's NEHS Advisor and loves to teach journalism, supervising Lancer Media, the high school's award-winning newspaper. Her 2020 challenge is to tally her reading minutes. When she is not in school, she tends her Little Free Library, listens to audiobooks, and cooks up all sorts of adventures for her grandson.
---
Aurora
Diana Ricker
The feeling of hope is hard to muster
when tragic events are ominously imminent—
Leaders will fail us,
People will hate and kill in the name of retribution,
Tsunamis continue to fill city streets,
crooked governments and weak economies will eventually topple,
while millions of Australian acres and animals are burning
And my world seems so filled with disaster that a fresh decade reeks like the stench of apocalypse.
Yet, I find myself losing sight of the news . . .
Free to accept the beauty of a newly fallen snow,
Reflect on the clear Morning light laying heavy on white branches
and pray for quenching rains to fall on the other side of the earth
And peace and love to roam
forever replacing wildfires.
The Aurora lights—new beginnings—
Light up a new uncertain bleak start to a dark decade
While the warmth of hope is immediately displayed
Amidst the constant barrage of bad news and impending danger
That most chose to wallow in and sink.
For me,
I choose to hold onto hope—
the "thing with feathers"
And let it flutter dreams of equality, safety in my soul,
Prosperously loving me,
Wrapping me in its wings
With each unfailing breath
It will never fail
Or let the darkness overcome.
* Reference to Emily Dickinson's poem "Hope is the Thing with Feathers" (314)
The Poems of Emily Dickinson Edited by R. W. Franklin. Harvard University Press, 1999.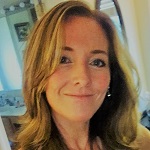 Diana Ricker is the English Department Chairperson and 10th grade English teacher at Gerstell Academy, a private school in Finksurg, MD. Gerstell Academy was established in 1996 and the NEHS Harper Lee Chapter was formed in 2016, the year she passed. The students wanted to name the chapter after Harper Lee in honor of her leadership and classic novel, To Kill A Mockingbird. We value her words and her legacy and write to inspire greatness in others. In this month's poem, Aurora, the message of hope is one to hold onto, and like Scout in To Kill a Mockingbird, we cherish the innocence of children who always see the world through the lens of hope, love, and optimism.
---
Turning the Page
Andrea Rinard
I can't see around the corners
Or know what's up ahead
As I keep walking, walking, walking
The road that I must tread.
I try to keep my eyes up
Rather than looking at the ground.
I should notice the things I'm passing
And everything all around.
But my eyes keep dropping down,
And my vision is narrow and small.
I'm too afraid of tripping
When I should worry about hitting a wall.
There's an invisible book in my mind,
But I'm just so scared to turn the page
And see what's next in my story
If I can't anticipate and gauge.
My fingers itch, my brain burns hot
As I step forward into what comes next
And trust that I'm ready to step into
The next chapter of my life's text.
I make the turn and look ahead
And learn I've been orbiting a tiny little Earth.
So, eyes up, I keep moving,
And feel my life story's true birth.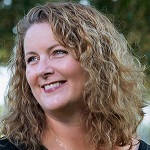 Andrea Rinard is the Co-Advisor of the Phoenix Chapter at Brooks DeBartolo Collegiate High School in Tampa, FL. This is Andrea's twenty-sixth year of teaching. She loves helping her students take advantage of every opportunity they can to learn and grow as readers, writers, and learners. She recently took advantage of an opportunity to embark on a graduate certificate program in creative writing at the University of South Florida, which has helped her teaching of writing to evolve and grow.