Warm Weather
Gracie Bott
How reliable is a quilt
With its warmth being love
The fabric woven of joy
And with loyalty sewn thereof
The coldest days are those
Which we most need the cover
We pull out our warmest quilt
And we wrap ourselves together
Two cold beings in a moment
But join together furthermore
To create a sort of warmth
Not in existence just before
It is here the beauty arises
When the two come together
A blanket and a person
In a sudden warm the other
Now, is this unlike a friendship?
Two people sooner alone
Come together in a moment
To bring a warmth before unknown
In each other they will find
A mysterious content
And out of seemingly thin air
A warmth then will present
A warmth not there before
From where we do not know
In which we cannot see
And without we wish not go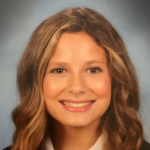 Gracie Bott is a sixteen-year-old student at St. Mary's Dominican High School. She is in eleventh grade and enjoys writing lyrical works in her free time. She has a journal where she writes regularly, mostly about her Faith. Whether it's a poem, song, or just a stream of consciousness, she writes to destress and to reflect. More frequently, she writes speeches and reflections for her position as Student Preacher. Gracie likes public speaking, and any role of leadership. She also enjoys proof-reading her friends' papers. When she gets older, she hopes to attend the US Naval Academy and become a medic and fighter pilot. She sees her future also keeping her writing as a hobby.
---
Friendship
Karla Fidalgo
I used to write you letters containing words of honey.
Sweet like the future we held in our palms,
Pure like our eyes who knew no harm.
Words were left unsaid along the way,
honey seeped through the distance and slithered away.
The empty spaces carved holes in our letters,
the future obscured like the sun in bad weather.
The growth of our seed is at a halt,
No longer sprouting but it's nobody's fault.
Planted years ago in our garden of youth,
our seed sits waiting for us to find our truth.
I trust the sun and the rain to keep it well-fed,
And the moon to sing when the sun has fled.
I am not in a rush to find you once more,
I trust the distance I no longer abhor.
Through the plants in the garden of our juvenescence,
we will reunite someday and speak of the lessons;
The lessons we learned through the stairway of life,
in search for the honey that fills us with spice.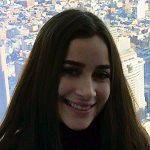 Karla Fidalgo is an eleventh grade student at Coral Reef Senior High School. Inspiration for the piece stemmed from the remains of a faded friendship, where one faces the reality that one has outgrown a certain relationship. However, in her poem, though this special friend may not be in her life at a specific moment, their history will always tie them together. In Fidalgo's eyes, this is the beauty of friendship.
---
The Bonnie to My Clyde
Kelsey Frishman
This one is for her,
the beam of brilliant light in my life.
She has many times now been my cure
to each problem, to each strife.
Countless companions came and went,
yet standing next to me is where she remains.
Even at times when our bond seems slightly bent,
I know she'll always be there, for each bend breeds coven chains
Both of us have changed immensely over the years,
yet her strength, her compassion has not.
Her heart has the ability to wipe away each of my fears,
even if she, too, has a lot.
A priceless gem tucked away within grey stone,
I could never find a greater treasure than she.
Not within the various vaults of the most ornate throne,
nor within the darkest depths of the vastest sea.
Her brilliant smile coaxes a hidden sun,
and her radiant laugh inspires blooming flowers.
I wouldn't trade my time with her for anyone,
and my best days are the ones where I talk to her for hours.
With a Great Eastern Queen she shares a name.
Though she does not rule over an immense land,
my queen has more spirit within her frame,
and she has plans that can only be described as grand.
These plans of hers, I can see them illuminated in her twinkling eyes,
and within them, she does one thing:
she flies,
soaring from within the cockpit a borrowed wing.
I hope I can see her up there one day,
to that place where she was flown by her dream.
We'll share a bowl of lettuce, then I'll be on my way,
as she breezes alongside me with a jet stream.
Whether close to each other or great distances away,
at the hip we'll always be tied.
and I'll always have a place in her driveway,
because I'll always be her ride.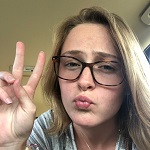 Kelsey Frishman is a proud member of the National English Honor Society at Coral Reef Senior High School. She is in eleventh grade, and only very recently began to write poetry, which she realized that she enjoys immensely. She wishes she could write more often, but is often consumed by immense amounts of school work. Her piece about friendship was inspired by one of her best friends, whom she met at Coral Reef, and took a very quick liking to. This poem took her longer than usual to write, because she wanted it to be absolutely perfect, just like her friendship.
---
Friendship Sestina
Delaney Rinard
Maybe you weren't actually my friend.
You and I never actually talked,
And it stopped when it became toxic.
Because a friend is someone I should trust,
But it turns out this friendship wasn't anything
Because we were only friends at school.
I only see you and talk to you at school,
Where it was easy to consider you a friend,
But I don't think I can tell you anything,
Because in the end the promises are all talk,
And this friendship was not built on trust.
Confidence gave way, and that's when it was toxic.
I know of others who aren't toxic,
And I meet with them outside of school.
I can tell them secrets in trust,
Because I think I need a new friend.
A new one who will go out of the way to talk,
And will be down to do anything.
Recently I haven't been able to do anything,
All our interactions turned into something toxic.
I tried to get you to talk,
But you don't have time for me at school.
So I have to say goodbye to you, "friend,"
And put my heart into someone I can trust.
Until then, I refuse to trust.
Because now I can't believe anything.
Maybe you lied about being a friend,
Because now this is radioactively toxic.
Now I refuse to be around you at school.
Even if it's just small talk.
Goodbye will be the last time we talk.
And in this ending I will be able to trust.
I only have a few months of seeing you at school,
And at graduation we won't say anything,
Because I will have someone who is not toxic.
Someone who is a true friend.
It's hard to know who your friends are at school,
It's an environment that can poison trust.
I'll still talk, but I won't say anything that could become toxic.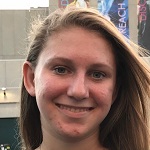 Delaney Rinard is a senior at Brooks DeBartolo Collegiate High School in Tampa, FL. She is the Secretary of the Phoenix Chapter of NEHS. She has had her share of false friendships while in high school but cherishes the close friends she's made who aren't "toxic." Delaney enjoys poetry because it is a compact and organized way to communicate the vast and messy emotions of life.
---
Remembrance of Coffees Past
John Mckeown
Black coffee eyes
This morning
Looking into coffee cups
Remembering our song
We sang
Moving sugar in my cup
Strong coffee, and milk
You begged for your mother
Looking to me in a cup
Attached, held dancing a jig
In shadows of fathers
To a tune others played, all in our cups
Coffee brewed, weak, steamy stirred,
Became a holy thing
Sacred but holding nothing
Poured forth, and sacrificed for
a bliss of ignorance, a spirit of regret.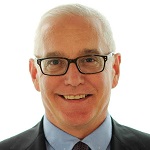 John McKeown, Canadian, has worked in education for 25+ years in Bahrain, Angola, Qatar, UK, UAE, and Canada, as a teacher, researcher, and administrator. He currently serves as Deputy Head of English at Uskudar American Academy, Istanbul, and as POE Chapter Advisor. Previously, he was Founding Director of the School of Foreign Languages, MEF University, Istanbul, where he and his team designed and implemented the first flipped learning environment for an English foundation preparatory year program. While he loves poetry and chips away at some doggerel, this time he managed to finish an entire piece!
---
Southbranch Skate Park
Natalie Rebetsky
November 2019
8:30 a.m. We are alone. Early morning light
Throws winter sharp shadows
Against slopes, rails, and the great grey bowl
Of the skateboard park.
My grandson rides slowly, rocking the board
In wide wobbling arcs, testing,
Imitating the slapping TikTok he has seen
On YouTube videos.
A black Chevy Silverado crunches into the gravel lot,
And three flanneled men spill out, grabbing
Backpacks and equipment.
We watch them warily, noting the cigarettes,
long hair, stocking caps, baggy pants.
(I am relieved to see them
Strapping on pads and helmets—Safety features.)
We study them with
Sideways glances, as they confidently
Roll down the steep edges, whip up the slopes
And slap the copings half in and half out of the pipe,
Hanging in the air,
Before sweeping down into the curve.
They know we are spellbound
And they show off, just a little.
My boy lines himself up with the waiting
Skaters, mimicking their sloping shoulders
And casual cool, don't care attitude.
One turns to him and says quietly,
"Put your feed wider, over the bolts, see?
Like this."
They mirror each other.
The man bends to touch my grandson's shoes,
Places them in position.
Gentle, like father and son.
Minutes later, my boy masters the drop,
For the first time remaining upright.
He stops
And expertly kicks the board into his
Waiting hand, shyly checking for approval.
Before I can answer,
a deeper voice calls.
"You got it. Good job."
How swiftly he has joined their tribe and
Left me alone on the outside.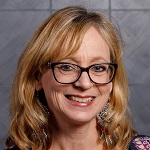 Natalie Rebetsky is Linganore High School's NEHS Advisor and loves to teach journalism, supervising Lancer Media, the high school's award-winning newspaper. When she is not at school, she spends the weekends with her husband and grandson. They play endless games of Uno, Monopoly, and Battleship, swim in the river, and visit the local skate park.
---
Friendship's Discernment
Andrea Rinard
The brightest star is not what I should seek.
Toward its own true north my soul should bend.
I'll see my way to truth though light is weak.
What's real takes no glamour or craftsman's tweak—
There is no need for false love's dividend.
The brightest star is not what I should seek
My voice can harmonize and rise to speak
With one whose love I won't need to defend—
I'll see my way to truth though light is weak.
While others look for those the most unique,
I'll find the one to whom my heart most tends.
The brightest star is not what I should seek.
A heart's partner is not found through technique
Or force but patience for whom fate will send.
I'll see my way to truth though light is weak
The world around may teem and press and shriek
Insisting I must have a trophy friend.
The brightest star is not what I should seek—
I'll see my way to truth though light is weak.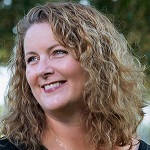 Andrea Rinard is the Co-Chapter Advisor of the Phoenix Chapter of NEHS at Brooks DeBartolo Collegiate High School in Tampa. She's been working with high schoolers for over twenty-five years and loves getting them to hear poetry as a voice from a new friend who sees the world in a new or perhaps familiar way.