Mother
Shilpa Gunuganti
The foreigner,
was what they called her,
never a title of respect or acknowledgement.
She is an MD intern,
But there is no prestige.
"Nurse, nurse," they call out to her.
Slipping on her white coat in the morning,
she yearns for a day without complication.
She cradles her belly bump
and dreams for a better future.
Her colleagues pointedly stare at her stomach,
as if they had never seen a child growing inside someone
in the course of their medical careers.
She is the last intern chosen by the attendings,
like an undersized youth before a dodgeball game,
because the men are certain
she cannot handle the pressure
of medicine.
She dreams of the opportunity
to prove herself.
She leaves work every day to a place
that she will never be able to call home,
empty, neglected
with never-worn saris
strewn about the floor
prized possessions stuffed in misshapen suitcases.
Everything personal is visible to the eye,
yet nothing there comforts her.
She yearns for the familiar,
but dreams for even better.
The American dream is yours to achieve,
they tell her.
Work hard enough,
finish medical school,
and you will succeed,
they say.
But the white picket fence,
paint peeling and posts crumbling,
taunts her to no end.
She pays her loans and sends extra money back home,
but loneliness and near destitution shroud her
She soon relinquishes her own dreams of grandeur.
No time or will left
to dream for herself,
She vows to give her baby more,
the opportunity to truly flourish, and perhaps
to dream.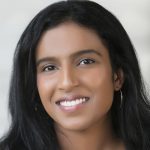 Shilpa Gunuganti is a senior at Saint Mary's Hall in San Antonio, TX. She is an active member of her school's NEHS chapter, often volunteering at local literacy events and helping to organize chapter initiatives. Shilpa's favorite poet is Canadian writer, Margaret Atwood, because Atwood's poetry compels readers to identify constraints in their lives and pursue distinct identities of their own. Shilpa believes this idea of self-determination is an important one, since it can be used as a means to empower traditionally marginalized groups. In her poetry, Shilpa seeks to highlight the unifying experiences of the Indian diaspora, through a truthful perspective on the struggles of her own family, as they navigated a new life in the United States.
---
Leap of Faith
Kate Maerten
Plummeting and watching the earth quickly move to meet my feet.
But then I'm awake.
I often find myself in these situations.
Ones of fake reality
and ones I wish were fake.
Reality is like that sometimes,
taking you on a wild journey you didn't ask to be on.
And yet, this reality we try to control is led on by dreams.
The exact things which cause our upmost fears,
we allow to control out desires.
Dreams can't always be met,
the artificial reality we conjure up in our minds can't always be obtained.
And yet, I get up every morning,
after falling yet again,
and push myself to reach out and accomplish a dream I hadn't yet begun.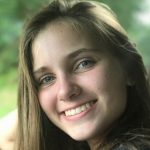 Kate Maerten is an active member in the Harper Lee Chapter at Gerstell Academy. She loves poetry and has participated in Poetry Out Loud since her freshman year. She's constantly inspired by the people around her and her own experiences. Her favorite poem is "Domestic Situation" by Earnest Hilbert, because she loves its storytelling qualities. Her favorite thing to do is dive into a poem and live through the narrator's perspective. Kate Maerten is an avid reader, and she hopes her poems will inspire others to love love poetry like she does.
---
Dreamers and Believers
Cassandra Gilbert
Dreamers dream
And believers believe,
But for I am both,
A dreamer who believes.
Believes in a day
When you will come back
And a time that you no longer
Leave me all alone.
Dreams about the time
And the memories we shared
All before your life was taken
I dream you are still there.
A presence is still existent
Even if it can not be seen
I know that you are here
Still watching over me.
I feel you most on my weakest days
You hold me so tight
It's as if you are still by me
Letting me know everything will be alright.
Dreamers dream
And believers believe
But for I am both,
A dreamer who believes.
I believe in our society
To make changes to what is wrong
Taking responsibility
For all bad that is done.
I dream of a day
Where drivers will not drink
And the intoxicated just might think
Before taking another life.
Dreamers dream
And believers believe
But for I am both,
A dreamer who believes.
I believe you went too soon
You are in a better place I know
I just wanted more time with you
I needed you to stay and not go.
I dream of a day
Where we meet again
It hurts my heart
That you are gone,
But I have to move on
And that is okay
As long as all I do
Is in loving memory of you.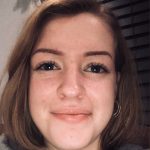 Cassandra Gilbert is an 11th-grade student at Caney Creek High School and a member of the Portmanteau Chapter of NEHS. Her "Dreamers and Believers" piece was inspired by the loss of her best friend Brianna when Cassandra was only 10 years old. Both were involved in a fatal car accident caused by a drunk driver. Cassandra only suffered minor leg trauma, but sadly Brianna (8 years old) passed away next to her due to the impact of the crash. By composing and submitting this piece, Cassandra wants to bring awareness to the effects of drunk driving and hopes her dreams of a world without it can someday become a reality.
---
Daydreaming With a Song Stuck in my Head
Sydney Raymond
Dredging up memories, restringing time,
the song's melodies pool in my pores, seep,
and distill recollection from rhyme.
Stunning and shocking immersion and I'm
on a long ride gliding across the surface of sleep,
dredging up memories, restringing time.
Crashed back to the pitch of evenings when wakefulness was a crime
tired eyes trip across city lights more vivid than the stars are deep
and distill recollection from rhyme.
But my breath on the window rewinds to choke and climb
back up my throat, cutting along the harmonies of harm I reap
dredging up memories, restringing time.
Window cracking in tempo with voice, drinking in the song's grime,
brine floods my eardrums. I've forgotten how to weep
and distill recollection from rhyme.
The melody drifts away, leaving me shattered to mime
a similar conclusion: I refuse to keep
dredging up memories, restringing time
and distilling recollection from rhyme.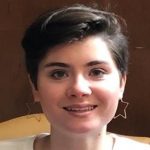 Sydney Raymond is a junior at St. Mary's Dominican High School and a member of the Veritas Chapter of the National English Honor Society. Her favorite poet is Billy Collins. Her poem starts off with the speaker daydreaming about her past after hearing a familiar song. Unfortunately, the story takes a darker turn.
---
A Dreamer's Flight
Andrea Rinard
Spread your feathered wings
and soar.
Leaving your nest
means you're ready not to fall
(and ready to rise again if you do).
You'll hear the past's breeze
as you sky by.
Rise and rise and rise!
You can fly to the sun
your wings aren't held with wax
but of dreams made from
threads loose and slipping,
and braided and knotted tight
and even what's after
(a star you've not yet seen).
Focus farther, further.
Keep your eyes beyond any horizon
to the heart's truth that beats within you
and whispers not of what you are
but of what you could be.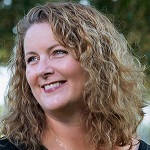 Andrea Rinard is the Co-Advisor of the Phoenix Chapter of NEHS at Brooks DeBartolo High School in Tampa, FL. Rinard has only recently been flying on the winds of her dream of being a published author, and her work has been featured in numerous literary magazines. She's currently working on a young adult manuscript.
---
Dreamer
Natalie Rebetsky
My well-trained body wakes at 5:30.
Remembering it's July, I roll away from the light,
Sinking into cool pillows and into
The dream.
In REM sleep, I see a classroom,
Its tangle of desks and chairs multiplying.
White board objectives speak the foreign
Language of numbers, and in my confused teacher
Hands, a worksheet appears, crowded with tiny figures,
Unsolvable puzzles of X and Y =
(It's always math.)
Before me in a silent mass stare too many teens—
Their faces closed, strangers to me
And to these equations that
Somehow lead to . . . answers?
What is the answer?
In my English teacher nightmares,
The pattern is the same:
Variations of shame and frustration—
My arms and legs, my tongue! paralyzed.
While I'm asleep, the brain roams wildly
Through the halls of potential failure.
These visitations are the price all
Teachers pay for dreams of perfection—
To ward off disaster, we plan, filling
Our waking hours collecting the Pinteresting
Imagery of poetry lessons, writing portfolios,
SAT vocabulary, and reading circle strategies,
(Where every role is clearly defined,
Guaranteeing multi-level comprehension.)
We gaze and glaze over filtered photos of
Bright yellow, blue, and green neon highlighters
Growing from cheerful contact paper patterned pots.
We sail the symbolic sunrise and star posters
into the Amazon carts:
"The dream begins
With a teacher who believes in you."
The busy hum of imagined learning
Our confident summer soundtrack.
The dream began with a teacher who believed in me,
Who told me I could be a writer.
I could write
A poem.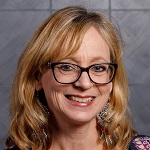 Natalie Rebetsky is Advisor of the Linganroe NEHS chapter and Lancer Media, the school's newspaper. She has been teaching high school and community college courses for more than 30 years. Teaching was always her "dream job," even though inspiring learning is more than a full-time job. She received some advice from a college admissions counselor that has always stuck with her. "Having a fall-back plan means you must be thinking you might fail. Don't give yourself that excuse." When she is not in school, she is thinking about school, reading, or listening to podcasts.
---
Contemplating Honey
Audrey Nagel-Schoonmaker
Contemplating honey
on a sunny Monday morning:
watching you while you
watch the world and wait
to use the phone.
Your pen balances, spinning
between delicate fingers—
you make me think of painters
or piano players, but then again
you've told me that
you'll always hate your hands.
The rays glance off your hair
and make a dappled yellow halo
of the dust of our existence,
kicked up by many sunbeams
and countless other players of this
watch-and-waiting game.
I think about your sweetness
and the excited tremor
of your voice—its tenor
filling up the room now—
and I think of how you told me
of the action of creation,
and how you slip inside it:
how it swallows you like sunshine
streaming through the window, through
the dust, through the ages.
I cannot see your eyes now,
but I can recall their wisdom
and their laughter and their passion—
these are windows to reflect your soul
(a careful conceit someone once created
counterfeiting certainty as only poets can).
This is a higher art form,
this wordless conversation between us.
It is energy; it is sunshine . . .
and the receiver hits the cradle
with a gentle click.
You turn, and our souls catch each other:
a collision meant to happen
on some level or another.
When we chat, your smile is golden;
when we laugh, I am beholden to the glory
of creation, and a primal effervescence
that creeps out from my center
longs to see you in the sunshine—
longs to feel you in this morning,
wants to move this conversation
on completely different levels—
to explore the twin within us . . .
. . . but I'm contemplating honey,
and I'm not allowed to taste it,
so we sit and share our moment
with our wall of dust between us,
until you have to leave me,
and you step out of your sunbeam
and return yourself to mortal.
I wonder, if I sit there,
in the place where you've been sitting,
would I become an angel,
and would you then be
contemplating me?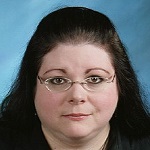 Audrey Nagel-Schoonmaker is the Lead Advisor of the Cardinal Letter Society, Antioch Community High School's (ACHS) chapter of NEHS. She has been teaching for 25 years, 21 at ACHS, and is recently National Board certified. She is proudest of creating both the curriculum for her school's Creative Writing course, and initiating/creating the Creative Writing Advanced course after seeing a desire in her students for a place to further their love of writing—and to receive credit for it. Audrey loves dark, lyrical poetry such as Edgar Allen Poe's, and her favorite thing about writing poetry is the language play: finding just the right word, just the right rhythm, to express her ideas. She writes alongside her students in Creative Writing classes because she wants to foster a writers' community for all who enjoy the art form.