Shield of Power
Yuriko Chavez
Tia Hermelinda you weren't born on Krypton
You were raised out of
the bones of a forgotten love
You couldn't fly
but you rose above the ashes of your hometown
like a Phoenix
and soared above skies
of grief and doubt
And the only cape you had
was an infant
on your back
crossing to America
was your Odyssey
You embroidered
endurance into your emblem
Tia Hermelinda
you are two inches shorter than me
But I look up to you
You see, her palms
are like the constellations of the night sky
Each curve a supple reminder that I am loved
Each scar is an age old wound
helmed with sacrifice
During Thanksgiving she waltzed in between our cultures,
gracefully spun your tales
leaving us impressed
by the versatility of her strength
she taught us to mold anger into forgiveness
to find the hero in our villains
her love was a match that ignited our giggles
Tia Hermelinda!
You never told me your name
means shield of power
And I'm surprised it didn't come to me earlier
when I last saw you
you tried to shield my eyes
from the
oxygen tank under your chair
Your eyes cast down on the floor
plastic tubes
looped around your face like clear
rivers curving over your cheeks
Tia Hermelinda
I remember how fragile your hand felt
like I was holding petals of moonlight
you asked me
what I wanted to be
and I said
the hero right beside me.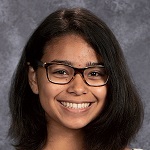 Yuriko Chavez is the President of the Beyond the Book Chapter of NEHS at Edgewood High School. She is also the editor-in-chief of the school yearbook and has performed her spoken word poetry as part of EP3C, Edgewood's performance group that writes and performs an original play each year. Chavez is a senior and is an IB full diploma candidate who shares her love of poetry and literature both in class and beyond class.
---
Dignity
Sophie Compton
Body frail,
Limbs quaking,
You take one more breath,
Conjuring up one more smile
For the two suns
Your world orbits around,
And your rock,
An unwavering support.
Your lungs ache with every inhale
But every exhale grants them relief,
Relief that you're alive,
But you know you're only surviving.
Confined to bed rest isn't living,
It is making it one day to another,
But never knowing when
Life will grant you a miracle.
A miracle radiation
And technology could never give.
You aren't living for yourself anymore.
No.
Now you're living for them.
Your family whose only wish
Is to see you free from pain.
Back on your feet
And out in the garden you love,
But you know that's not happening.
Your life has been a good one,
Long and fulfilling.
Of course there were some downfalls,
But only with them,
Do you learn to treasure
The positive memories.
Your most precious possessions
You keep close to your heart.
You grip your darlings hand,
Their eyes shining with moisture,
But they're smiling.
They know what this means to you,
The endless pain you've suffered.
This is your time.
A time of sorrow yes,
But a sense of victory.
This is you going in a blaze of fire.
Proving Elliot wrong,
Because you,
Headstrong,
Stubborn as a mule,
Would not let the world decide for you.
If you were going to go,
It will not be with the whimper
Of your dying breath,
But with the dignity
Of your own choice.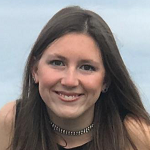 Sophie Compton is a junior at Fairfield Warde High School. She is from Fairfield, CT. She lives with her family consisting of her mother and father, her sister, two crazy dogs, four guinea pigs, and six chickens. She has always enjoyed writing, and spends her time either as the editor of her school's literary magazine, or killing it on the ski slopes. Her grandmother inspired her to write this poem. Sophie's grandmother was very special to her, and her passing was sorrowful, but she knew, like it's said in the poem, she was liberated from her pain.
---
Waiting, Hesitating, Changing
Tabitha Moses
Waiting.
Some people never take action;
They just sit, and watch what happens,
Never get out of their comfort zones;
And soon become dry bones.
Because they were just,
Waiting.
Hesitating.
Others want to share their voices;
However when given the choice,
Prefer to stay hidden,
Because their minds are ridden,
With all the thoughts of what could go wrong.
So, instead their words stay on the tip of their tongue,
And they're left,
Hesitating.
Changing.
These are the few,
That cause breakthroughs,
In technology or society,
Or just make something new.
They're scared, too,
But they pull through.
And they could be me or you.
So let's be the ones that do the
Changing.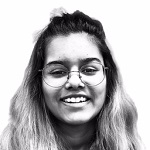 Tabitha Moses is a junior at Linganore High School. She joined the National English Honor Society this year and is excited to enter the poetry contest. She enjoys reading poetry and writing poetry as well. In fourth grade, her parents gave her Edgar Allen Poe poetry books, and she found them exciting and different. She also enjoys Shel Silverstien's clever and funny poems, especially in Where the Sidewalk Ends. She finds inspiration through experiences she has had, and tries to invoke the reader with feelings when they read her work.
---
Courage and Heroism
Dajah Saul
If I had the courage of a lion
Then maybe I will finally stop crying
If I had the courage of a holy saint
Then maybe they'll stop holding me back in restraints
If I had the courage of Martin Luther King
Then maybe one day I'll fix my broken wings
If I had the courage of a knight
Then maybe one day I'll learn how to fight
If I had the courage of a bird
Then maybe my voice will finally be heard
If I had the courage of the sea
Then maybe one day I'll finally be free
If I had courage to any degree
Then maybe one day I'll finally see
The wonderful life that's waiting for me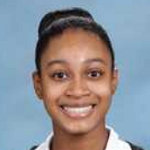 Dajah Saul is an junior at St. Mary's Dominican High School. She doesn't read poetry often, but she has come across a poem that serves as inspiration for the poem she has written. The courage that my mother had by Edna St. Vincent Millay, which is about a daughter who wants her deceased mother's courage, became the main inspiration for her poem. Even with the material items the daughter receives, she wished only to have her mother's courage, which is something that will last her entire life. Saul wanted to write this poem to express the courage she wished she possessed.
---
Thursday
Andrea Rinard
Alarm.
It's always a decision.
Rise and ready to
step onto ground
that could be blood-soaked.
Face the faces
that look for everything:
Comfort
Protection
Reassurance
Encouragement
Knowledge.
Try not to fear
the hands
you can't see.
Try not to judge
the origin stories
you'll never know.
Don't react too soon.
But listen for the alarm
to run
hide
fight.
You know it could come
at any moment.
You've seen the footage
of them fleeing
with arms up
of them sobbing
and looking for answers
they'll never find.
Of the bodies and bodies and bodies.
"Be that hero,"
the media shows.
"Lay down your life,"
the parents who trust you
with all they have
expect.
"Just quit,"
those who love you say.
Entering the classroom
on an unremarkable Thursday
may be the bravest thing
you will ever do.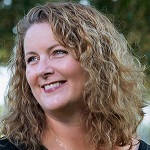 Andrea Rinard is Co-Advisor of the Phoenix Chapter of NEHS at Brooks DeBartolo Collegiate High School in her native home of Tampa, FL. With over twenty-five years of teaching experience, Rinard is passionate about empowering her students to write about things that are important to them and setting their voices free into the world.
---
Shelter Dog
Natalie Rebetsky
"Don't bite the hand that feeds you."
The adage makes no sense when
The dog has clamped her teeth on my wrist,
As I routinely reached for her empty bowl.
Pain sharp, but less than the shock.
Adrenaline courses through
Two bodies.
She lets go and backs up with a snarl.
I retreat, too.
We face each other, breathing hard.
Both crouched to react.
(She has been growling for weeks,
The wild past untamed.
We have never been friends.)
I study her dark unknowable eyes.
I move first, herding her toward the steps.
The animal in me swiftly
Slams the basement door.
Then, we are alone in the dark,
Only a thin panel of wood separating us.
We cry, she on her side,
Me, sliding to the floor,
Safe.
The wound throbs and swells.
My heart expands with the greater hurt,
The knowledge that I will send her away,
Return her to the shelter, to an uncertain future.
Tell the truth . . . to her death.
She seems to know her fate.
And we howl our hollow songs,
Sadness and regret.
I ask myself if I have the courage
To do what's right . . . and so wrong.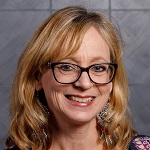 Natalie Rebetsky is an Advisor for the Linganore High School NEHS chapter. She also leads the staff of the high school's award-winning school newspaper, The Lance. Journalism is her passion. At home, she has two lovable dogs, and in her spare time she walks, talks, and thinks about her dogs. Her favorite authors write about the intersection between the animal and human worlds. One of her favorite poems to discuss in classes is "Traveling Through the Dark" by William Stafford.