Season's End
Kelsey Frishman
This is the beginning.
Sweet smells of fragrant flowers seep into my soul.
The clouds are spinning,
And a blissful breeze washes the wilderness, grazing over the grassy knoll.
The sun traces a lazy finger over my face,
and a leaf dangles in my hair.
In the tree above me, chittering squirrels race,
and I continue to sit there without a care.
But as much as I have savored every drop,
as much as I wish for them to remain,
the dreams I have painted on this hilltop,
will dissipate and dissolve in the coming rain.
My hair begins to whip and lash,
as summer leaves me with no warning.
Within the sky I hear a crash,
and I am left in mourning.
It seems that the end has come,
and the cold hand of winter touches my cheek.
She brushes my tears with her thumb,
and so I open my eyes to take a peak.
There she is, smiling down at me.
Her contact gives me chills,
but within her eyes I can see,
that even in this white wasteland there are thrills.
So I stand up and look around,
gently guided by the mistress of frost.
though not a fleck of summer could be found,
within the beauty of this pearly landscape I am lost.
And while I may dream of sunny days from long ago,
in this winter wonderland I find myself grinning.
And as I dash through the sparkling snow,
I think to myself, this is the beginning.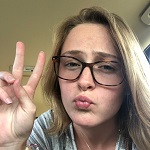 Kelsey Pearl Frishman is a member of the Dave Barry Chapter and a junior at Coral Reef Senior High in Miami, FL. She was born in Miami and has lived there all her life. As a little girl, she used to come home from school everyday and lay down on her patio underneath the beating south Florida sun for hours, listening to the world around her. Unfortunately, she doesn't have the time to do this anymore, and finds herself stuck inside almost every day working on homework and school projects. But when she does finally manage to get a rare break, the first thing she does is take a nap in the sun as she falls asleep to the sound of chirping birds and rustling trees.
---
Beginnings and Endings
Ryan Lam
The arduous façade:
Beguiling smiles acclimatizing to the social environment
The profusion of familiar faces, and yet, the abundance of empty eyes
The supercilious competition; the ignominy of falling short
The archaic system we call society
Faceless, Ageless; fastidious, in everyone's lives
Neither yielding nor denying
Dictated by our social constructs
The sea of change; consuming the island known as society
Exerted, searching the stars; ignorant of the current reality
Too complacent with the products of our own making
A fervor for change
The end to our aggrieved struggles
A new mindset; one with a positive self-paradigm
The deterioration of the petulant storm
An opportunity to live by your own rules
Another arduous beginning . . .
And yet, an augmented sense of reality
Reticent, yet vicarious and outspoken
Once, a thought—now a voice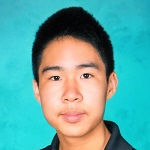 Ryan Lam, a member of the Dave Barry Chapter, is a junior at Coral Reef Senior High School in Miami, FL. As an alumnus of the HOBY Youth Leadership Seminar, his piece of writing is influenced by the experiences that have shaped his personal growth. Moreover, the poem reflects the idea of entertaining a different perspective. The speaker conveys a deeper message regarding society—the observation of individuals with a narrow, limited perception based sorely on maintaining status quo. Furthermore, his writings stem from the idea that the effectiveness of an individual is not based on their performance, but rather their motivation and determination to pursue a goal.
---
Teeth
Nikolai Odin Weichbrod
Nascent the giggles began, revealing a gap wide by lack of teeth
Grandmother, with a grin to match smiles back to bequeath
New love stirring the depths of her aging heart
Curious brown eyes for a moment depart
To look for mother whose smell and arms are
Waiting when up pulls an unfamiliar "car"
Now ends a short time in a hospital's plastic dome
Off to start anew, life in a family home.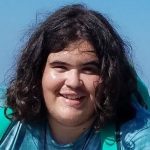 Nikolai Odin Weichbrod is a senior at Urbana High School in Ijamsville, MD, and a member of the Urbana Hawks Chapter. He wrote this poem because he was inspired by the theme of beginnings and endings to combine the start of a new life with grandparents who are arguably near the end of theirs. This poem should give those the feeling of familial love and security with one's grandparents, (a feeling that was absent for most of his childhood.)
---
Math Teacher
Natalie Rebetsky
Emerging from our classrooms
At the bell, Barbara crows,
"My last first day of school."
Her gray hair crowned
A rosy face. Her retirement
Calculated: precisely
91 days.
Sentries in our doorways
At the end of the day,
We teachers watch the
Teens in their too-fresh shoes
And first-day shirts swarm past,
And away from us.
Anxious freshman faces
Counting minutes to find the bus,
Unaware of the ticking clock
Moving them forward
To senior year.
In the now empty room,
I pack my tired plan book,
Overwhelmed with "To Do" lists.
The unnumbered days ahead:
My retirement equation
Far from balanced.
First Day of School
Natalie Rebetsky
Facebook is awash
With a stream of
First-day pictures.
Oh-so-cute children hold
Chalkboard messages.
"Favorite Food: PIZZA"
"I want to be: A TEACHER
When I grow up."
Backed by an unseen army
of mothers making
Cricut signs,
Pinteresting the future,
Their babies pose,
Framed in doorways,
Slick haircuts, too-tight braids
A photo promise,
a contract,
A deal with education.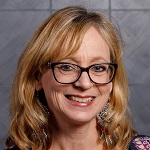 Natalie Rebetsky is the NEHS Chapter Advisor at Linganore High School in Frederick, MD. When she is not at school, she is listening to audiobooks and discussing how to solve the world's problems. A closet poet, she keeps an inspiration journal and adds to it daily. These inspirations become half poems and essays and countless unfinished short stories. Her greatest works are at the end of the day when she weaves the fantastic bedtime stories she tells her grandson. He is her biggest fan.
---
Alphas and Omegas
J. Scott Shields
In Memoriam
Under the shadow of a
courthouse constructed by
stonecutters long departed
lie storefronts and workshops,
stained-glass churches and fallow fields,
redbrick schoolhouses and pioneer cemeteries
whose etched gravestones whisper
tales of plowmen, carpenters,
teachers, seamstresses—
builders all.
Their great-grandchildren
stumble home past
rows of rusted streetlamps
flickering dimly beside
broken sidewalks and
decommissioned smokestacks—
each echoing the same
spectral silence as
those dreamers
now at rest.
Endings
"So teach us to number our days,
that we may get a heart of wisdom."
—Psalm 90:12
We fool ourselves
by believing
this dusty world
will last—
as Yorick's skull
and Blackbeard's
cross-boned banner
reminds us.
Sweet censered incense
wafting heavenward
like prayers for
the sick
swirl among perfumes
exhaled from
Valentine roses and
funeral lilies.
The newborn baby's
hungry cries
foretell his grandchildren's
grieving tears.
Fallen petals crumble—
turning today's
fading beauty into
tomorrow's blooms.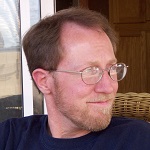 Long ago, J. Scott Shields left the arctic Midwest for the Arizona desert where he has taught English for the past twenty-three years. Music, literature, and writing are his passions, and he strives to share his love of the written word each day with his 12th grade English students and NEHS Black Hawks Chapter members at Williams Field High School in Gilbert, AZ. Scott believes that inspiration for writing may be found everywhere, if people take the time to look and listen. Scott's articles, fiction, and poetry have appeared in English Journal, Mused Literary Review,Canyon Echo, Serials and Short Stories,101 Words, and Treoir magazine (a publication of Comhaltas, an international organization that promotes traditional Irish music and culture).
---
To My Father
Scott Richburg
Nearing fifty, I'm a testament to accomplishment,
To you, the builder, proof of some lasting deed
To shelter your unsteady legs, weathered trunks,
In this late, dwindling season of stinging ice.
In a spiraling universe of years, losing myself
In one cosmic trap or black hole after another,
You remain a vestige of the umbilicus
Tying me to that moment of shadow and pain
I never felt enough to carry in my bones
Like a flash of fire on the soles of my feet.
I need you to be my testament, too,
Landmark of first things, to center my spinning,
Calling me back to that pinprick circle
That squints like a bruised eye, mistrusting the light,
Before the widening and perpetual motion began.
For My Mother's Birthday
Scott Richburg
We fumbled from lit room to lit room,
Wrapped in golden haze
Like porcelain dolls performing a masque.
You were in your kitchen, holding court,
I was in my sleepy misdirection,
Routine dungeon, when the pancakes
Warmed my tongue ablaze.
Day was hot with normal weight.
It would be later that morning,
You on your throne, I genuflecting,
The way your face fell,
Vowing never to raise its banners again:
Your childhood friend
Had died suddenly from a heart attack.
You cried in wild gouts of tears.
Stunned, I tried to say something
That would suture up the gashes.
That was August, a grief that singes,
Cuts the heads off mums.
December would be hotter,
Burning realms to the ground.
You would dig out the buried relic
And show us the tumor mortifying your joy.
No one admitted it then, but you were dying,
Your eyes floundering in its harsh glare.
The same fiery clay that claimed your friend
Would soon open its kingdom to you.
Our days would stink of its lavish scent
Like dead flowers for a mad king.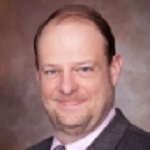 Scott Richburg, Advisor of The Robin Goodfellow Chapter at The Montgomery Academy in Wetumpka, AL, has been published in small publications, most recently in The Birmingham Arts Journal and Bewildering Stories, and received awards from a handful of literary contests. A great lover of all things O'Connor and Kafka, he teachs literature and writing and also advises The Word Players' Guild, an after school creative writing group. Among his favorite poets: Stevens, Thomas, and Larkin. Nothing thrills him more than a well-crafted sentence, especially when students write it.