Literature has always fascinated me. I see it as an opportunity for escapism, to travel in time and to question the world around me. I remember when my teacher first talked about the Intellectual Freedom Challenge. I found it bizarre that certain books were banned at schools and was intrigued to learn why.
In my country, the situation is very different. We don't have lists of banned books in schools either on a local or national level. The difficulty in Mexico is that many children don't know how to read or don't have a library at their school or within their community. Thus, the idea of adults banning books because of religious beliefs, differing ideologies, or implicit messages within texts seemed out of this world to me.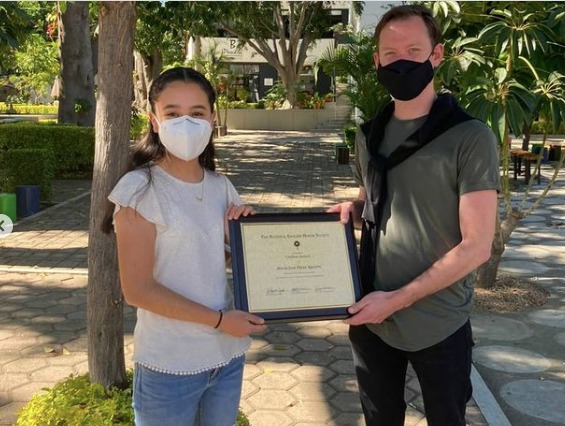 As I began thinking about the challenge, I was really shocked when I saw wonderful pieces of literature being removed from schools. Some of those books had taught me important life lessons, provided me with different perspectives about history, and even opened the door to me discovering my identity. The book that most caught my attention was Harry Potter. At first, I couldn't believe that a world-wide best seller, which had been turned into a Hollywood film, wasn't permitted at some schools. The first time I read Harry Potter and the Sorcerer's Stone was at elementary school, and I found it in the school library. I, personally, have never found anything wrong with the book, and always wished I could attend Hogwarts and learn magic—just like millions of other kids around the world.
During my research into the reasons why the book had been banned, I came to the conclusion that sometimes conservative contexts among communities prevail over the judgment of teachers and school librarians. Harry Potter is banned from some schools under the pretense it contains anti-family values, references to the occult, violence, and discrimination. But this forgets that the book also portrays a reflection of our society, which includes different types of families, different religions and beliefs, violence that we need reduce, and discrimination we need to stop. A happy family can present itself in many different ways, people from different backgrounds can coexist in harmony, and as in everything there will always be good and evil. If as a society we want to move forward, we must let children explore the world and critically reflect on the reality of the world around them.
Participating in the Intellectual Freedom Challenge was an eye-opening opportunity and allowed me to learn about the different perspectives that exist around texts I had considered uncontroversial. This experience helped me to develop my critical thinking and reflect on how important intellectual freedom is for young people in their academic, personal, and social development.
---
Maria Jose Perez Aguirre
Intellectual Freedom Challenge Crafton Award Winner, 2021
Instituto Blaise Pascale Chapter, President
Instituto Blaise Pascale, Oaxaca, MX
---
Intellectual Freedom Challenge
NEHS's Intellectual Freedom Challenge (IFC) invites sophomore or junior NEHS members to submit well-reasoned, argumentative essays about the use of controversial texts that have been or may be challenged due to theme, content, or language. Successful students receive book gift cards as well as a Crafton Award certificate. While all educators need to be thoughtful about such selections and have clear rationales for the decisions made concerning texts, all too often books are set aside, limited, or challenged because of content. The American Library Association (ALA), through its celebration of Banned Books Week each year (September 18 – 24 this year), along with other organizations like National Council of Teachers of English, urge all to push back against censorship attempts.
The ALA once again focuses on the challenges of censorship in schools and in society at large. This statement from ALA highlights the importance of this effort: "This year's theme is 'Books Unite Us. Censorship Divides Us.' Sharing stories important to us means sharing a part of ourselves. Books reach across boundaries and build connections between readers. Censorship, on the other hand, creates barriers." Visit the ALA's website for suggestions for activities and print materials for distribution.
NEHS's annual IFC competition is the first NEHS opportunity of the new school year. Over several years, the NEHS Intellectual Freedom Challenge has generated fine writing from members who believe in the power of literature and the "students' right to read." Up to twelve writers will each receive $100 and their sponsoring chapters $50. IFC essays will be accepted through October 3, 2022, 11:59 p.m. CDT; submissions will be made through the AwardSpring system.
Intellectual Freedom Challenge
---
More from NEHSXpress: September 27, 2022
Chapter Spotlight
Project Grant: Poetry Open Mic
Classroom Library Grants for Early Career Teachers
Writing Contest Returns to Flash Fiction