On Tuesday, April 5, the Rocky Point High School Chapter of the National English Honor Society hosted its first annual Poetry Open Mic Night—a night dedicated to sharing and appreciating the language of poetry! Together, club officers—President Ella Bottacelli, Vice President Kalena Prendergast, Treasurer Jessica Zoll, Secretary Eva Edery, Public Relations Chair Ava Lulenski—and the other awesome club members, worked very hard at each of our weekly club meetings to bring this night to the Rocky Point school community.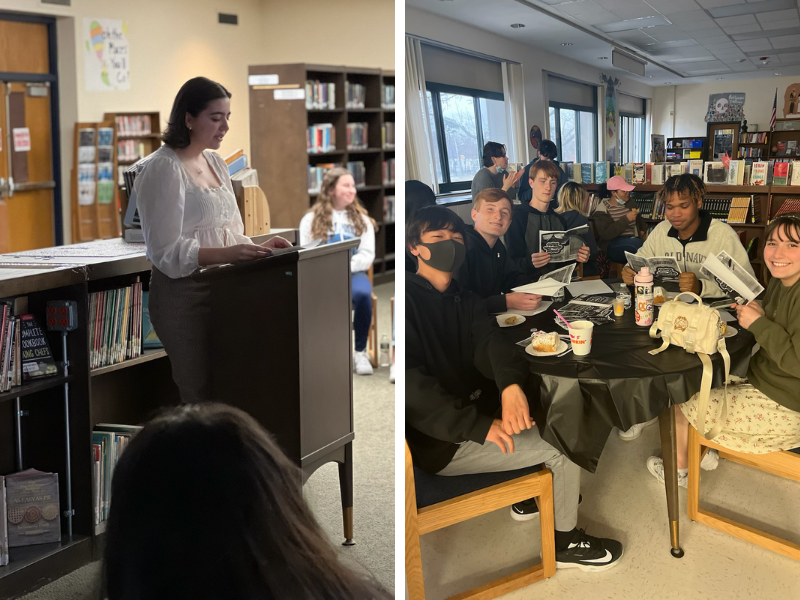 In early October, under the supervision of Chapter Advisors Christine Blume and Rachel Hludzinski, NEHS applied for and won an NEHS Chapter Project Grant with the hope of using the award money to fund and host this Poetry Night in honor of National Poetry Month. NEHS awards a limited number of grants each semester to support local chapters in activities that will be enhanced or made possible by the grant monies.
Held in the high school library, Poetry Night was a perfect opportunity for our Rocky Point students to come together in an intimate setting to share and hear an eclectic selection of both published and original poetry. The students did such a wonderful job reading, listening to, and supporting one another throughout the evening. A special thanks must also go out to Special Education teachers, Jessica Gentile and Kristina Muratore and the students in the Transitional Support Skills class, for complimenting the evening with their upstart internal coffee business, Rocky Perk, and for providing and setting up the refreshments for the night.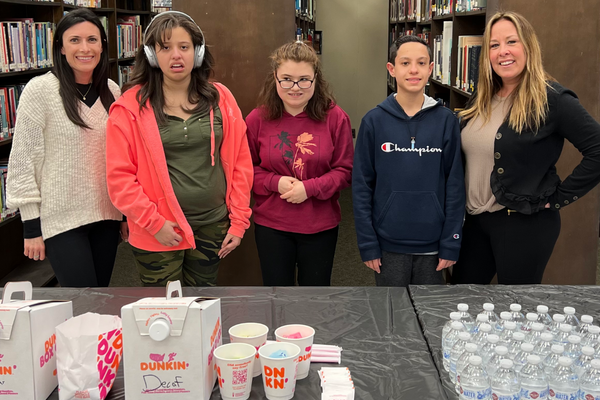 Additionally, the Rocky Point High School Chapter has chosen to donate the profits from the night's ticket sales to Room to Read, an outstanding organization aiming to create a world free from illiteracy and gender inequality. They are achieving this goal by helping children in historically low-income communities develop literacy skills and a habit of reading, and by supporting girls as they build skills to succeed in school and negotiate key life decisions.
---
Christine Blume and Rachel Hludzinski
Chapter Project Grant Recipients, 2022
Rocky Point High School Chapter, Co-Advisors
Rocky Point High School, Rocky Point, NY
---
Chapter Project Grants
National English Honor Society Chapter Project Grants are designed to encourage local chapters to be innovative in developing projects that further the goals of the Society. The Society will award a limited number of grants each semester, for up to $200 each, to support local chapter activities that will be enhanced or made possible by the grant monies.
Any active chapter may apply. No chapter may submit more than one proposal in each semester; chapters receiving project grants may receive only one in an academic year. Projects must be organized and led by student members and must be endorsed and monitored by Chapter Advisors. Applications should be prepared by student members.
Project Grant applications for activities scheduled to take place during the spring 2023 semester will be accepted through October 3, 2022 11:59 CDT. Successful grant applicants will be announced by November 7, 2022.
Learn more: Chapter Project Grants
---
More from NEHSXpress: September 27, 2022
Chapter Spotlight
Intellectual Freedom Challenge Experience
Classroom Library Grants for Early Career Teachers
Writing Contest Returns to Flash Fiction