NEHS scholarships provide graduating senior NEHS student members with financial support to fund studies in any subject area at any accredited two-year college or four-year university anywhere in the world. Supplemental funding is available for students with economic need. Previous student winners have said that their NEHS scholarships ensure that "more of their efforts can be allotted to making sure that [they] can continue immersing [themselves]" in their studies (Alexis Vivanco, 2023), and that that it has "an immeasurable impact not just on [their] post-secondary plans, but on [their] life and well-being as a whole" (Amy Dang, 2023).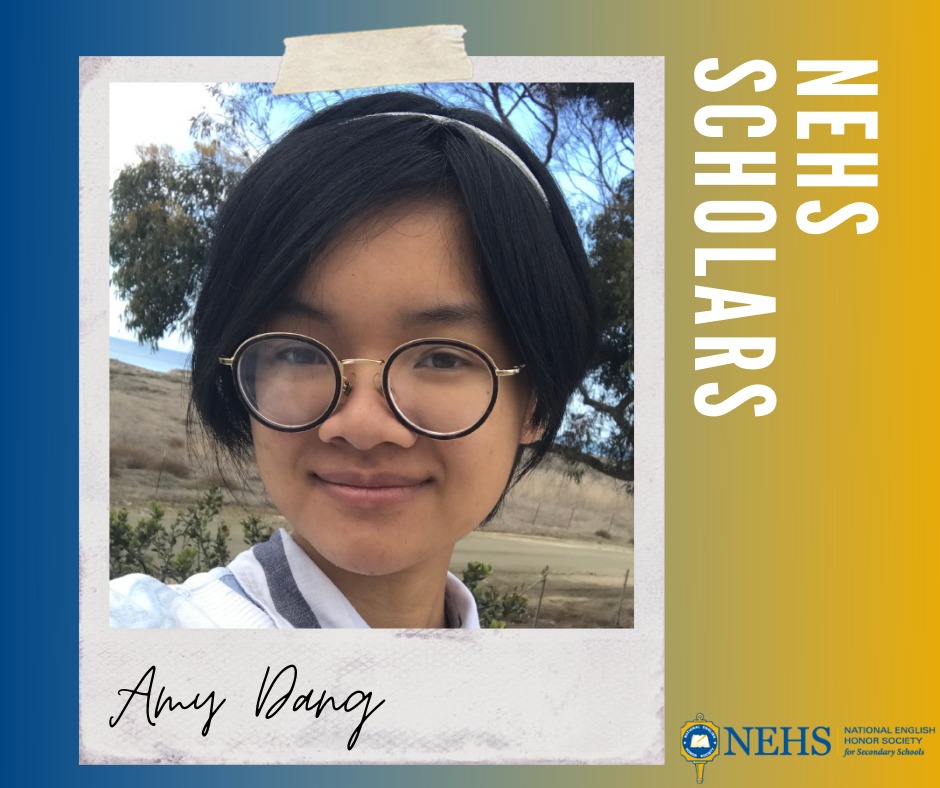 NEHS scholarship winners go on to study a range of subjects including English Literature, Philosophy, Law, Education, Political Science, Marketing, Communications, Biology, Journalism, History, International Relations, Pre-Medicine, and the Visual Arts at institutions such as Amherst College, Duke University, Georgetown University, Georgia State University, Johns Hopkins University, Loyola University Chicago, Penn State University, Rutgers University, the University of California, and the University of Chicago.
The 2024 NEHS scholarships competition launched on November 7, 2023, with an exclusive webinar with Kayte Nunn the author of the 2024 Common Reader, The Botanist's Daughter. Student members were not only able to hear Nunn speak about The Botanist's Daughter, but they were also able to ask their own questions to her and receive replies which, we hope, will inform their scholarship essays based on the novel. The novel was originally suggested as the 2024 Common Reader by NEHS graduate Maria Quiroz Abascal. Maria was enthralled by the text from the outset and "didn't want the book to end, but at the same time needed to know where and how it concluded. It was a true adventure story!" This sentiment is echoed by many respondents to the NEHS Common Reader Survey who enjoyed that it combines a "Thrilling story, history, science . . . all three in one!" The novel knits together the stories of two fictional female botanists working on the same project a century apart. It won the 2020 Winston Graham Historical Fiction Prize.
Scholarship Information
NEHS offers one-year, non-renewing scholarships from a $75,000 fund to graduating NEHS seniors planning to study any subject at a two-year or four-year college/university anywhere in the world.
Essay Prompts Now Available
Students' application for scholarships includes an essay of no more than 850 words based on one of five prompts developed by the NEHS Advisory Council and the author of the Common Reader. These prompts are designed to promote critical and analytical thinking, and to allow students to put some of themselves into their writing: We encourage very detailed and personal responses to the text in the submissions. Essay prompts are now available on the NEHS website.
Applicants will also have to complete two additional questions. The first asks applicants to explain how a text of their choice has had a significant impact on them, and the second requires applicants to showcase their involvement in NEHS.
Supplementary Funding
NEHS also supports student members who demonstrate outstanding academic performance in English studies and who have been active participants in National English Honor Society, but who may need additional support due to financial or family circumstances.
Scholarship applicants who qualify for supplemental funding should review the criteria and application process in advance of submitting work to the NEHS Scholarships competition. Supplementary funding is added to the amount awarded to successful awardees.
Learn more about our supplemental funding program.
Scholarship Applications
NEHS provides many resources to help students craft their essays such as tips to craft a winning submission and application, a technical guide on structuring and formatting essays, and the criteria used to evaluate submissions. Applications open on December 11, 2023, and close on January 8, 2024. Scholarship winners will be notified on April 10, 2024.
Find out more about how to apply. Any questions about NEHS scholarships should be directed to Chris Lockwood, NEHS Director.
---
More from NEHSXpress: November 28, 2023
Highlights from NEHS at the NCTE Convention 2023
Graduation Regalia, Induction Ceremony Merchandise, and Limited-Edition Apparel
NIU-NEHS Scholarships
Winter Creative Challenge: Script Writing
Chapter Spotlight
Grants and Awards for Chapter Advisors
Coming Soon: Documentary Filmmaking & NEHS-Harvard Student Journalism Awards
Digital Certificates