The NEHS Chapter Spotlight project shares examples of outstanding literacy work being undertaken by chapters around the world. Categories for submission are Academic Focus; Community Engagement; Diversity, Equity, and Inclusion; and Collaborative Projects. In this edition, Maria Jose Perez Aguirre, the President of the Instituto Blaise Pascale Chapter in Oaxaca, MX, shares details about two of their chapter initiatives. Submissions for Chapter Spotlights will be open December 11, 2023 through January 8, 2024.
Academic Focus: Noticeboard
At the Instituto Blaise Pascale, the chapter members are in charge of creating monthly notice boards about different themes to promote literacy within the school community. Each month, a different theme is chosen, which relates to important themes within literature. During this past semester, the noticeboard has included topics like Chicano Literature, Indigenous literature for Indigenous heritage month, and chapter members' selection of favorite books for the National Book Month.
To create these noticeboards, chapter members divided into small groups; each had different duties like researching, planning, designing, and decorating the noticeboard. As well as making the notice boards interesting for the student body, chapter members decided to make them as visually attractive as possible and added interactive elements so students could participate.
For September, the theme was Chicano literature, a sub-genre written by Mexican-American authors. September's noticeboard included information about the origins of Chicano literature and relevant authors like Raúl Salinas, Ana Castillo, Sandra Cisneros, and Americo Paredes. This topic sparked particular interest in the younger students as it is a type of literature that is not often taught at our school. In addition, September's noticeboard included a bag of stickers of each author's book covers and quotes for the students to grab. This idea was a success: Most kids around the school had those stickers pasted on the covers of their notebooks.
Secondly, the chapter members decided to create a selection of their favorite books to commemorate National Book Month in October. The research committee polled chapter members to decide which books to include. The noticeboard aimed to promote the book selection by including small reviews of the books and some key quotes. We included books like Paula by Isabel Allende, The Song of Achilles by Madeline Miller, Sadie by Courtney Summers, and many others. The noticeboard provided a special space for students to write the title of their favorite book and to give a rating between zero and five stars according to their experience reading it.
Finally, for November, to commemorate Indigenous Heritage Month, the theme was Indigenous Literature from around the world. To create this noticeboard the research group decided to include authors from all regions, like Ruth Hegarty from Australia, Rigoberta Menchú from Guatemala, Elif Shafak from Turkey, and Fatema Mernissi from Morocco, to name but a few. We also decided to include books that not only discuss indigenous culture but also the challenges and struggles faced in preserving them. In addition, we decided to highlight the author Natalia Toledo on the noticeboard, since she is the most famous Zapotec author and she is from Oaxaca, where our chapter is based.
This was a very enriching experience for chapter members and students at the school, in general. It was a great opportunity for everyone to learn about different types of literature.
Community Engagement: Book Festival Sponsorship
Every year our city hosts the Oaxaca International Book Festival (FILO), and for most of the people in the city it is a great opportunity to expand their literary horizons by attending different events like seminars, talks, book presentations, and more! This year, the Oaxaca chapter sponsored the FILO. The money donated allowed us to organize a talk with author Reyna Grande for chapter members, and to transport and organize workshops for poor children who live in villages outside Oaxaca, and for them to have their first literary experience with Mexican writers at the book festival.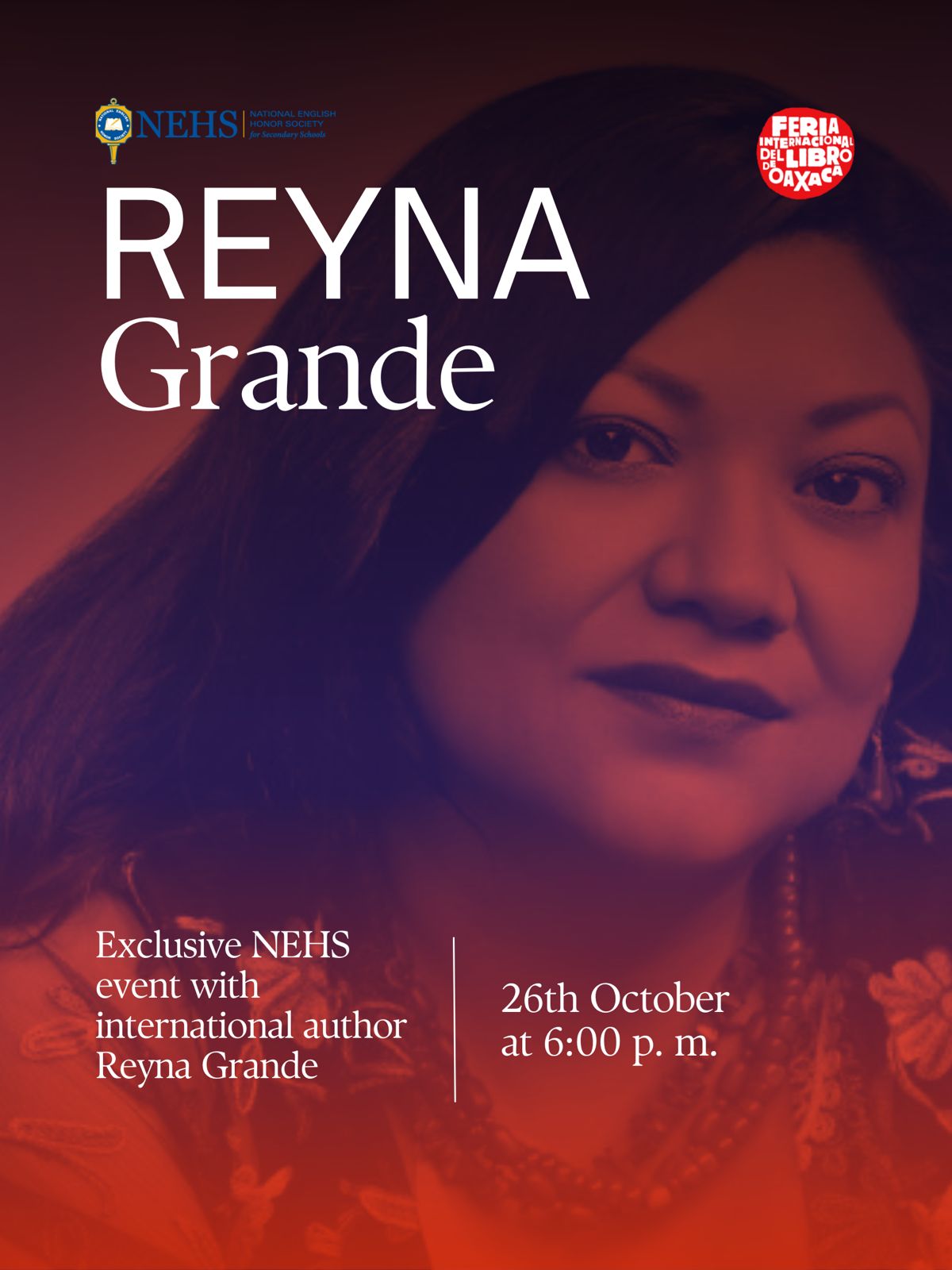 As a result of our sponsorship, chapter members had the opportunity to attend a talk with Reyna Grande, award-winning Mexican-American author and an expert on immigrant writing. During this talk the author presented her newest book A Ballad of Love and Glory, which narrates the story of an Irish immigrant during the Mexican-American War and his romance with Ximena Salomé, a Mexican healer.
During the talk, the author shared her own experience as an illegal immigrant in the US from a very young age. Throughout the talk, Grande gave chapter members a profound insight into what being an illegal immigrant really means for those trying to achieve the American Dream. She talked to us about the trauma of her family separation, leaving her home country as a child, and adapting to a new place. Moreover, she talked about the challenges and struggles she has had in her career as an immigrant author trying to succeed in the world of American publishing.
Later at the talk, chapter members had the opportunity to ask Reyna Grande some questions regarding her book and her experience as a successful immigrant author. Those included questions about her sense of belonging as an immigrant, the role models in her life, her experience as an author, and how she created her own identity after moving to the US. In particular, members were interested in listening to her experience as a child because, as she mentioned in her presentation, "children and youth do not have a voice in migration" and they are often "left behind by their parents trying to achieve the American Dream." This also relates to themes within the 2023 NEHS Common Reader Beautiful Country.
This was a fascinating experience for chapter members. As some members explained, the book presentation provided them with a previously "unknown perspective on migration" and a very interesting insight on how "history has been shaped by migrants." The talk was also useful for the senior members of the chapter who may be participating in the NEHS scholarship competition. This experience helped them gather a wider perspective on what it means to be an illegal immigrant and the consequences it brings.
---
Maria Jose Perez Aguirre
Intellectual Freedom Challenge Crafton Award Winner, 2021
Instituto Blaise Pascale Chapter, President
Instituto Blaise Pascale, Oaxaca, MX
---
Chapter Spotlights
NEHS encourages chapters to participate in the Chapter Spotlight opportunity, sharing outstanding literacy work being done at the chapter level across the society. Chapters are asked to send information and documentation in any of the categories listed below. The NEHS Advisory Council will select the best of the submissions as "spotlight" chapters that will be recognized through NEHS social media outlets and the NEHS Museletter blog; selected chapters will receive a $50 award and a certificate.
All chapters submitting documentation of their excellent work automatically become eligible for the Outstanding Chapter Award presented in the spring. Chapters are limited to three submissions in a year, and each submission should be from a different category. Chapters must submit evidence of their work by attaching documents, including pictures and/or videos, to the submission form. Submissions may only be made during designated periods throughout the year (see schedule below). Only active chapters may send submissions; inactive or suspended chapters must become current with fee payments and members enrollments before submitting projects. Members of the NEHS Advisory Council will review submissions and select the "spotlight" chapters.
Categories
1. Academic Focus
This category will demonstrate how a chapter works to establish or maintain a project focused on supporting the academic growth of a target audience within their school or local community.
2. Community Engagement
The purpose of this category is to demonstrate how NEHS chapters are focused on promoting life-long learning and the celebration of reading, writing, film, and the arts in their local community.
3. Diversity, Equity, and Inclusion
This category will demonstrate how NEHS chapters are promoting diversity, equity, inclusion, and belonging in various forms within their school or local community.
4. Collaborative Projects
The purpose of this category is to demonstrate how NEHS chapters are working with other NEHS chapters, other high school Honor Societies, or Sigma Tau Delta and Sigma Kappa Delta chapters on collaborative projects impacting their school or local community.
Application Dates
Applications for the winger 2023-2024 Chapter Spotlight cycle will be accepted December 11, 2023 through January 8, 2024, with acceptances announced February 29.
Learn more about contributing a Chapter Spotlight!
Past Chapter Spotlights
Livonia Churchill High School
Heritage High School
Bear Creek High School
Best-Shirey-Little Chapter