The NEHS Outstanding Chapter Awards are designed to recognize local chapters that have exhibited outstanding motivation, creativity, and service in the preceding year. This year, we were particularly interested in considering chapters that had dealt with the pandemic in unique ways, finding creative approaches to maintaining the continuity of NEHS activities in meaningful ways. Please join us in congratulating the 2020-2021 Outstanding Chapter: the Instituto Blaise Pascale Chapter from Oaxaca, Mexico. Read on to learn about some of their outstanding achievements from this past year that won them this honor.
Pandemic Spring: An Anthology of Writing and Artwork from the Coronavirus Pandemic
The National English Honor Society Chapter in Oaxaca developed and led a ground-breaking literary endeavor recording young people's experience of the COVID-19 pandemic and lockdown periods. The editorial board received submissions from around the world. Young people from North and South America, Europe, Asia, and Africa sent their short stories, poems, plays, and artworks to Oaxaca for consideration. The rigorous selection process allowed a high-quality final document to be produced that represented writers and artists from 18 different countries. Pandemic Spring also included artwork from three Oaxacan artists alongside artwork submitted by artists from other countries. As a chapter, we are truly thankful for the support and interest from students, schools and teachers from all over the world. This support meant that the anthology was able to represent unity in times of trial around the world.
Support for the Oaxaca International Book Festival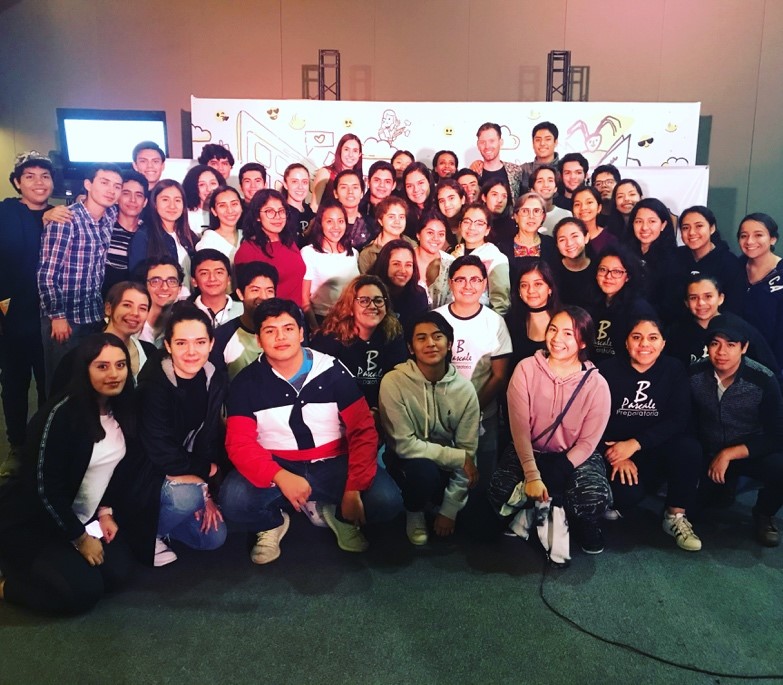 In the past two years the Oaxaca chapter has sponsored the 39th and 40th International Book Festival. The goal of our support is to provide opportunities not only for chapter members to take part in special events, interviews and workshops with international authors (Maaza Mengiste and Salman Rushdie in 2019) but also to provide opportunities for children from poor communities to have their first literary experience at the Book Festival. The Oaxaca Chapter provides financial support to be able to bring these youngsters to the city to enjoy a day at the Book Festival and participate in Oaxaca Chapter-sponsored activities such as encounters with children's writers. The financial support provided by the Oaxaca Chapter is provided via student donations to a special fund and the NEHS logo is represented around the event as an official sponsor.
Free Textbooks Program
In order to promote inclusion and access to literary materials which are hard to get in Mexico, the Oaxaca chapter committee decided to use the money it has raised throughout the semester to provide a free copy of books, The Nickel Boys and Romeo and Juliet, to all English literature students. This has allowed us to guarantee that all students, regardless of economic resource, are able to participate in classes and learn as much as possible. We have provided this opportunity for both semesters during this school year and are raising money to continue the program in the coming years.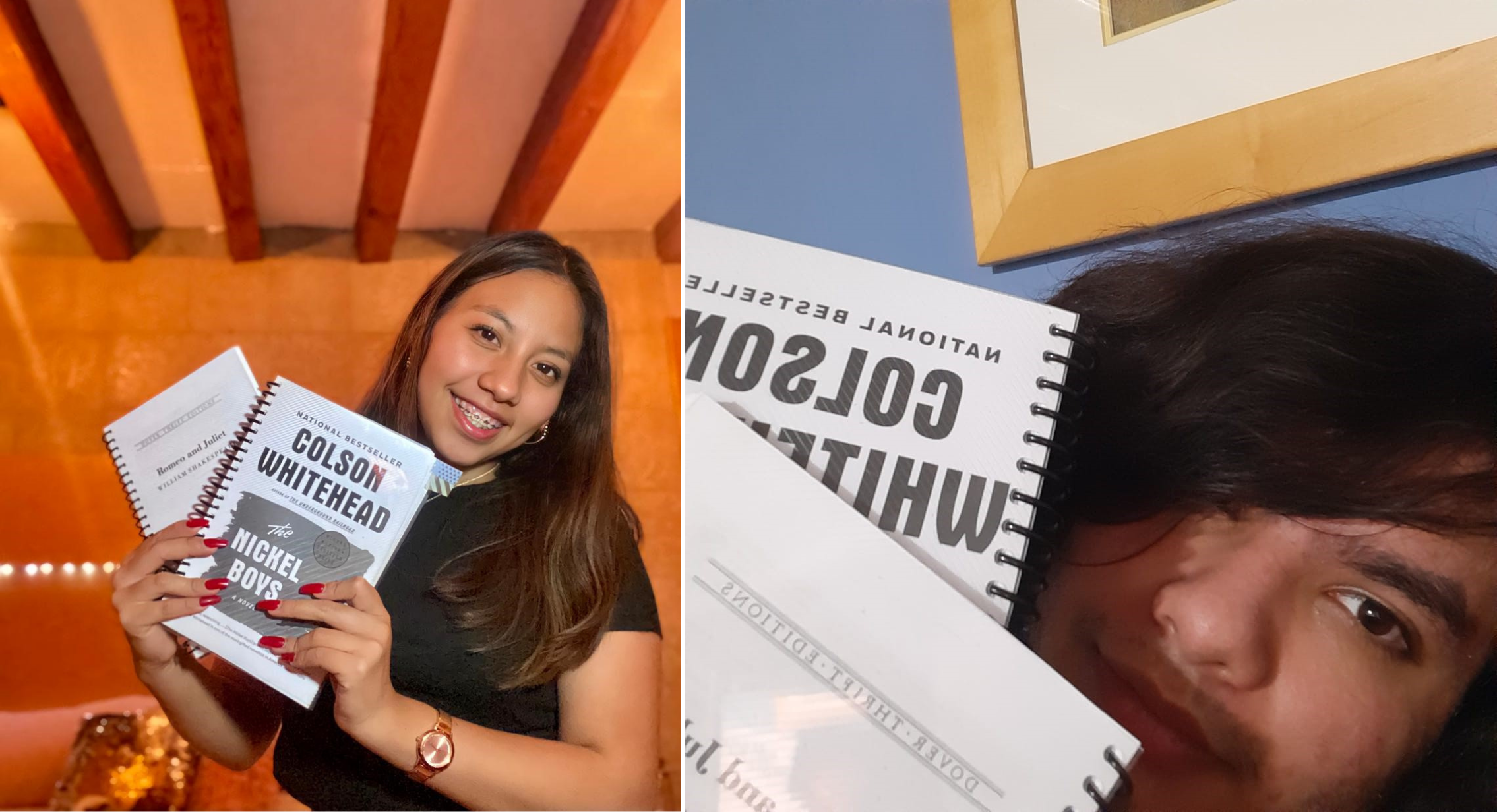 Promoting Poetry Activity
As part of our role to promote literacy within the community, members of the Oaxaca Chapter created a series of performances of First World War poetry. Our studying of the poems and our dramatic interpretations allowed us to communicate the deeper meaning of the poems to students in our school, their families, and people from the local community who are, often, not fluent English speakers and who would struggle to understand the written poems. Our performances met with great success and we were able to use special effects (paper cannons and fireworks) to create a really cool atmosphere. We learned not only about the authors of the poems, and the poems themselves, but also lots about how to perform poetry in public and create performances suitable for people of all ages and differing English-language abilities.

Christmas Carols for the Community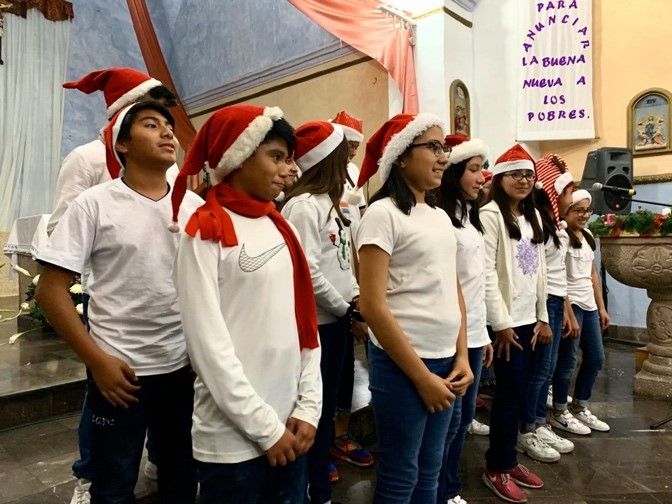 We all love Christmas! In order to mark the occasion, the Oaxaca Chapter organized a community Christmas Carol concert. This allowed us to perform Christmas Carols (in English) and a student-led performance of the Nativity for over 1,000 people from across the city. We worked to form choirs from different groups in the school and support the youngest students in performing the Nativity. The Christmas Carol concert took place at Santo Domingo Church in Oaxaca and was a great success! The Oaxaca chapter works to reserve the church, organize the sound systems, narrate the event and also forms their own special choir. The activity is really nice and brings together lots of people (including lots of foreigners) to share in the joy of Christmas.
---
Outstanding Chapter Award
The NEHS Outstanding Chapter Awards are designed to recognize local chapters that have exhibited outstanding motivation, creativity, and service in the preceding year. Award recipients will receive a check for $250 and a plaque. Winning chapters will also be highlighted in the NEHS Museletter blog in the fall.
Any active chapter is eligible to apply for an Outstanding Chapter Award, but no chapter may receive an Outstanding Chapter Award in consecutive years. Active chapters may use relevant information assembled for a Project Grant application when applying for an Outstanding Chapter Award. Specific application requirements are posted with each award description.
Outstanding Chapter Award applications are accepted year round. The next deadline for Outstanding Chapter submissions will be spring 2022.
---
More from NEHSXpress: May 11, 2021
Chapter Annual Report
Graduation Merchandise
2022 Common Reader Selected
Student Membership Fee