The National English Honor Society (NEHS) chapter in Oaxaca, Mexico, based at Instituto Blaise Pascale, has developed and led a ground-breaking literary endeavor recording the young people's experience of the COVID-19 pandemic and lockdown and quarantine periods in a first-of-its-kind project.
The editorial board, made up of Alejandro Castro Salazar, Jose Carlos Revilla Cervantes, Ghana Ines Miroslava Chavez Garcia, Romain Sanvoisin, and Georgina Martinez Gracida English, received submissions from around the world. Young people from North and South America, Europe, Asia, and Africa sent their short stories, poems, plays, and artworks to Oaxaca for consideration.
The rigorous selection process put in place by the Oaxacan students allowed a high-quality final document to be produced, which represented writers and artists from 18 different countries.
The project included artwork from three Oaxacan artists, Jess C., Maria Cabrera, and Alan Lopez, alongside artwork submitted by artists from other countries.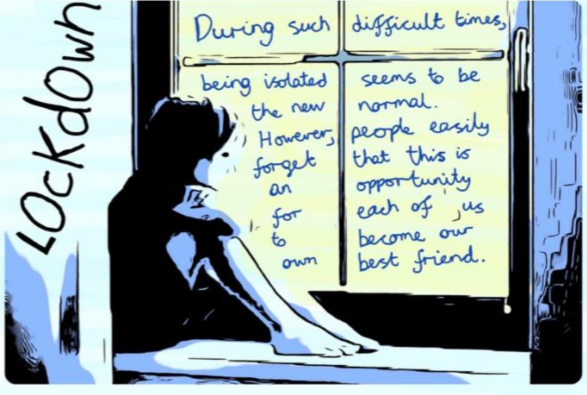 The anthology was supported by NEHS based at Northern Illinois University and its international director, David Wendelin, who said, "The [submissions] reflect, I believe, the fears, anxieties, hopes, and dreams of the world community, the international voices of writers and artists who, collectively, are facing a common enemy. In some ways, the pandemic has led to a universal bond among all nations; the Oaxaca project has provided a vessel into which the writers and artists have poured their sweat, tears, and joys."
NEHS Oaxaca Chapter President, Alejandro Castro Salazar said, "We are truly thankful for the support and interest from students, schools, and teachers from all over the world. This support means this anthology
represents unity in times of trial: not only within the Oaxaca chapter of NEHS, but worldwide."
NEHS has 937 active chapters around the world, representing over 20,000 young people. The Oaxaca chapter is the first and only chapter in Mexico. The only other chapter in Latin America is in Lima, Peru.
The anthology will shortly be released in a physical format. View the digital version now!