This year's winner of the John L. Manear Outstanding Advisor Award is Katie Burnett, Chapter Advisor for the Beyond the Book Chapter at Edgewood High School in West Covina, CA.
The John L. Manear Outstanding Advisor Award is the highest honor bestowed by the National English Honor Society. The award is given in memory of John Manear, a former teacher at Seton La Salle Catholic High School in Pittsburgh, PA, and one of the original team of educators who founded the National English Honor Society in 2005. The Advisory Council takes applications for the award very seriously and only gives out the award when it feels a candidate has truly epitomized the NEHS motto, "Duty goes with Honor."
Katie Burnett was nominated for the award by NEHS student member Rubi Torres, Chair of the Edgewood High School English department Craig Michael, and school principal Roni Maddox.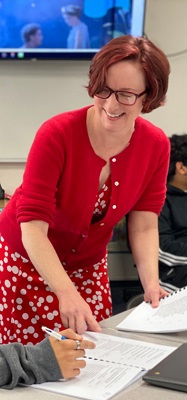 Torres noted that she had found Ms. Burnett to be "inspiring" and "essential to the creative development" of students at the school, both within and beyond the NEHS chapter. This sentiment was echoed by Michael, who wrote that Burnett "models love and respect for literature and literacy." He went on to say that "Our students, teachers, and families are all fortunate to have Ms. Burnett's leadership, modeling, and passion for literacy at Edgewood, and we are specifically fortunate to have her running our NEHS chapter."
It was the enthusiasm for literature and literacy education that Ms. Burnett champions that stood out to members of the NEHS Advisory Council. They were impressed to learn that Burnett does not only lead the NEHS chapter but also the Edgewood Shakespeare Festival, which brings together performances by theater, choir, dance, and art students. Burnett's talents do not lie solely within the high school, though, and she also teaches ninth grade English honors classes and the IB Theory of Knowledge course.
Her leadership of the Beyond the Book Chapter has given student members opportunities to support their local community through book drives for local women's and children's shelters, and to reflect on the importance of the written word at events such as awareness campaigns and Banned Books week. She also supports NEHS students in their partnership with the Black Student Union for the annual African American Read-In. It is this, Torres says, which means that the NEHS experience has such a "positive influence on the students."
High school principal Roni Maddox noted that "Katie has made a great impact through her dedication and advocacy" during her time at Edgewood High School. Similarly, Michael shared that Burnett "is a powerful voice continually advocating for increasing the culture of reading on campus, proposing family reading nights, community books, and more funds for classroom libraries." She is also "always eager to discuss her latest book, always willing to join others in a new book club."
Tonaztin Rodriguez, an NEHS Chapter Advisor within the same school district as Ms. Burnett, and the Far Western Region representative on the NEHS Advisory Council shared that "Katie Burnett's chapter, Beyond the Book, is one of the Far Western Region's most active chapters. She and her members have had an incredible year of activities focusing on diversity, gender and cultural representation, and community involvement. Congratulations and thank you for all you've done!"
The Advisory Council was thrilled to be able to give the 2023 John L. Manear Outstanding Advisor Award to Katie Burnett who, as Torres writes, "always impresse[s with] the love for literature she displays in the classroom."
---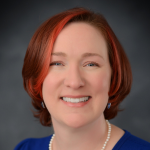 Katie Burnett
John L. Manear Outstanding Advisor Award Recipient, 2023
Beyond the Books Chapter, Chapter Advisor
Edgewood High School, West Covina, CA
---
John L. Manear Outstanding Advisor Award
The John L. Manear Outstanding Advisor Award, presented annually to one Advisor who has given generously of their time, talent, creativity, and leadership to a local NEHS chapter, recognizes Advisors who foster the spirit of academic excellence and community service in their work with chapter members.
The award is named in memory of John L. Manear, a former English teacher at Seton-LaSalle High School, Pittsburgh, Pennsylvania. Mr. Manear was an English Coordinator for the Diocese of Pittsburgh; he was also a member of the original team of educators who envisioned the creation of National English Honor Society. Mr. Manear was a member of the NEHS Advisory Council and taught for more than fifty (50) years, dedicating his life to academic excellence in English studies.
The recipient of the John L. Manear Outstanding Advisor Award will receive a $500 check from National English Honor Society and a plaque. Additional awards of $250 will be available to recognize the contributions of other nominees.
Submission Deadline
The 2024 submission deadline will be announced this fall.
---
More from NEHSXpress: May 30, 2023
April Flash Fiction Contest Winners: Memoirs
Eastern Advisory Council Position Open
Chapter Annual Report
Graduation Photo Competition