Fading From Existence
Garret Stephenson
I became "was" instead of "is."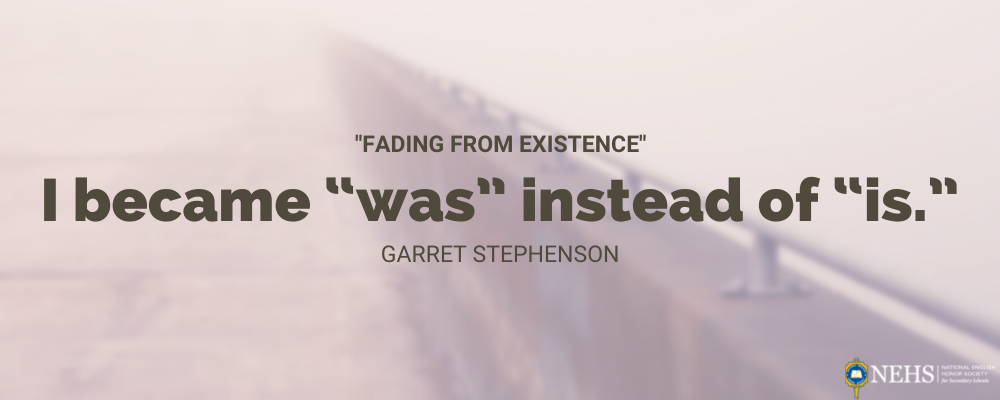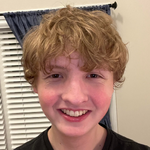 Garret Stephenson is a junior attending Harris County High School in Hamilton, GA. This is his first year in the National English Honor Society being a part of the Tigris Chapter. Garret finds his love for writing through poetry because it can be simple but also contain much more meaning with the use of words to create feelings and meaning. His favorite authors are those who write poetry, such as Marilyn Nelson and Lesley Ingram, who use words in a way that many people can relate to. He wrote this six-word story after reading the poem "I Am Fading Away" by Joshua Fegley, which inspired him to write about the feelings of someone who feels that they are fading away.
---
Starving
Isaac Kaufman
He looked at the scale, smiling.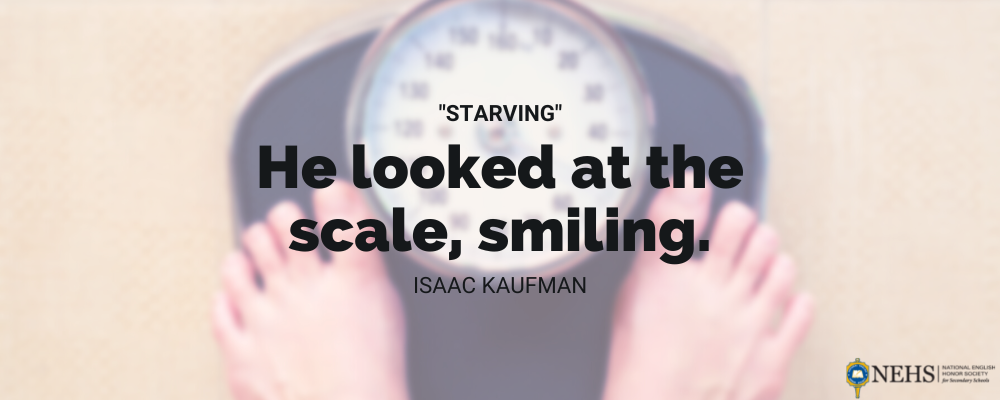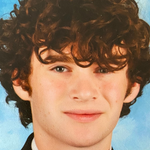 Isaac Kaufman is the youngest child of Meryl and Paul Kaufman. He has lived in Atlanta, GA, for his entire life and attends Dunwoody High School in Dunwoody, GA. He is captain of the wrestling team and maintains a GPA over 4.0. He plans to pursue Neuroscience in college and later attend medical school. Isaac has always had a passion for learning and loves the subjects of English, Science, and History. He also has a passion for athletics, competing at the varsity level in wrestling for all four years of high school. Additionally, he has practiced US Taido Karate for 11 years, earning a second-degree black belt and competing internationally in Japan. 
---
Birthday Flowers
Ellen Darcey
"Happy Birthday!" they say, laying flowers.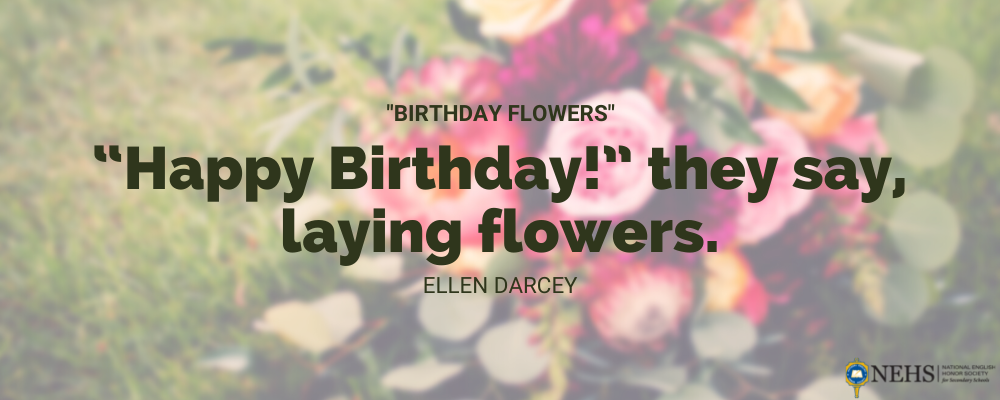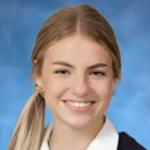 Ellen Darcey is a senior at St. Mary's Dominican High School in New Orleans, LA. She has been a member of the NEHS Veritas Chapter for two years. Ellen has always been drawn to English and reading, but it was not until she discovered her love of poetry that she began writing. In her free time, she often writes poems as a way to express and organize her thoughts. Ellen will be completing a creative writing course during this school year, which she hopes will elevate her writing skills. 
---
The Burden of Grief
Cadence Jackson
Hearts heavier than the small casket.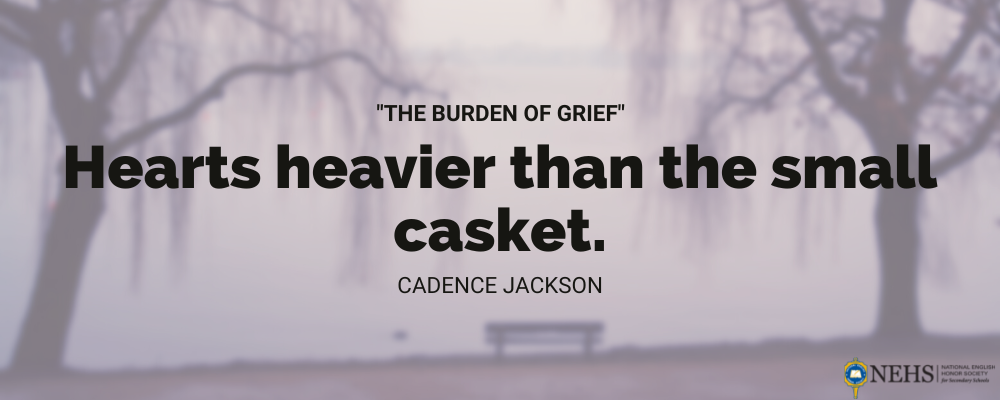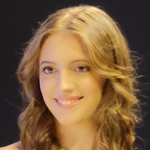 Cadence Jackson is a Senior at St. Mary's Dominican High School in New Orleans, LA, and a member of The Veritas Chapter of NEHS. Reading was an escape that soon turned into her desire to write her inner thoughts that could not be expressed as easily. Although writing has become a passion of hers, it was only recently she discovered its potential in her life. However, through the years, it has become a way to express complex and/or simple thoughts with meaning and a way to represent her passion and desires. She turns to everyday life, whether in history or her own life, to find inspiration for her writing and her favorite genres, including horror, fantasy, and macabre.
---
The Optimist
Gabrielle Marcello
Broken knees, but she's still dancing.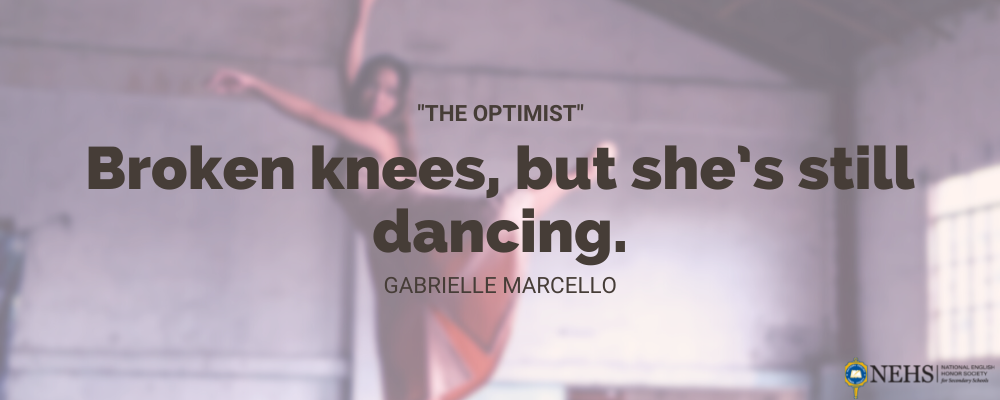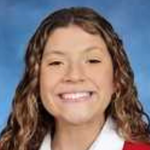 Gabrielle Marcello was born in Washington, DC, and moved to New Orleans in 2009. Gabby's mother is Hispanic so she grew up speaking Spanish. Now Gabby is in 11th grade at St. Mary's Dominican High School in New Orleans, LA. She is on the volleyball team, National Honor Society, National English Society, National Spanish Honor Society, and Mu Alpha Theta. Gabby is dyslexic but loves to express her creativity through writing, getting a chance to become vulnerable to herself to come up with sad and happy ideas. Gabby did not use a writing process to write this essay, she let her creative mind take control. Gabby wanted to write something inspirational. The six-word story is having to do with finding the positive in a negative situation. 
---
Dance
Emma Uhler
She danced all her problems away.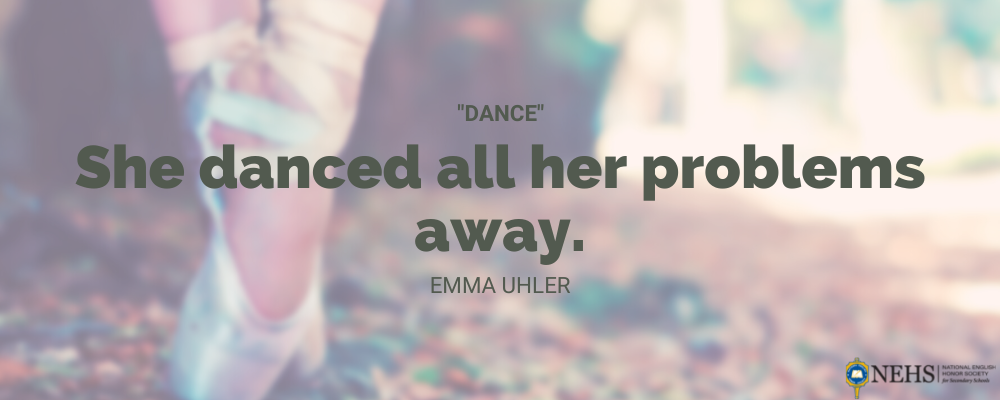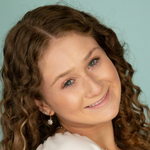 Emma Uhler is an extremely academically involved individual, whose love of writing has grown immensely within the last year. She is a senior at Stoney Creek High School in Rochester Hills, MI, and a proud member of NEHS under Daniel Bliss. Uhler is often motivated to write things that occur in her own life, many of her pieces including dance. This year, she is taking a creative writing course, which has allowed her to branch out from her typical textbook style writing and exercise her imagination. Her love for reading has grown stronger as her love for writing has built; her favorite author at the moment is Colleen Hoover.
---
Silent Grief
Ava Persico
"Dad?" Only a breeze replied. Silence.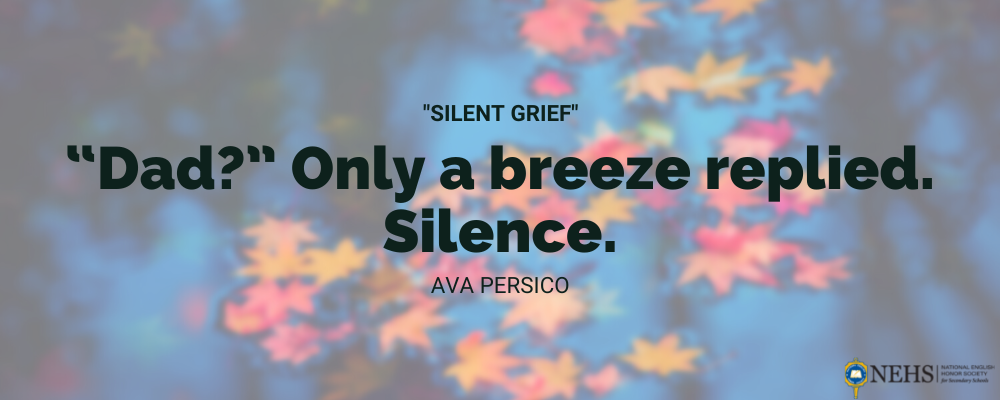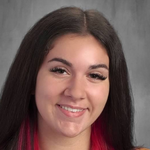 Ava Persico is a sophomore attending East Meadow High School in East Meadow, NY, with a passion for reading and writing. She admires being able to create characters in different realities through writing and creating fiction. Her favorite author is Christina Lauren because of the inspiring, relatable characters and worlds that she is able to create through her words. Her favorite series is the Harry Potter collection by J. K. Rowling, due to the system of magic, world-building, teachable lessons, and personal connections to the characters created by the author. In addition, Ava is a dedicated musician and A+ student who takes part in many after school activities and various honor societies, contributing to her love for learning and education.
---
Growing Up
Monica Morales
They matured through pain, not years.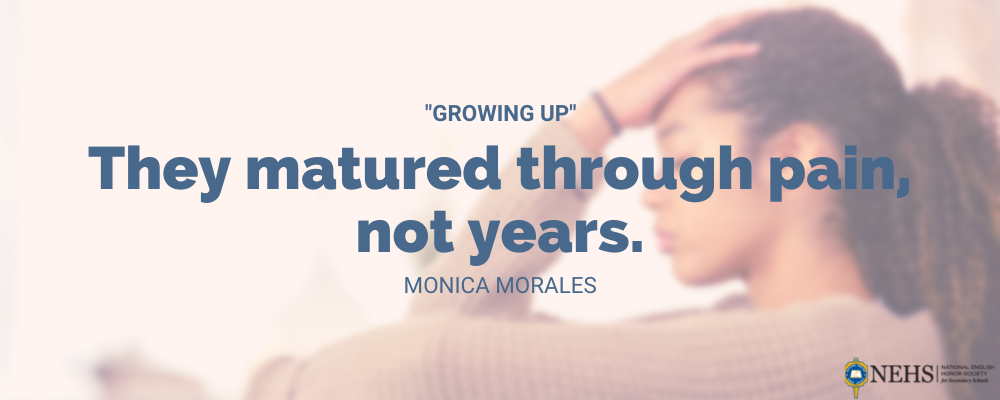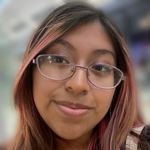 Monica Morales, a junior at Jose Marti STEM Academy in Union City, NJ, is an active member of the JMSA NEHS chapter. She developed a naive appreciation for reading and writing at a young age because she excelled in those subjects. Reading and writing soon took on greater significance in her life as they enabled her to express her struggles healthily. Her favorite authors are Stephen King and Angie Thomas, who appear to be contrary to one another but who both deal with real-world issues that she enjoys reading. Her writing process often consists of using personal anecdotes, as she would also like to help those struggling with hardships, as her favorite authors did for her.
---
Death
Glenn Adams
"Goodbye." Then Dark. "Hello." No Response.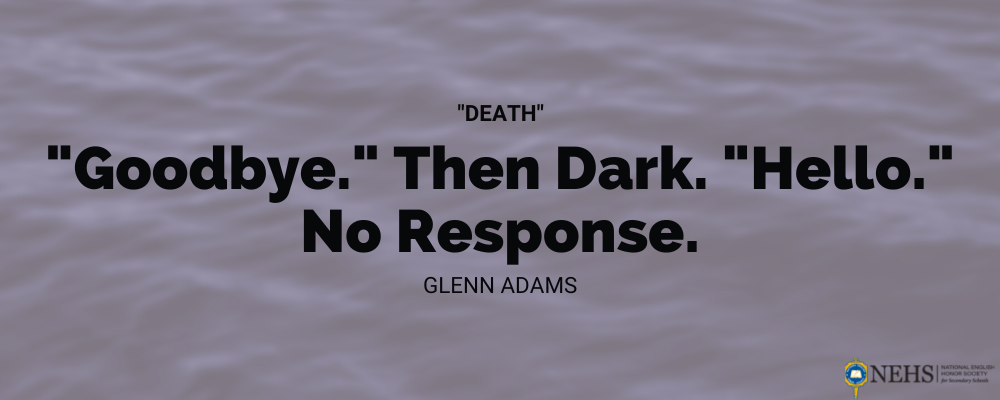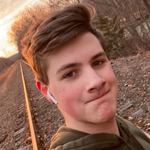 Glenn Adams is a student at Newtown High School in Sandy Hook, CT. He serves as Vice President of the Newtown chapter of the National English Honor Society, is a member of the Newtown chapter of the World Language Honor Society, and is also a member of several other clubs at NHS. Having an interest in both the sciences and writing, Glenn likes activities that include both or either of them. He aspires to one day be a psychiatrist.
---
Cancer
Naomi Fischach
All it took was one scan.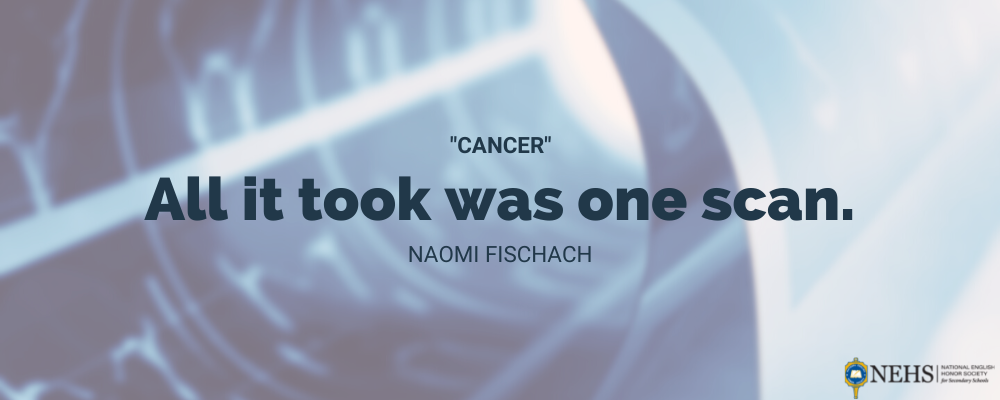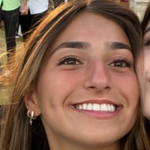 Naomi Fischach is a junior in Scheck Hillel Community School in North Miami Beach, FL. She loves to read by the beach or the pool in her free time and has danced her whole life. She works hard and strives to succeed in school while balancing her social life, which includes spending time with her family and friends. She has two siblings, a 19 year old sister and a 15 year old brother. 
---
Untitled
Lielle Daniel
Life's beauty starts with pure anguish.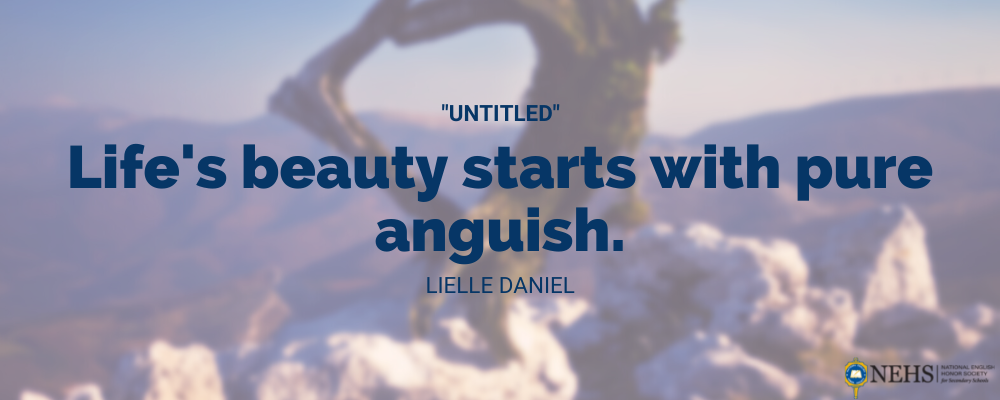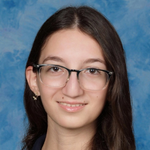 Lielle Daniel is a Junior at Scheck Hillel Community School in in North Miami Beach, FL, who fell in love with reading and literature at a young age. She is inspired to write after reading the amazing works produced by her favorite writers and aspires to write something that will touch others hearts. 
---
Untitled
Jessica Waxenghiser
His words tore through her confidence.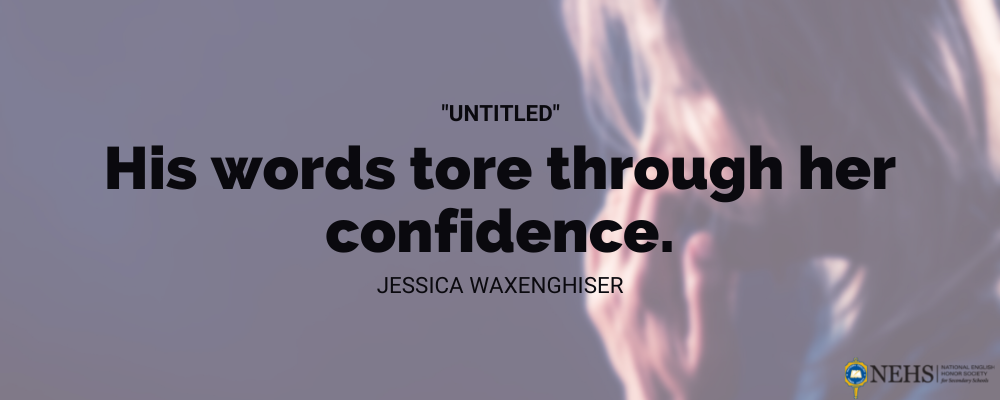 Jessica Waxenghiser is a junior at Scheck Hillel Community School in North Miami Beach, FL. Jessica loves writing because of the opportunity for self expression.
---
Daydreamer
Abigayle Howell
Dreams are best when lived awake.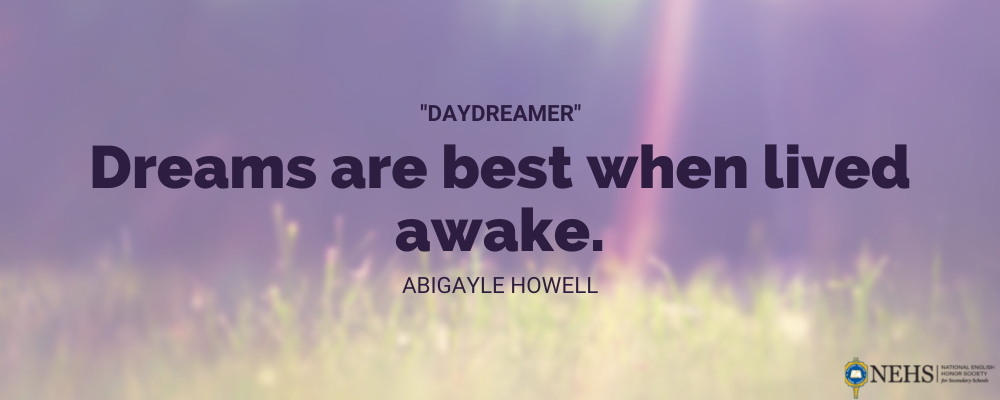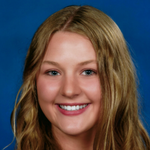 Abigayle Howell grew up in the small town of Williamsburg, VA. She is currently a senior at Jamestown High School in Williamsburg. She is also an involved community member who participates in the National Honor Society and other volunteer organizations. She has enjoyed her academic journey in English and hopes to continue this passion. She is currently employed at a local nursing home and has had the opportunity to form may connections with residents, observing various health care professions, which sparked her interest in pursuing a health care career. She plans to attend college next spring where she will further her education and study to become a speech-pathologist, which will combine these interests.
---
Tunnel
Joshua Young
He disappeared forever. Her life began.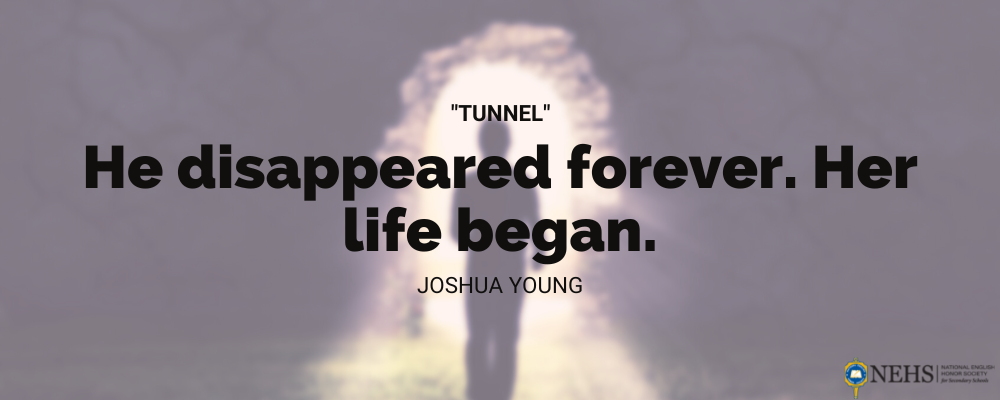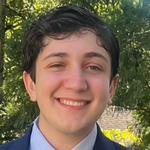 Born and raised in Atlanta, GA, Joshua Young is currently a junior at Dunwoody High School in Dunwoody, GA, where he is a member of the National English Honor Society. Joshua's passion for writing started in fifth grade, when his teacher would encourage him to continue to expand his creativity and to challenge himself. He especially enjoys reading and writing nonfiction and historical fiction. Joshua's favorite authors include Truman Capote, Richard Wright, and Raymond Carver. When creating his flash fiction, Josh employed a reader's perspective. It was then he decided to create his story, having a goal in mind to leave the audience to perceive the story with an open mind.
---
When Life Gave You Lemons
Timothy Flaig
Dear Life, the lemons went bad.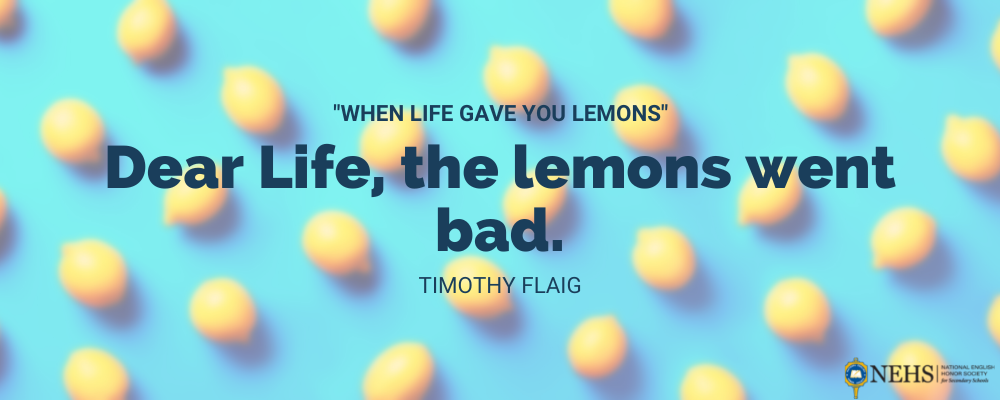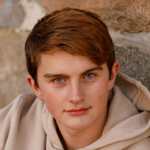 Timothy Flaig is a senior at Tripoli High School in Tripoli, IA, and a member of the Tripoli High School NEHS chapter. Timothy has always loved words and the various meanings behind them. They write poetry and even have their own book called, "In Time, In Essense." Timothy takes inspiration from their own life when they write. They push themself to write about the highs and the lows of life, seeing it more as a journal of where they've been rather than separate poems. Timothy uses writing as a sort of outlet to dump emotions and feelings into. It can be very therapeutic to put everything down on paper and look back on it later.
---
Procrastination
Martina López
Time always runs faster than you.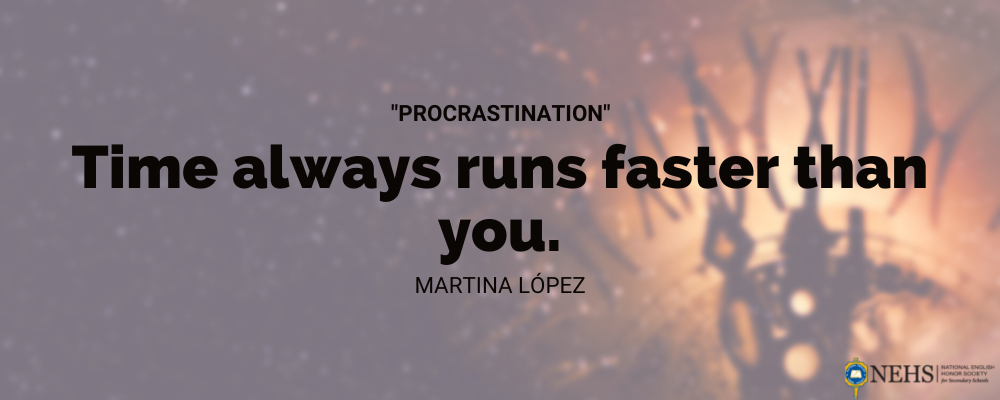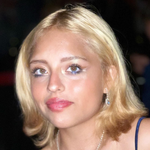 Martina López attends Stephen F. Austin High School in Sugar Land, TX, and is currently in the tenth grade. She is a member of NEHS at her high school. Martina has always loved to read all sorts of books and enjoys writing both in school and as a hobby. She is usually inspired by personal experiences and likes to write about them. She likes horror books, especially by Stephen King.
---
Symphony for the Soul
Julia Herlyn
Waltzing silently, our music was internal.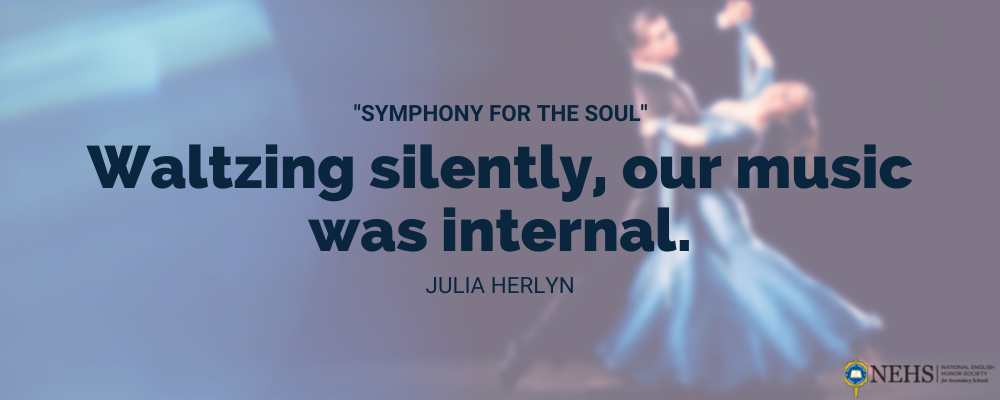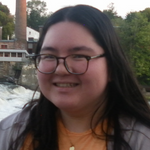 Julia Herlyn is a senior at Staples High School in Westport, CT, and the President of Staples' chapter of the National English Honor Society for the 2022-2023 academic year. Ever since her youth, Julia has always harbored a deep passion for reading and writing, using her creative voice as a vessel for self-expression and communication. She is particularly inspired by the notion of enacting positive change within her community, which has led her to pursue journalism in hopes of enhancing her local community and school climate. Some of her favorite authors include Rick Riordan, F. Scott Fitzgerald, and Ernest Hemingway.
---
Immutable Now
Megan Lin
He dares not approach the mirror.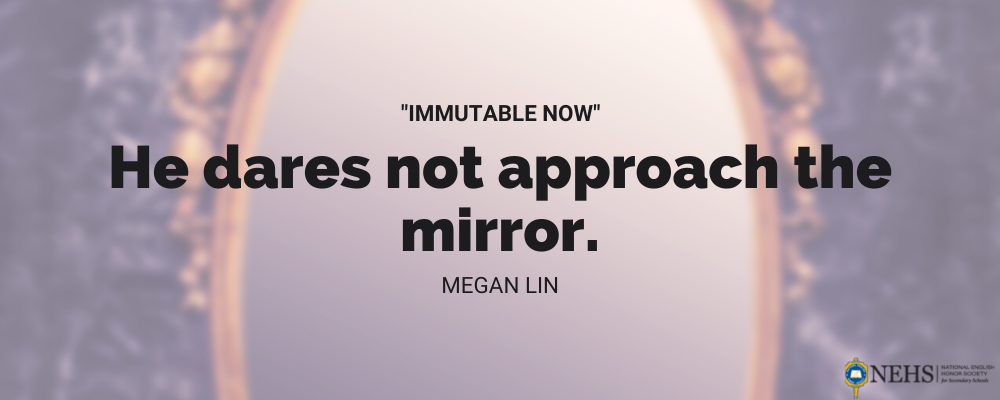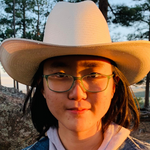 Megan Lin is a senior at North Raleigh Christian Academy in Raleigh, NC, and a student leader of her school's NEHS chapter. As an ESL student, she once had no hope of accomplishing anything with this foreign tongue. Yet, recognizing the potency of literature in learning from and communicating with the world and feeling herself unmistakably drawn to the literary arts, she disregarded all suspicions of incompetence and kept reading and writing. Since then, she has fallen in love with Dostoevsky's treatment of personality, but her writing style receives the most influence from Whitman's lavish outpouring of the human spirit and Chesterton's complex contrivances that blazon the uniqueness of the English language. She now volunteers for an English immersion-learning program for Ukrainian youths.
---
The Voice
Nora Nessau
"Dinner!" Mom said. I'm home alone.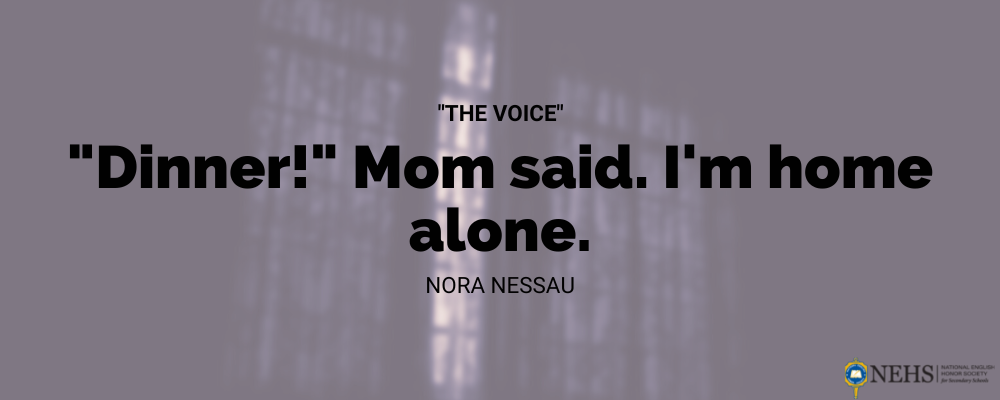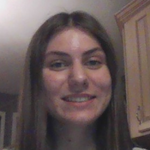 Nora Nessau was born and raised in Germany, and moved to Michigan in 2012. She attends Stoney Creek High School in Rochester Hills, MI. At a young age, she had discovered her passion for literature, reading many different genres of books. As she entered high school, her love for literature expanded to writing. Outside of school, Nessau loves spending time with her friends and family, and also enjoys traveling. In the future, she plans to attend college to become a dentist. 
---
The Things That Were Never Done
Ava Carlino
It's funny how never lasts forever.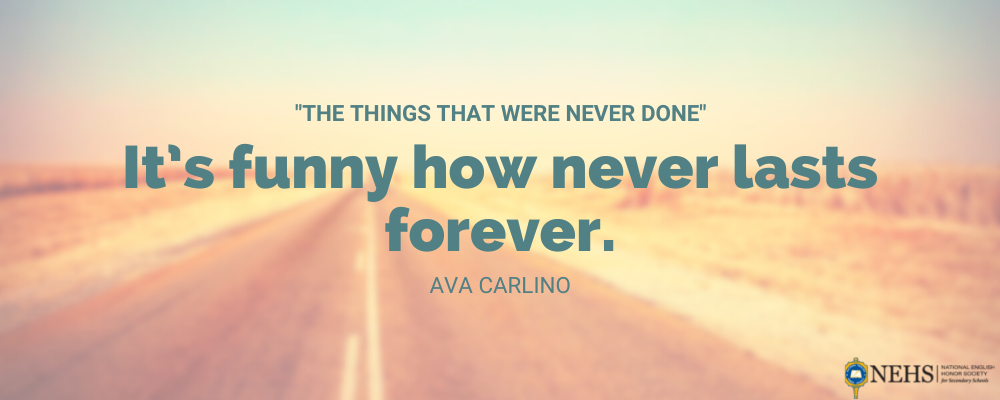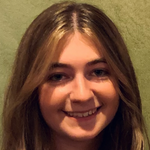 Ava Carlino is a junior attending Danbury High School in Danbury, CT, and this is her second year in the National English Honor Society. In addition to being a member of several different clubs, she enjoys baking and spending time with family and friends. Ever since Ava was young, she has enjoyed the endless possibilities of literature and especially enjoys creative writing. She loves expressing herself through her writing and is compelled to spread her message through writing whenever she can. Ava finds inspiration in many authors' works and aspires to one day be able to write freely and share her ideas with the public.
---
Consolation in a State of Despair and Defeat
Christopher Borges
Desolation inhibits opportunity but fosters innovation.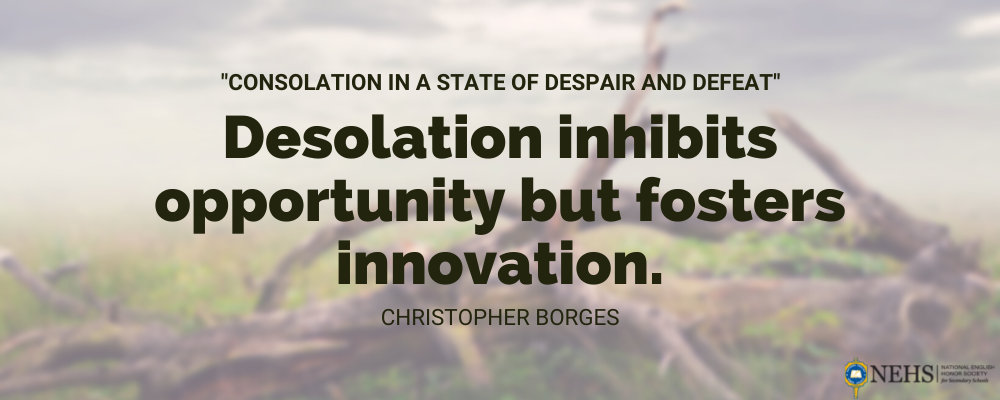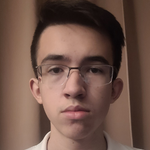 Christopher Borges is a sophomore attending Danbury High School in Danbury, CT. He is currently enrolled in English II Honors with aspirations of completing both AP Language Arts and AP Literature. As a child, he would indulge himself in many novels in his free time. The manner in which they would captivate made him write in hopes of emulating their magic. The problems of society inspired him to write and were always intertwined in his short stories through magical realism or realistic fiction. Now he is in the NEHS Chapter for Danbury and is working toward improving his writing for the future. His favorite author is Edgar Allen Poe due to how misunderstood he was and the deep meaning behind his works.
---
Ignorance
Reagan Schulz
We brag perfection but ignore improvement.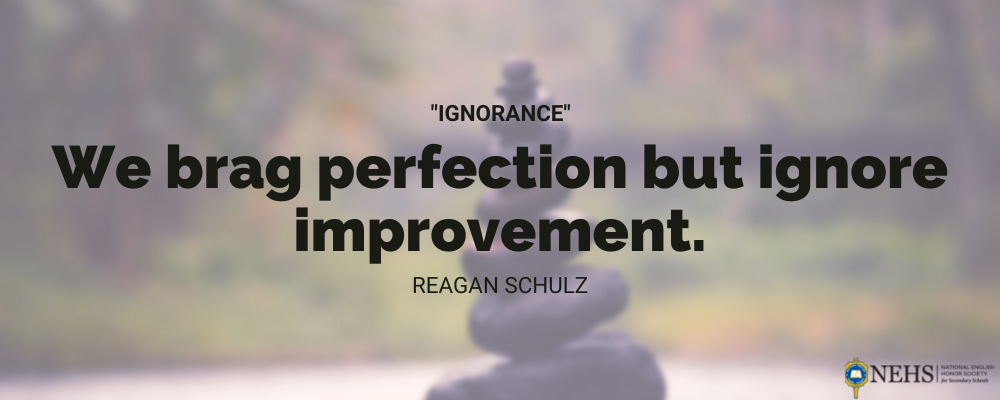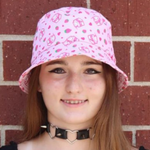 Reagan Schulz attends Staley High School in Kansas City, MO, and is a member of the Staley chapter of NEHS, The Peregrine Tower. As a senior Reagan is taking four English classes including a journalism class, where she helps write the school's magazine. Growing up she loved reading dystopian books like The Hunger Games, The Maze Runner, and Divergent. These books ultimately pushed her to start writing works reflecting this manner of writing. In addition, she also found her love for writing romance literature and was hugely inspired by works like The Selection and Flowers from 1970. Recently, Reagan has also dipped into classical works like The Arabian Nights, The Art of War, and The Great Gatsby. Reagan hopes she can inspire others someday with her writing just like they've done.
---
Untitled
Michael Byrd
"Some scratches never heal," Grandma said.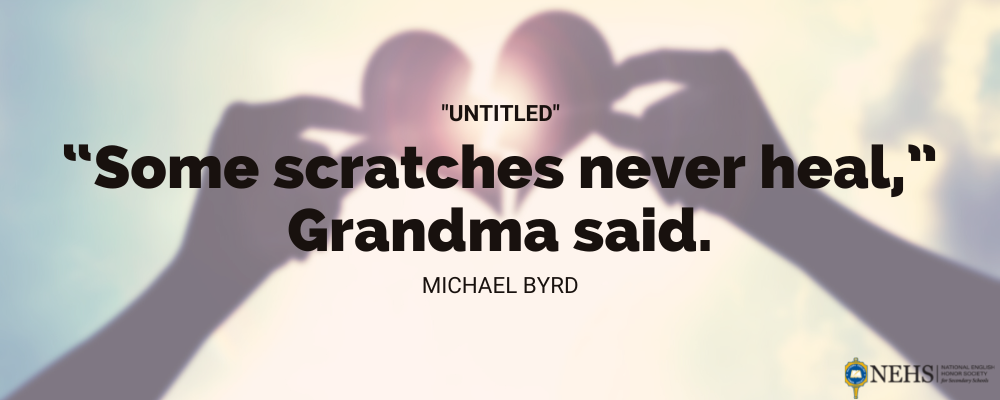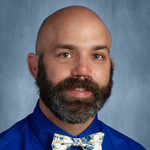 Michael Byrd is the Faculty Advisor for the Notre Dame Academy (Park Hills, KY) Chapter of NEHS. This is his first year leading an NEHS chapter. He's most excited about reopening The Write Place, his school's writing mentor lab. 
---
Senior Year
Maria Fischer
Once upon no time. The end.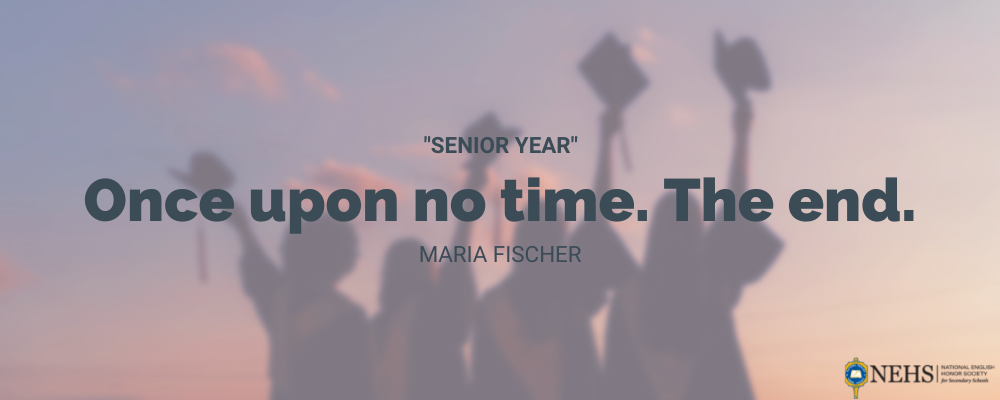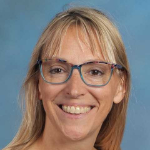 Dr. Maria Fischer is the Chapter Advisor of the Joliet Catholic Academy (Joliet, IL) chapter and proud English teacher of several honorable mention-winning students in the John F. Kennedy Profiles in Courage Essay Contest, as well as several winners of the Illinois Manningham Poetry Competition. She finds time to write herself thanks to an MFA program through Lindenwood University.