Hello my lovely!
Sahar Choudhury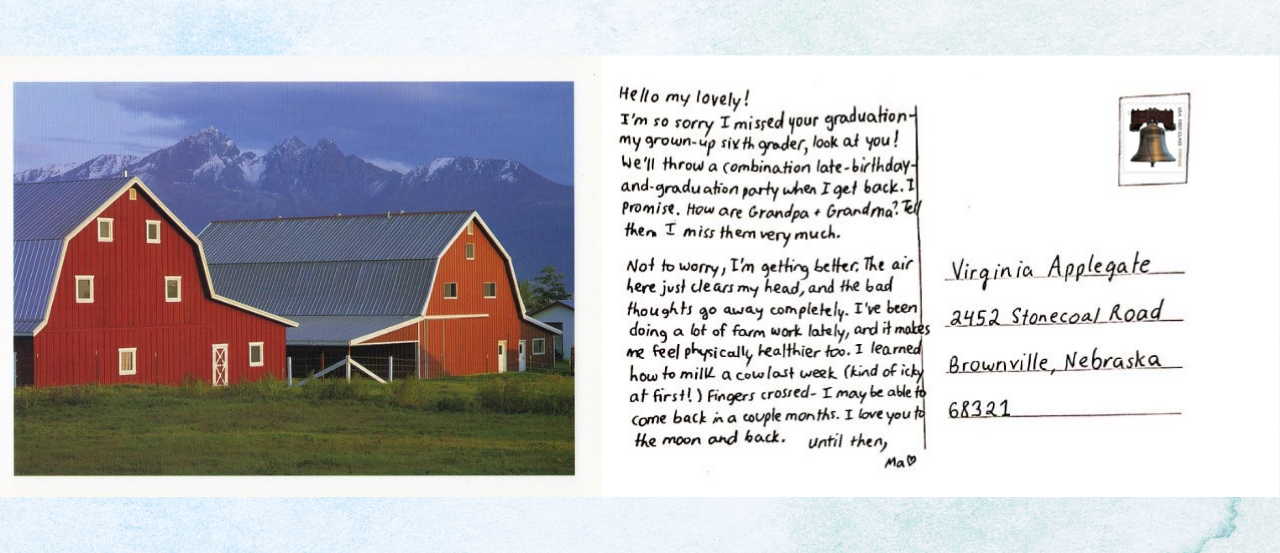 Hello my lovely!
I'm so sorry I missed your graduation—my grown-up sixth grader, look at you! We'll throw a combination late-birthday-and-graduation party when I get back. I promise. How are Grandpa & Grandma? Tell them I miss them very much.
Not to worry, I'm getting better. The air here just clears my head, and the bad thoughts go away completely. I've been doing a lot of farm work lately, and it makes me feel physically healthier too. I learned how to milk a cow last week. (Kind of icky at first!) Fingers crossed—I may be able to come back in a couple of months. I love you to the moon and back.
Until then,
Mom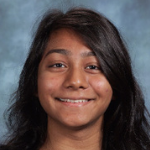 Sahar Choudhury is in twelfth grade at Heritage High School and the Academy of Science at the Academies of Loudoun. This is her second year as a member of the National English Honor Society at Heritage High School. Sahar began writing stories from a young age, and her previous work has been published by the Award-Winning Young Writers of America and by Dandelion Press. Among other awards, she has been the recipient of numerous PTA Reflections contests at various levels. She enjoys writing short fiction stories and poetry in her spare time, as well as entering writing competitions. Sahar lives in Leesburg, VA, with her parents and two younger brothers.
---
Untitled
Yunhui Shim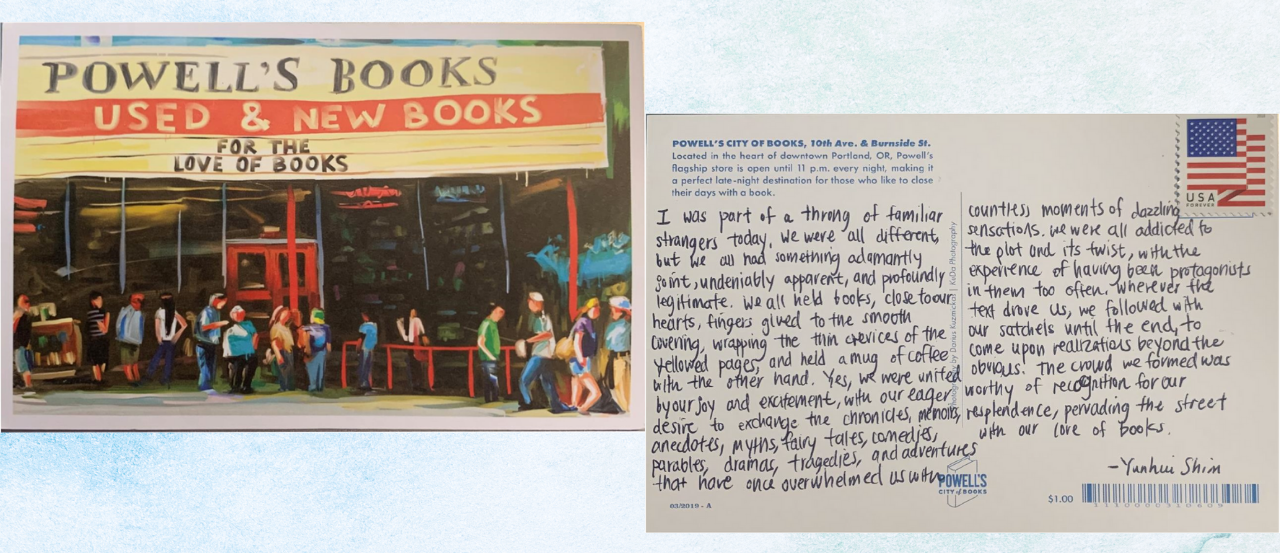 I was part of a throng of familiar strangers today. We were all different, but we all had something adamantly joint, undeniably apparent, and profoundly legitimate. We all held books, close to our hearts, fingers glued to the smooth covering, wrapping the thin crevices of the yellowed pages, and held a mug of coffee with the other hand. Yes, we were united by our joy and excitement, with our eager desire to exchange the chronicles, memoirs, anecdotes, myths, fairy tales, comedies, parables, dramas, tragedies, and adventures that have once overwhelmed us with countless moments of dazzling sensations. We were all addicted to the plot and its twist, with the experience of having been protagonists in them too often. Wherever the text drove us, we followed with our satchels until the end, to come upon realizations beyond the obvious. The crowd we formed was worthy of recognition for our resplendence, pervading the street with our love of books.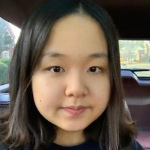 Yunhui Shim is a junior of Northview High School's National English Honor Society chapter, who aspires to become an accomplished writer. She enjoys reading, public speaking, and painting. Her favorite subject is math, but she would like to incorporate the logic involved in writing, and comprehending passages to help further her knowledge in both areas. She aims to share her knowledge and experiences through the art of writing, and enjoys analyzing different texts that have been written by both contemporary and past writers. Her favorite book is The Immortal Life of Henrietta Lacks by Rebecca Skloot, as she became inspired by the astronomical impact that one individual can make in scientific communities, helping develop medicines for humanity. Today, Yunhui wishes to spread the joy reading, and the wisdom to come from it.
---
Untitled
Bethany Bradley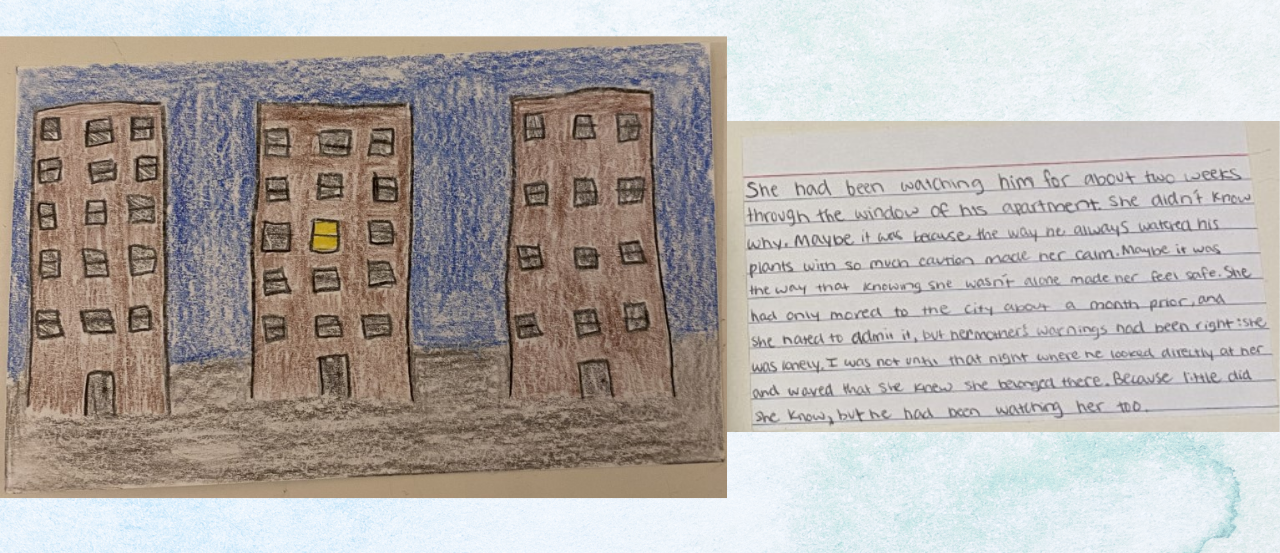 She had been watching him for about two weeks through the window of his apartment. She didn't know why. Maybe it was because the way he always watered his plants with so much caution made her calm. Maybe it was the way that knowing she wasn't alone made her feel safe. She had only moved to the city about a month prior, and she hated to admit it, but her mother's warnings had been right: she was lonely. It was not until that night when he looked directly at her and waved that she knew she belonged there. Because little did she know, but he had been watching her too.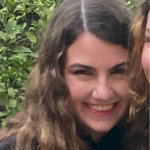 Bethany Bradley is a Senior at Saint Agnes Academy. She loves to write because she believes it is a great way to express her creativity and have fun. She is inspired to write from her love of reading. My favorite writer is Agatha Christie because she loves murder mystery novels and trying to solve the mystery herself before the book reveals the murderer. She came up with the idea of her story from looking around Houston and seeing all of the tall buildings. She loves to observe the people around her, and thought it would be an interesting concept for a short story.
---
Addressed to: My Haters & All Those Who Doubted Me
Sarah Goldberg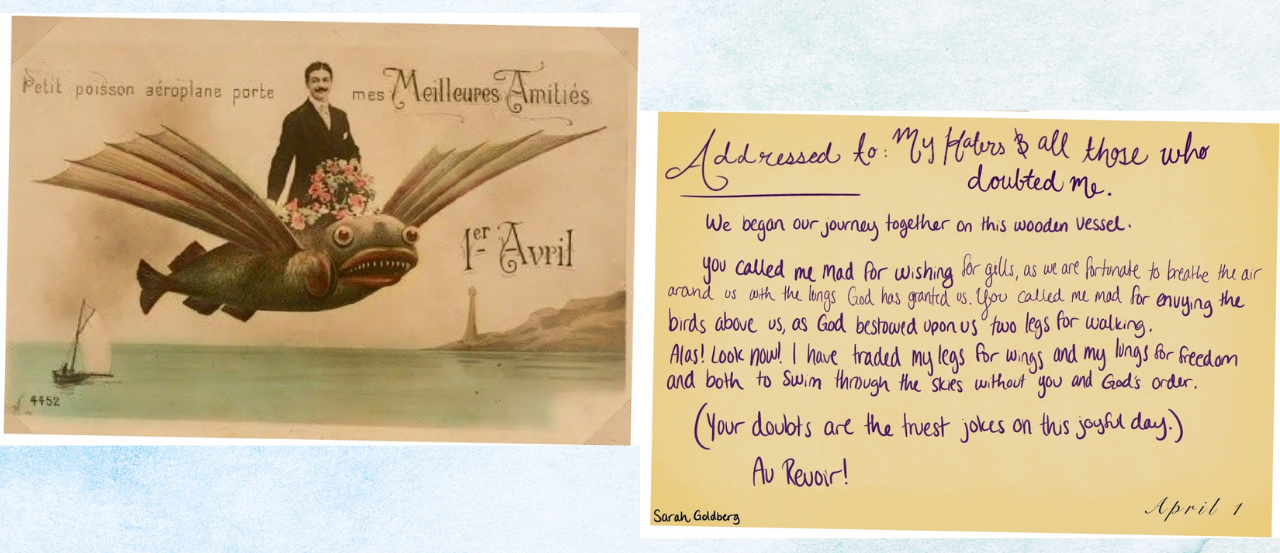 Addressed to: My Haters & All Those Who Doubted Me.
We began our journey together on this wooden vessel.
You called me mad for wishing for gills, as we are fortunate to breath the air around us with the lungs God as granted us. You called me mad for envying the birds above us, as God bestowed upon us two legs for walking.
Alas! Look now! I have traded my legs for wings and my lungs for freedom and both to swim through the skies without you and God's order.
(Your doubts are the truest jokes on this joyful day.)
Au Revoir!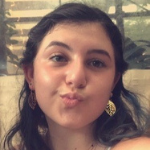 Sarah Goldberg's interest in English started young, with her nature as a bookworm since kindergarten. She was a known bookworm in elementary school and her thirst for new stories only grew with time, shown in her continued recognition for academic excellence in English courses at American Heritage School in Plantation, FL. Much of her love of reading and writing stems from adventure books such as The Adventures of Huckleberry Finn by Mark Twain and the works of Rick Riordan, the latter of which inspire Sarah to incorporate an engaging personality into her work to achieve her goal of opening more people to the many forms of literature. She also does this through her love of music and bullet journaling.
---
The Girl and Their Tradition
Hannah Yi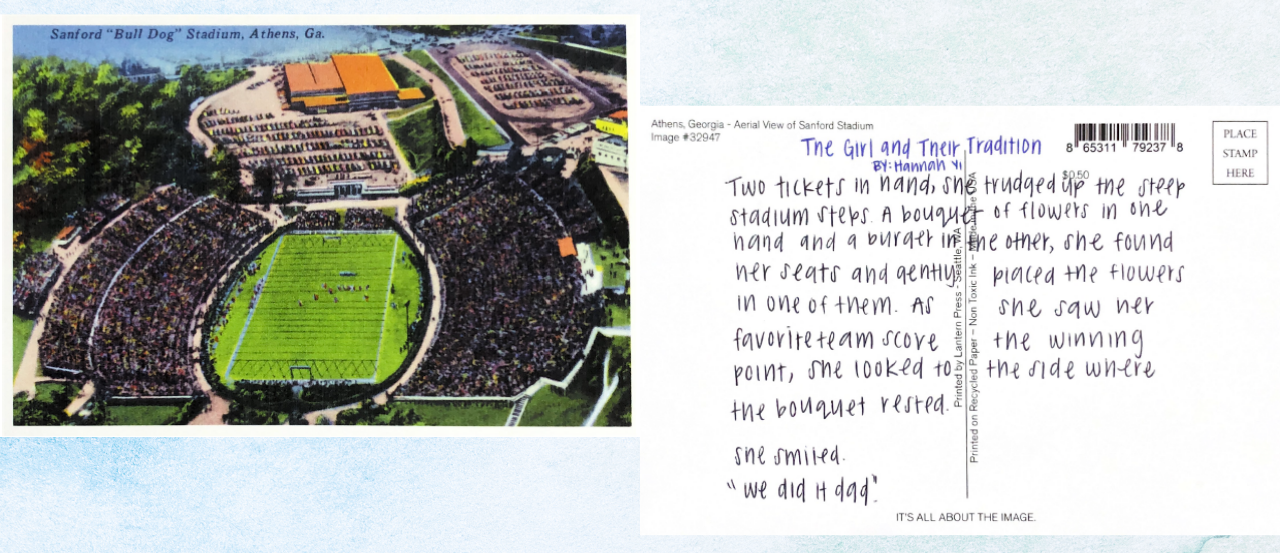 Two tickets in hand, she trudged up the steep stadium steps. A bouquet of flowers in one hand and a burger in the other, she found her seats and gently placed the flowers in one of them. As she saw her favorite team score the winning p, she looked to the side where the bouquet rested.
She smiled.
"We did it, Dad."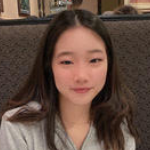 Hannah Yi is a junior and a member of Northview High School's National English Honor Society chapter. Writing inspires Hannah to express her emotions and open up to new ideas, just as her favorite authors, George Orwell and Zora Neale Hurston, communicate their voice through their writing. She especially loves Orwell's 1984 and Hurston's Their Eyes Were Watching God. Hannah enjoys implementing vivid imagery throughout her writing process, which fuels her fictional pieces. She has a passion for reading and writing fiction because it allows her to be a part of a different world on a deeper and more emotional level.
---
Untitled
Olivia Garza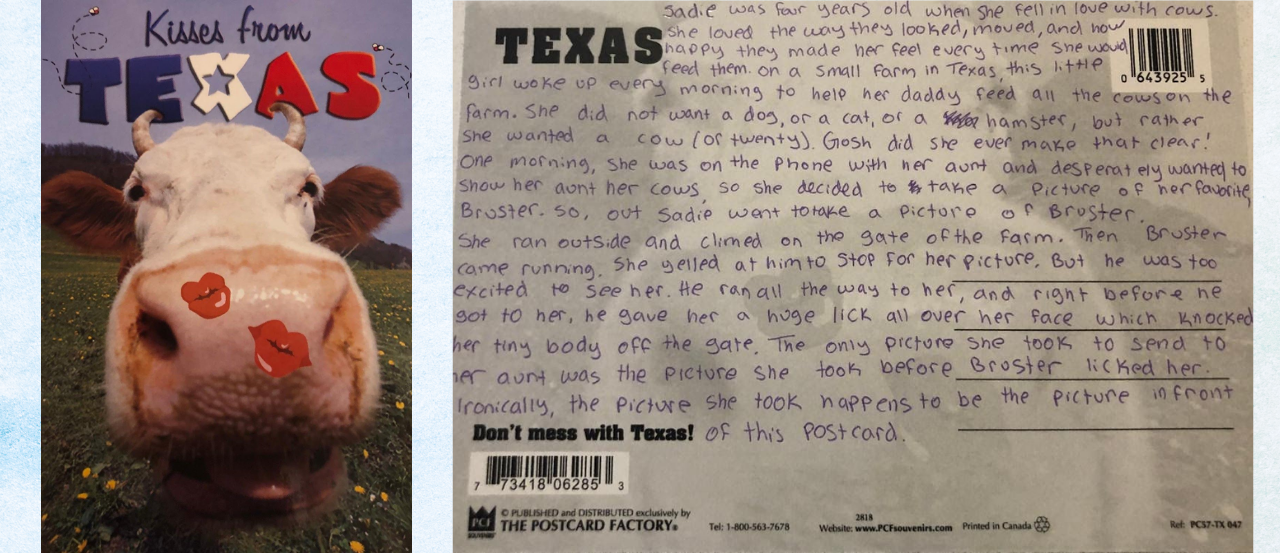 Sadie was four years old when she fell in love with cows. She loved the way they looked, moved, and how happy they made her feel every time she would feed them. On a small farm in Texas, this little girl woke up every morning to help her daddy feed all the cows on the farm. She did not want a dog, or a cat, or a hamster, but rather she wanted a cow (or twenty). Gosh did she ever make that clear! One morning, she was on the phone with her aunt and desperately wanted to show her aunt her cows so she decided to take a picture of her favorite, Bruster. So, out Sadie went to take a picture of Bruster. She ran outside and climbed on the of the farm. Then Bruster came running. She yelled at him to stop for her picture. But he was too excited to see her. He ran all the way to her, and right before he got to her, he gave her a huge lick all over her face, which knocked her tiny body off the gate. The only picture she took to send to her aunt was the picture she took before Bruster licked her. Ironically, the picture she took happens to the be picture in front of this postcard.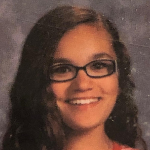 Olivia Garza is a senior at Cypress Lakes High School, and is a first-year member in her school's chapter of the National English Honor Society. She has written numerous essays as a student, and has been a trusted editor on papers, which results in satisfaction from professors. She was inspired to write a short story about an animal, as she has strong interest in wildlife and the importance of the natural habitats. Overall, the theme of nature has been a large inspiration to the writing process. Olivia is also inspired from other students, and classmates who use their minds to create stories that appeal to and interest other readers.
---
Dear Walt
Maria Fischer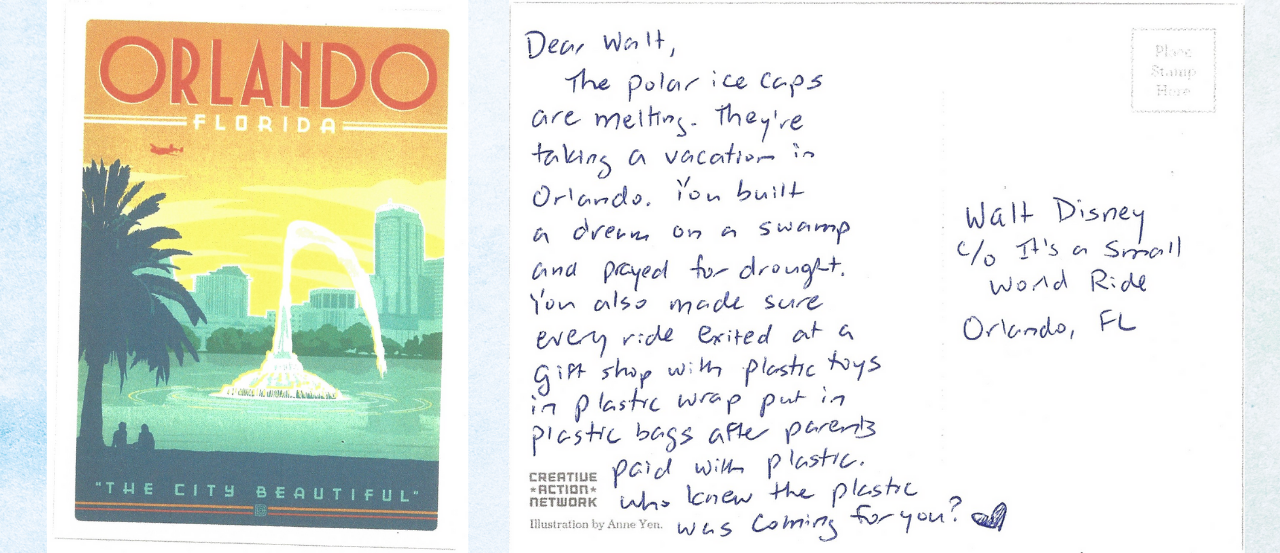 Dear Walt,
The polar ice caps are melting. They're taking a vacation in Orlando. You built a dream on a swamp and prayed for drought. You also made sure every ride exited at a gift shop with plastic toys in plastic wrap put in plastic bags after parents paid with plastic. Who knew the plastic was coming for you?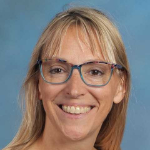 Maria Fischer is the Advisor for the Joliet Catholic Academy chapter of NEHS. She teaches juniors and seniors American Literature, AP Language and Composition, Creative Writing, and dual credit Education 101 in conjunction with the University of St. Francis. Joliet Catholic recently switched to a hybrid online and onsite schedule. Both she and her Student Oliva Adamic won the September Flash Fiction Six-Word Story contest, and she has been asking her creative writing class to participate in each month's challenge. She is currently reading The Hate U Give by Angie Thomas and discussing with the club she moderates, the Accepting Cultural Diversity Club.