Oxymoron
Adya Bhatta
Maybe it was the way I flinched when you put your hand on my shoulder at that party. Or when the cheap necklace you bought me at a strip mall in Miami last summer started feeling tighter. I called it my very own noose, and you were livid. For weeks afterwards, I put two coats of makeup on to hide the bruises.
But it was when your mom called us a "happy couple" at Thanksgiving dinner, that I realized.
On the car ride home I asked you, "What's that word? Oxy-something . . ."
You pretended not to hear.
"It's like jumbo shrimp."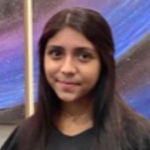 Adya Bhatta is a junior and first-year member of Northview High School's chapter of National English Honor Society. In her free time she peruses the library for books to read and comfortable places to read them. She often can't choose between novels like Lolita and Catcher in the Rye, so she ends up settling on a reread of The Kite Runner. Adya finds her inspiration to write from personal experiences, dreams, and people-watching. In fact, her piece Oxymoron was inspired by a mix of all three. Adya hopes her writing can make people laugh, cry, reflect, and—most importantly—connect with one another.
---
The end.
Carolina Heister
Jaw clenched, tears ran down her face as she learned the truth. Everything she had known for the past ten years had been a lie.
She clenched her fists in her lap in response to his smooth and panicked voice.
When she looks in the mirror her mascara smudged and eyes swollen. Feeling helpless and lonely. When seeing herself like this, she knew she needed to end the relationship.
She cut his panicked words off.
"You are not the man I thought I knew."
Before second guessing herself, she hung up the phone. It is time to live her life.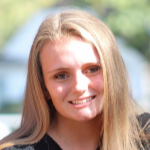 Carolina Heister is a senior at Linganore High School! She is a member of her school's NEHS chapter and has always loved reading and writing! She is a big fan of journaling and loves being able to go back and read what the past years have brought her. Her favorite author is Elin Hilderbrand, her books never fail to keep her eyes glued to the pages. She is currently reading her book titled Winter Street, but her all time favorites of hers are The Blue Bistro and the Winter in Paradise Trilogy. Next year she will be continuing her education at Kent State University studying Fashion Merchandising with a minor in Small Business management.
---
Ducks
Sai Tummala
I like watching the ducks in the pond across the street. One duck, in particular, has a penchant for swimming backwards. On multiple occasions, I've seen the other ducks crowd around him, and chastise the rogue duck for his inconvenient habit. He shoos the others away with an adamant quack, as if to say, "Why don't you all leave me alone? I'm not hurting anyone by doing what I please!"
I can't help but applaud his confidence. There are few things more difficult than standing up for oneself. I hope to, one day, be as resolute as that backwards-swimming duck.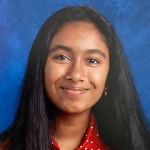 Sai Tummala is in her junior year at Allentown High School, and a member of Allentown High School's National English Honor Society, the Wilde Chapter. This is her first year as a member of the NEHS, and she is also a member of the the Science Honor Society. As someone who appreciates both literature and nature, her passions include gardening, reading scientific journals, and writing poetry. In the future, she hopes to pursue a career as an accomplished writer. Similarly, she hopes to be an inspiration to others, and to encourage others to write what about what their own passions.
---
For Better
Gisela Sarmiento
The sword fell to the ground with a heavy thud, her body next as she gasped in shallow breaths of air. Everything seemed frozen as she glanced around, her body tired, her spirits low. The cold rattled her bones thoroughly, and her arms buckled as she tried to sit up.
The others jeered at her, reveling in her defeat. To them, she was just a toy, a mere game to men with her fantastical ideals of a better world. Peace was a luxury. War was imminent.
But she believed in better.
Trembling, she picked up her sword again.
For better.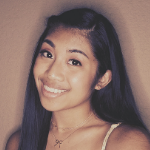 Gisela Sarmiento is a high-school senior at Conroe High School. She is a Lieutenant Colonel for the Conroe High Golden Girls Drill Team. She is also involved in several other organizations within her school, including NEHS. As a performer, she loves to sing and dance and post covers of herself doing both on her Instagram page. After graduation, she will be attending Texas A&M University, majoring in Marketing and minoring in Performance Studies. In her free time, she loves to impulsively shop, drink bubble tea, read anything she can get her hands on, and write about whatever comes to her mind.
---
Broken Comb
Tinde Koroma
She broke another comb. Not because she was mad or because she was heavy-handed, but because of her thick tresses. After adding the broken comb to the already skyscraper high stack, she squeezed her eyes shut until she got lost in the darkness behind her lids. She clasped her hands together and wished. "Please give me straight hair. I'm tired of the broken combs and the tears that stain my cheeks before I even start sectioning. Why don't they like me? Is it because of my hair? It's too kinky, isn't it?" "Know your worth, baby girl." A tear falls.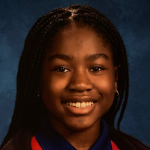 Writing is a domain that Tinde Koroma has always poured herself into when other things like math and science seemed to restrict her creativity. She is always jotting something down, whether it be an idea for a long piece or a random thought that she knows will make more sense when she writes it down. Absorbing a new piece of literature always revitalizes her, and she appreciates how much power words can have on people, and what power people have when they utilize the ability to write. It would be shocking if Tinde didn't find a career in the literary world.
---
A Child's Dream
Mikayla Moxley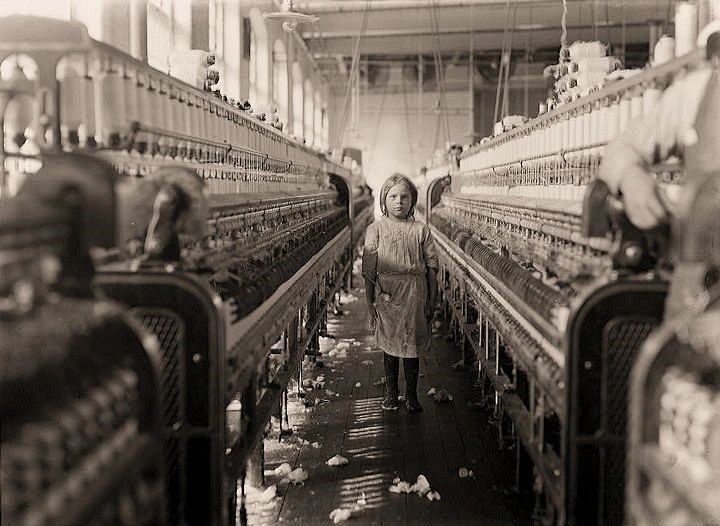 Wanted for tiny features,
With miniature fingers that slip into every dangerous place.
In constant fear of having nine in a place there were ten.
To obey as they put my life in jeopardy.
Working only for a roof and meals.
My peers are stripped of their lengthy lives.
Long, treacherous hours that I work without words.
Saving a couple nickels, hiring those who don't understand salaries.
My little frame slips between the whirling frames within every machine,
That could be crushed in seconds.
I hold on to a hope for the future,
A world where children can stay children.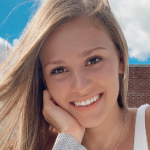 Mikayla Moxley is a junior at Linganore High School in Frederick, MD. At Linganore, she is a member of the National Honors, National English Honor Society, and National Spanish Honor Society. Her love to write started when she was little, and allows her to be creative and get a new perspective on many ideas and concepts. She is inspired to write by all the things around her, so when she was listening to her brother explain a project he was doing in his history class about the children working in dangerous factories during Industrial Revolution, she got the idea to write this Drabble. She is inspired by her own life, similar to her favorite author F. Scott Fitzgerald.
---
How Do I Describe Thee?
Mia Tan
When I need you most, I find only a void. No notes tacked onto my shirt or scribbled on my arm, like the games we once played. The roads blur, the champagne glasses resume their chime, and all I grasp is fluttering, seaborn wind . . .
To replace you would be to retrace our past, each step deeper into the void.
I imagine you are free, skimming alongside the dolphins and flying cod—anywhere but confined to the walls of this page. Until you sail back to mind and flop onto my tongue, exhausted from your journey:
Godspeed, word I cannot recall.
Mia Tan is a junior at Mills E. Godwin High School in Henrico, VA, and a first-year member of Mordica Roscoe Bruner Godwin Chapter of the National English Honor Society. She enjoys discussing and writing poems for her school's literary magazine, and her favorite poet is Billy Collins because of his subtle sense of humor. Besides literature, she enjoys swimming, jamming out to 80s music, and hugging Giggles, her dog. Mia has enjoyed finding more time to write original poetry and short stories during quarantine, and she spends her time balancing online school and classwork with enjoyable hobbies that involve social distancing.
---
Ringlets
David Dill
You somehow always cram the excessive amount of your hair into your oversized cream colored knit hat as if you enjoyed the bulbous protrusion of a squidish cap. Hair which falls sporadically like volcanic ash everywhere to disrupt grazing patterns and meal preparation, somehow all that hair which is never contained you can entrap. You always fully hide your brown tresses, bundled against cold which hair should protect against. Except today. Ringlets protrude bashfully from the trim, pressed against your chilled forehead, retreating from your beanie. It should mean nothing, but those strands ensnare my gaze; and so, me too.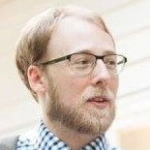 David Dill, when not managing NEHS or his high school classes, has a deep love of poetry and the nerd world at large. He is a published poet and avid reader of the genre, and he fabricates grand worlds and characters in Dungeons and Dragons with his remaining time. Having taught at the high school level for eight years, most recently at Lehigh Valley Academy, he often finds inspiration from the authors he is teaching when he is not reading other authors' work. His favorite of all time is Charles Bukowski, who has most influenced his personal writing style in his own works.