Clarify
Lucia Follman
That guy in the green over there on the median, see him? He's sitting complacently, like he's Providence's son. But you know he's there through the blazing afternoons and humid nights, seven days a week. You know what he wants.
Why doesn't he say anything?
The traffic light turns green.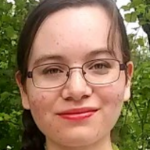 Lucia Follman is the President and senior member of the St. Anthony Catholic High School National English Honor Society Chapter. She has previously published a short story in the Canvas Literary Journal 2019 Autumn Edition and has won an award for a short story in the Scholastic Art and Writing Awards 2019 Competition. She enjoys experimenting with psychological flash fiction and narrative poetry. The study of skilled authors' various styles is the backbone to her creative process, and her favorite authors include Ray Bradbury, Ken Follett, and Neil Gaiman. She hopes to further develop her writing skills and continue publishing.
---
The After Party
Penelope Luna
Buzzing like a pestering fly, the red, neon sign of the dilapidated gas station flickered. Yup, I'm totally grounded. She thought to herself. Gulping down the last drops of her Monster, she plopped down onto the curb and stared at the empty gas pumps. Like them, she was completely drained.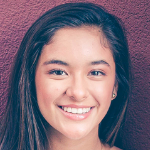 Penelope Luna is currently a junior at Saint Mary's Hall high school. She is a member of the Charles Dickens National English Honor Society Chapter at Saint Mary's Hall. Some of her favorite authors include S.E. Hinton and Markus Zusak. Penelope has been an avid reader and writer since she was young and her love for writing has only flourished as she has grown. She has always used writing as an outlet to express herself and allow herself to step out of reality. One of her favorite parts about writing is creating characters, as each has their own unique story that should be told.
---
Untitled
Amelia Christmas
Riding your new motorcycle through town, you love seeing everyone's heads turn to look at you. "How lame," you think, seeing a cyclist in an embarrassing neon orange helmet. As your bike flies out from  underneath you and your body slams into the pavement, you wish you'd worn yours too.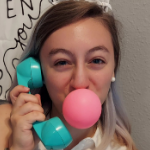 Amelia Christmas is a junior at Robert G. Cole high school and a member of Cole's very own NEHS chapter. Her love of writing began at the age of 6 when, after reading a particularly good selection, she declared, "I can do that!" Starting first with children's books and poems, she soon moved onto short stories and her first autobiography. Her favorite pieces include the works of Edgar Allan Poe, Shel Silverstein, Sir Arthur Conan Doyle, and John Greene. She draws her inspiration from her wild imagination, love of words, and those morbid hypothetical "what ifs?" we all quietly entertain.
---
Quest of a Thousand Storms
Emma McIntosh
Where the cave is your only escape from the rain and the mud-soaked cloak is all you have; where the weight on your chest is paralyzing; where you stare at the sky in desperation praying for a glimmer of hope; that is where you begin to grow into yourself.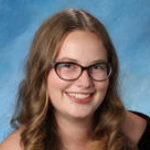 Emma McIntosh is a senior at Cathedral Catholic High School and a member of the Chi Sigma Epsilon Chapter of the National English Honor Society. She loves writing because it is a medium that spans both time and place. She believes words have the ability to transform people and introduce ideas in unique and powerful ways. Her favorite authors include J.R.R. Tolkien, C.S. Lewis, J.K. Rowling, Ruth Ware, and Lisa Jewell. Emma takes to heart the lessons she has learned from reading and enjoys crafting moving pieces often inspired by her own life experiences. She is inspired and encouraged by her best friends, her family, and her faith.
---
Untitled
Rylie O'Neal
A wonderful smell woke me up on Saturday morning. I walked into the kitchen to find out Grandma made breakfast and was still frying the bacon. She left out a pot filled with tea to drink with breakfast. I grabbed a cup.
I took a sip.
It was bacon grease.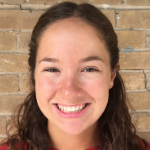 Rylie O'Neal is a senior attending Robert G. Cole High School in San Antonio, TX. She is the second born out of four children. She has been a part of the National English Honor Society for 3 years. Her love of creative writing began in 6th grade. She used to write fictional short stories and poems growing up. She loves to write about her personal experiences growing up on a military base as well as being a part of a military family. She loves to read historical fiction and fiction novels. Her favorite author has always been J.K. Rowling.
---
Ipatiev House
Maria Fischer
New neighbors in the House of Special Purpose. Life dribbles away. The child looks sickly but begs to play. They put him in a wagon and pull him to their papa, who is planting cabbages, in this weather! They are poor. Hunger makes you work and cold makes you run.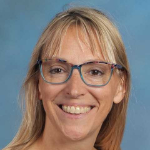 Maria Fischer is the advisor for the Joliet Catholic Academy chapter of NEHS. She teaches juniors and seniors American Literature, AP Language and Composition, Creative Writing, and dual credit Education 101 in conjunction with the University of St. Francis. Joliet Catholic is spending the first semester of COVID 2020/2021 school year in a hybrid teaching model, with students both on property and online. She has been published in the National Council of Teachers of English English Journal and recently won second place for faculty, staff, and alumni fiction in the Lewis University fine arts magazine Widows. She is currently reading The Rice Mother by Rani Manicka.