le grand etteilla
Kimberley Yasmine Dunn
i. les amoureux (the lovers)
under the bellies of chartreuse
grow hyacinths all too slow,
where scattered thickets of peach pits
hug lodes of crippled gingko;
Adam arched against pearly gates
'till from Eve he draws a breath,
from quivers of flamed cherubims,
comes the prick of little death.
and even sex must tire too
as does the troth of a wife,
temptation breeds but blasphemy,
which flowers the tree of life;
for God the taste of unctuous lips
(like the ingress of his mistress)
prompts the cant ousting of his own,
his sins all but anestrous.
ii. le roi de deniers inversé (the reversed king of pentacles)
the head that wears the scarlet crown
bears no secrets of the blaze
which tears unto the addled court
beyond the golden gaze
of a king who knows but avarice
in a weight of Midas gold
and drinks into the morning blush
'till the quagmire reeks of mold.
in the shade of wanton revels
grows a garth of mazed nightshade,
a royal tryst but left untouched
beyond the thicket of Gethsemane;
the feeble king, one of heedless will,
sat beside his bastard son
where jesters spatter hemlock feed
'till a throne is fit for one.
iii. le pendu (the hanged man)
hanging by the coarse thread of time
our heavenly father lies
his sculpted wings of melted wax
and brittle bones, a sheer guise,
dipped in rose-scented kerosene
are fixed threats of suicide,
the branches of a concave chest,
santhara personified.
the hangman dreams that beggars too
lie until their dying breath
and stave away forbidden fruit
'till the reaches of the Lethe;
grappled by the roots of life and
the reaper wrenching with ease,
the preacher's gilted veins but rot,
with lascivious maladie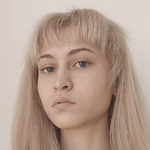 Kimberley Yasmine Dunn is a French-American published poet and owner of The Admont Library, an online antiquarian bookstore and archive. Born in Paris, France, she has spent the past sixteen years living in London, Dallas, and Miami. Kimberley has had extensive experience in writing for magazines and newspapers and has won various state-level awards for her poetry. Now living in Florida, she spends her free time reading classics, visiting estate sales, libraries, and bookstores, and collecting rare books.
---
A Penny for your Thoughts
Lindsay Toothaker
You spent your whole life saving
The change from pockets
A nickel in the gumball machine
Terrified something would happen
And you would be left penniless,
Holding the belief that
Pennies saved were pennies earned.
Your clothes were always second hand,
You never went out to eat,
You wore extra layers and sweaters with elbow patches
Waving your double-digit heat bill like a badge of honor.
None of those sweaters
Would warm your fragile hands
As they grew cold in my own.
I saw your will today.
I never knew how much you saved.
They gave me the life insurance, but
All I want is you.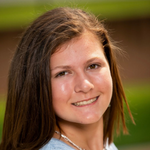 Lindsay Toothaker is a senior at Linganore High School. She is involved in both NEHS and National Honor Society chapters at her school. She likes to write narrative short stories and arguments most, but poetry is a nice break and a good emotional outlet. Her favorite book genre is mystery, and she reads a lot of James Patterson's works as well as other crime novels in her free time.
---
Strained by the Pink Corsets of my Time
Leah Waessa
He stares at me
as I sit in this disguise
carefully he depicts every detail,
determines my fate,
and handpicks the colors portraying me
while i long for something more:
a love so strong it'll pull me
from the harsh brush strokes
digging into my fragile skin,
yearning for love that exists beyond
the frilly pink corset constricting my breath
and the narrow path that lays ahead,
as a rigid reminder of domesticated life
a doe-eyed girl raised to serve,
a dutiful husband taught only
to paint and not to love.
Again I reach for the hand against my skin,
pulling me into a love so strong
outside the flat canvas,
creating a watercolor fantasy,
pulling me to the clandestine carriage
that awaits a faraway dream.
His hands; soft and pristine,
a classic tale of rich and poor,
a canvas once dirtied.
My callused hands
turned white with his
silk handkerchief,
releasing me from the barriers of
this tableau,
defying all odds with his adoration.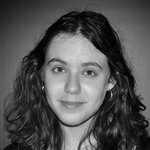 Leah Waessa is a junior at Livingston High School and she is proud to be a part of NEHS! She found her love of writing hand-in-hand with her passion for reading at an early age. Inspired by works by Jane Austen and feminist-centered books and films, Leah loves creating her own work as a form of commentary on her experience as a teenage girl in today's modern society.
---
Pimp Coat
Rachel Himelhoch
On a walk down the neighborhood, the words stumbled out of your mouth;
In my mind, they walked on shaky legs and grabbed my ears to keep steady,
"I know I should talk to her about it but I don't want to hear it."
You didn't say it for me;
You said it because you couldn't live with the guilt of being scared.
Somehow, you were gonna force yourself to get through it.
So you used the words to build an elevator between yourself and the truth because you couldn't bring yourself to go up the steps,
and in that moment we switched roles.
A thousand stories about lovers chased by death remind me to tell you to take your chance—
tell her you are here for her.
But flirting with death isn't as romantic in real life,
And watching family die isn't as fun as watching a tragedy on stage.
It doesn't take you on a roller coaster of hope and loss just to kiss your ears with a bittersweet ending that makes you more appreciative of your loved ones.
Cancer does the same to the mind as it does to the body,
The pain starts small and then spreads until everything it touches is infected.
And as much as you try to make jokes,
As much as you to try to relieve the stress,
As much as you try,
You can't stop the decline.
So I step into your shoes and feel around for a second,
And it's heavy,
That burden of having another person rely on you like a runner pulling their injured, teammate to the finish line,
Repeating in my mind, "I just have to get you there."
"You have to eventually or you'll regret it."
Before I could finish the sentence, you had taken the weight back;
And set it up upon your strong shoulders.
You carried the dread like a champion.
I could never handle the title "Mom" like you could.
Then the celebration reconvenes.
Every few months we have the same party,
At the same house,
With the same people,
Under different pretenses but the same goal:
Squeezing the life out of lemons before death kills the tree.
And, God, does she have a lot of life to squeeze.
When she arrived, she came through the door wearing a pimp coat and a head piece that made her look like Gatsby's Girl.
The hugs and greetings lasted well into forever.
Time stopped ticking in the coat because it was ridiculous.
It disguised tragedy as a joke—loss as laughter.
Maybe it isn't as funny as we thought it was;
Maybe we were just tired of being sad.
Stage four cancer dressed up in a pimp coat,
And a funeral dressed up as a birthday party,
Because you miss her while she is in the room with you.
Her death is mourned by her family in front of her.
I can see it in your eyes before I go to hide away in some corner of the house.
After all the hellos and the goodbyes,
I see it drifting in the back of your head,
Fogging up your vision,
But the birthday cake is served.
Candlelight dripping into the silhouettes of the dark corner of our minds,
The light blinding us with its brilliance as it cried out,
"Look over here! Come look at this!"
And like a mom when her child finds a bug under a rock,
We are gonna act like it is the coolest shit we have ever seen.
In the other room her son played video games with your son.
These days, the only questions we can bare to ask ourselves right now are,
"Are those violent?" and "are you sharing?"
As we move around
"What will he do when she's gone? Where will he go?"
He is only ten years old.
I could never handle the title "Mom" like she could either.
The dark thoughts swirl inside our brains.
Storm clouds gather overhead—yet rain never comes.
They just sit there, reminding me that one day they will rain until they flood our home,
Until the waves pull you so far away I won't be able to hear you anymore.
The water waits ever so patiently.
It is coming for us.
Maybe as stage four cancer,
Maybe as a car accident,
Or maybe we'll end up as some lady's pimp coat,
hanging by the door to help dress up the hurt.
I've learned that death is more painful for the living.
Himelhoch, Rachel. "Pimp Coat." Churchill Phaeton, edited by Maria Mariotti, Churchill High School, 2021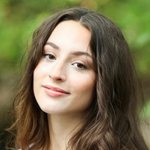 Rachel Himelhoch is a senior at Winston Churchilll High School. She co-founded Churchill's NEHS chapter in 2020. She has been the Vice President of Publicity and the Book Club President for two years. One of her favorite authors is Edgar Allen Poe. Rachel and the other co-founders named their chapter after one of his short stories, "The Masque of the Red Death," due to the club being founded in the middle of the pandemic. Rachel is most inspired to write when she needs to express her emotions. She believes that William Wordsworth best exemplifies this when he says "the spontaneous overflow of powerful feeling: it takes its origin from emotion recollected in tranquility."
---
Thoughts and Prayers
Shania Raimer
Evil slithers through the ruins of a fallen society,
Its lethal venom nearly as cold and unforgiving
As the apathetic leaders and politicians
Who brush off the Ukrainian struggles
Like lint on the sleeve of their lavish suits.
Thoughts and prayers,
They chorus from their leather chairs
As tanks storm through foreign streets
And the steel vultures of war
Unleash rounds of merciless explosives.
Fire engulfs war-torn cities
While thick clouds of ash and smoke
Emanate from the iron skeletons
Of forgotten homes
And demolished infrastructure.
Drowned out by the deafening missiles and bombs
Are the sobs of an oblivious child
Being ripped and torn away
From the embrace of her loving father,
Who is bound to his country by duty and law.
Don't let our leaders fool you—
They may wear ribbons and pins
Of bright blue sapphire and brilliant gold,
But you and I both know
That this is just another show.
Policy and action,
That is what the people truly need
As opposed to our political circus
Of false hope and empty promises
That have for years stifled true progress.
A cruel sadist addicted to the thrill
Of asserting his deadly power
Has dipped his finger in innocent blood
And drawn an ugly, bold red line
Right down the middle of our world–
In our darkest hour,
Which side of history will you stand on?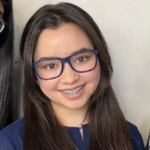 Shania Raimer is a junior at St. Mary's Dominican High School and a member of its NEHS Veritas Chapter. Her favorite author is Tahereh Mafi, author of the Shatter Me series. In addition to Mafi, she also loves reading dystopian books by Victoria Aveyard and Leigh Bardugo. When writing her own works, Shania likes to write down any ideas that come to her so she can eventually go back and elaborate on what stands out. 
---
Down to Three
Shira Weiss
Choose, choice, chose
I do not know where to go
Decide, decision, decided
Ideals and realities collided
Merit scholarship, financial need
Nothing here is guaranteed
Work-study, residential advisor
And yet I am none the wiser
Honors, class size, faculty & staff
This one professor made me laugh
Pros, cons, general information
I just want a good education
Community engagement, religious life
At which institution are these most rife?
First year seminars, AP credit
Which bank for my debit?
Admits, waitlists, rejectees
I got a whirlwind of these
Thought this would make it less tough
But no, no it isn't enough
And sure, they say I'll figure it out
I don't think that part was ever in doubt
I'm just wondering how long until
And if my decision will fulfill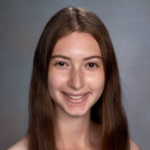 Shira Weiss currently attends Cherry Hill High School East and is in the twelfth grade. She loves to read, and her favorite authors include Wendy Mass, Rick Riordan, and J.K. Rowling. Her favorite poet is Maya Angelou. Her love for reading has sparked her love for writing as well. While she typically writes in a narrative format, she enjoys the challenge of writing poetry. When she writes, Shira thinks about real-world experiences she has had and how others can relate to these experiences. She recognizes that at a basic level, we are all human, and as such, we all have moments of indecision and anxiety. Through her writing, Shira hopes to connect with others going through a similar experience as her.
---
prejudice tastes like apple pie
Lucy Wu
i
why
are our apples
not the same?
i concede
our exteriors
may not match
you arrive
pristine
untouched
from neighboring orchards
while i
may still be
bruised
manhandled
from my journey
but
if i wield
a knife
slicing through
translucent veins
and thin skin
wouldn't you agree
we are the same?
ii
seventeen years ago
my mother
sowed her seeds
passed down
from her family
a figment
of her mother
in a fertile
promised land
she spread her roots
meticulously
and eventually
without fear
my belonging
a trellis
pale petals
wrapped around
her backbone
after sunset
i built palisades
shielding
her fragile sapling
from unforgiving wind
the piercing stares
so she could
assimilate
and flourish
each year
come gentle spring
her tree bloomed
borne from sacrifice
watered with tears
and we reaped
her ripened fruit
cherishing
its sweetness
yet
in one day
you intruded
on our garden
ravaging her tree
drowning her roots
breaking her branches
in insult
and scorn
what's more
you claim
her lovely apples
my apples
as your own
a product
of your generosity
fallen from
the tree
that once was
small and shriveled
pale jade
and longing
there's nothing left
to promise me
her daughter
how dare you
cut down
my mother's tree
you take a bite
but i hope
you choke
iii
i walk to the market
looking for apples
scouring the aisles
peering at the mountains
it's easy
to spot the bruised
with their browned skin
sunken in
i avoid those
and you do too
i handpick
just a few
with crisp sides
taut and overflowing
with their juices
almost
permitting myself
to believe
they'll be perfect
but i'm no fool
i show you
how
i drag my blade
piercing the core
and examine
for rotting interiors
and disposing
rinse and repeat
you follow my lead
however
some elude me
the most deceiving
are the ones
that appear perfect
both inside and out
they make it
all the way
into the oven
seeping their spoiled
rancid juices
into my crust
my foundation
at the table
only i
notice the fragrance
wafting in the air
is wrong
it's faint
but brimming with malice
spiced with hate
that's the thing they don't tell you
about prejudice
and pie
the apples seem fine
so naively
you taste them
and then
they reveal
their true flavors
only in the critical moments
in solitude
after the pie
whisked away
you'll realize
in your throat
the aftertaste
souring bitterness
lingers forever
it's a shock
when my tongue
deludes my eyes
nothing similar
in the slightest
i should warn you
it's an acquired taste
one you develop
after years of picking them
letting them
ruin your pies
it's subtle
yet
their acridness
so potent to me
i hope
maybe someday
you'll taste it too
and possess
the wherewithal
to say something
but until then
i do not betray truth
i cut
a generous slice
feigning
a smile
through my salty tears
swallowing
whispering
it's delicious
Wu, Lucy. "prejudice tastes like apple pie." Valley Stream North Star: Student News and Literary Magazine, 2022, https://www.vsnorthstar.com/articles/prejudice-tastes-like-apple-pie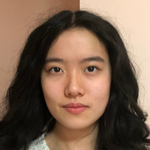 Lucy Wu is a senior at Valley Stream North High School and is a member of their National English Honor Society chapter. As a writer, she is inspired by the simplicity of children's books such as And to Think That I Saw It on Mulberry Street and The Giving Tree when deciphering the complexities of race and identity. Additionally, she is an active writer for her school's literary magazine, North Star, and designs the website to reflect the diversity of thought in student writing and artwork. Through her work, she emphasizes that culture is not necessarily a singular perception, but rather, is an amalgamation of incidents and events interpreted by the individual.
---
Look at Me.
Delaney Marrs
Don't look at me as if I'm not beautiful.
Don't look at me as if my sharp lines
and blazing eye
make me any less a vision.
Don't look at me as if when you look at me
my eyes should be downcast,
my lips forming the words
"Don't look at me."
Look at me.
Look at the spirit that raises the chin,
the thought that shadows the brow.
Look at the color that escapes the flesh,
the strength that escapes the stare.
I am a beauty because I am a woman,
because I am a human,
I am a force,
and colors paint my soul.
Be aware or beware.
The choice is yours.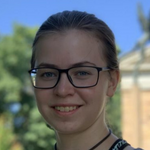 Delaney Marrs is a Senior at George Ranch High School and proud member of the GRHS NEHS Literary Longhorns. She writes so that she might see the world clearer, learn from different perspectives, and maybe just discover something new about herself. The writing process is challenging, sometimes torturous, but she finds there is nothing a cup of tea, inspiration from the greats (ranging from Harper Lee to Rick Riordan), and a stroll through a museum can't fix.
---
Why I write
Isis Gullette
Whenever I felt that gnawing black hole that resides inside of me get bigger and bigger,
I fed it words,
I fed it words that consumed my entire soul and filled me up until I would feel whole again,
Whenever I felt like ending my own life by my own wicked hands,
I instead took a pen to paper,
Intentionality first then lyricality as a chaser,
I turned to sonnets instead of a razor,
And felt the entirety of my being be ignited by my own creation,
In place of desecration I instead learned the art of emancipation,
Trading bloodshed for cadence,
Spilling my guts in between lines until my fingers would shrivel up like a raisin,
In the sun,
While my brothers around me take out their frustrations with guns,
I instead saw the carnage that lies within a barrel,
And vowed to never do the same,
I never wished for my internalized pain to end in another human slain,
I just wish I had the same sense of empathy for myself,
I was 15 when I first asked for help regarding my mental health,
And my mother replied that I should instead "depress them dishes,"
So I vowed to never seek help again because as long as I inhabit this body no one will listen,
No one would believe me until my weeping black skin needed stitches,
Thus, I locked my cries away like my father stuck in prison,
Whom I still owe a visit but the pen scares me so instead I seek the comfort of my own pen,
Which is why I write on my most lonesome nights,
I write when nothing in my life feels quite right,
I allow such rhymes to convince me that I'll be alright,
Watching my ambitions fly high above me like a kite,
Reminding me of who I could be if only I were free,
From my own strangling hands entrapping my throat,
I wrote,
I wrote,
I wrote,
All that I am and all that I will be,
From the time I first wrote a line of poetry at age 13,
I knew I was doomed,
I knew I was saved,
I knew this sickly sweet art form would dance me into my grave,
Or rather distract me from the foreboding tombstone I could always feel hanging above my head,
I write because if I didn't write I'd be dead,
I don't want to dream about who I'd be instead,
If I didn't have this one gift that ties me to the earth,
I write because if I didn't write I'd be left off so much worse,
Perhaps I even write to figure out if I was born cursed,
Cursed to carry an eternity of sadness within my body,
I don't just write for a hobby,
No, I write in order to live,
I write in order to survive,
I write,
I write,
I write,
Because it's all that I know,
Ever since I first discovered that black hole inside of me,
I could increasingly feel it grow,
I had no hope,
Until I started filling it with words.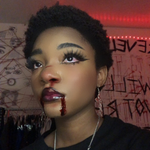 Isis Gullette is a 17 year old aspiring poet, screenwriter, and songwriter from the Southside of Chicago, IL. Isis is a junior at Jones college prep and a member of the Skull and Jones Chapter of National English Honor Society. Isis first started seriously writing poetry at 13 and fell in love with it. Additionally, Isis has been into songwriting since she was in elementary school and recently has been exposed to the beauty of film and screenwriting as well, writing several full-length screenplays as a result. Isis cares most about tackling difficult topics in her poems such as mental health awareness and her experiences with racism as a young black girl. This insatiable thirst to express her innermost thoughts is precisely why Isis is the writer that she is today.
---
Curry Muncher
Nidhi Gosalia
Mother Country
wraps me in her loving embrace
her warm golden sienna
kisses my fingertips
her sweet whispers breathe
rich smoke
into my hair and clothes.
Her song is a lullaby
of street cars and choleric rickshaw drivers
clanging pots and pans
vehement haggling over the price of subzi
the rhythmic kneading
of lota and pani
with the rugged hands of
my mother
and my mother's mother.
—tooth and nail
I scrub and scrape the scent of home off my skin
because it does not smell
like yours.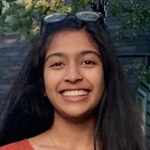 Nidhi Gosalia is a Junior and a member of the National English Honor Society at Livingston High School. Nidhi shares a passion for the arts and sciences; however, she encountered a love for writing in high school, finding it an invaluable platform for self-expression and creativity. Experiencing the growing pains of adolescence during what has been a tumultuous period in American history, writing has helped Nidhi to preserve the memory of feelings, experiences, and people, serving as a form of catharsis in times of strife and nostalgia in times of sentimentality. In her free time, she enjoys reading philosophy and classic novels, writing poetry, and journaling. 
---
No Country for Snow Men
Audrey Nagel-Schoonmaker
Sagging sideways, listing lazily,
the smallest sphere slips, slides,
almost toppling off the trunk;
one button eye edges center, one lies
in the wet-brown grass below
next to a gnawed carrot nose and soggy scarf.
Surface dulled by daylight suns,
greying at the base except where yellowed
from passing pooches, all proclaiming place.
Puddling mud moat meanders to the yard,
down the hill, mixing in the ditch before it stills
in watery remembrance of an earlier chill.
Behind, a crocus sprouts.
Spring has come; winter's out.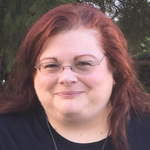 Audrey Nagel-Schoonmaker is the Lead Advisor of the Cardinal Letter Society, Antioch Community High School's (ACHS) chapter of NEHS. She has been teaching for 27 years, 23 at ACHS, and is National Board certified. She is proudest of creating both the curriculum for her school's Creative Writing course, and initiating/creating the Creative Writing Advanced course after seeing a desire in her students for a place to further their love of writing—and to receive credit for it. Audrey loves dark, lyrical poetry such as Edgar Allen Poe's, and her favorite thing about writing poetry is the language play: finding just the right word, just the right rhythm, to express her ideas. She wants to foster a writers' community for all who enjoy the art form.