(the blessing of cassandra)
Lindsay Beier
"Sacrifice"
patroclus was not stupid, he was not
an unwitting accomplice to his fate
from the moment he kissed the skin
of greece's golden warrior clad in
hubris, clad in whatever silks the
trojans left cartwheeling in their wake
he knew exactly what would become
of his own calloused, tattered hide
he knew exactly what name would star
on matinees. in headlines. on title pages
and of course on monolithic cenotaphs
patroclus shrugged on the armor of
his immortal love, already clothed in
knowledge, already clothed in that
terrible curse we call foresight
patroclus died because he wanted
achilles to live, and achilles died because
he could not bear to do it alone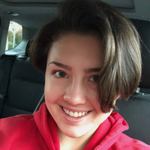 Lindsay Beier is a Junior at Valley Christian High School and active member of the VCHS NEHS chapter. A California born- and bred- writer inspired by groundbreaking poets like Emily Dickinson, Sylvia Plath, and Wendy Cope, she enjoys exploring various themes centered around mythological romanticism in her work. Previously, Lindsay has been featured in blueprint magazine and other school publications.
---
Enticing Fear
Tori Holoubek-Sebok
"Never Again"
My brain rattled inside my skull,
My heart skipped a beat and my body shook,
Every muscle and tendon tensed As I
Vowed to myself:
Never again.
The cold wind whipped
Against my skin at one hundred miles per hour,
Whistling, burning.
I felt my stomach churn like a washing machine on a heavy duty cycle,
As it dropped to my feet.
I dropped too.
My heart skipped another beat as I fell.
Never again, I whispered to myself
My grip tightened around the arm rests, my breath quickening as we took on the last drop.
Within five seconds it was over;
The ride halted to a stop and I jumped out of the cart.
The ground felt solid beneath my feet.
I chuckled as I made my way to the next roller coaster.
Well, maybe one more time.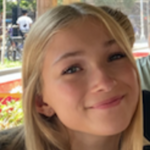 Tori Holoubek-Sebok is a current Senior at Staples High School in Westport, CT. She is a passionate, hardworking student with a dedication to literacy. She is the president of the NEHS chapter at Staples High School. Tori enjoys writing and writing in her free time, as well as for school assignments. Her favorite genre of writing is the personal essay. She does not usually create poetry, but she is always eager to take on new challenges. She began writing after a teacher encouraged her to submit a piece of writing to an essay contest. She is inspired by her mother's best friend, who is writing her own book.
---
A Mother's Sacrifice
Jocelyn Jensen
"Sacrifice"
In youthful innocence, the child plays
Along the stream, underneath the gaze
Of mother's fair and benevolent face
As she helps direct her child with a sense of calm grace
Over time her lush deep hair turns gray
From mother's weary eye comes a tear
As she watches the product of her love grow and not be near
The greatest sacrifice of all,
Comes from a tender mothers' care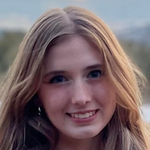 Jocelyn Jensen is a Junior at Rock Canyon High School and in the RC 2021-2022 NEHS chapter. She loves to write creative stories in her free time and has submitted several other writing pieces to local small contests and school events. To her, writing is a necessary instrument of expression that allows an individual to share their ideas with the world.
---
The Tragedy of a Gymnast
Isabel Lin
"Never Again"
With a smile on my five-year-old face
I hoped to be an Olympian in first place
I claimed to know my future
Without knowing about my current sutures
When I used to do gymnastics
Things couldn't look more fantastic
I competed on the national stage
But what could they really gauge?
Joining homeschool without a thought
Resulted in 30 hours of weekly training on the spot
Bruises on my ankles and the cupping marks on my back
Seemed like I had been in an everyday attack
Isolated from society
I had little to no variety
Constant doctor checks and MRIs
Left me awake at night to cry
Feeling pain left and right
I lost the motive in me to fight
I had to turn to my last resort
Which unfortunately was quitting the sport
After all is said and done
I guess it wasn't all that fun
If only the roles were switched
So my reality wouldn't be shown from this stitch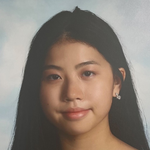 Isabel Lin is a senior at Kinnelon High School where she serves as an executive board member for the Kinnelon National English Honor Society chapter. Writing is her gateway to her inner thoughts and feelings; therefore, she mainly writes about her own life experiences by forming images in her head and allowing her fingers to involuntarily type. Surprisingly, her love for storytelling did not come from books, but rather webtoons that flood her phone with images and text boxes. She believes that less is more and writes accordingly. A personal favorite Webtoon artist is LICO who writes "Return of the Blossoming Blade." She embraces the art of writing and will continue to do so throughout her writing career. 
---
Gone with the Ignorance
Matt Green
"Never Again"
Over and over again, speakers spit out two measly words
"Never again! Never again!"
And as a Jewish American,
I've heard it far too often
You hear of the horrors
Of the holocaust, a holistic destruction
But yet you do not do enough
"Why?" you may ask
Well, it is simply due to those two measly words
Never again
They say that if we remember the past, we will not repeat it
I counter that if all we do is remember, then it will surely permit
Numerous genocides, atrocities, catastrophies
But it is okay,
Because we remember and say,
"Never again"
11 million victims, with more than half being Jews
Millions more who had to submit to the Nazis and did not get to choose
Their way of life or their moral values
But it is okay,
Because we remember and say,
"Never again"
You wonder why Anti-Semitism is at its highest levels since the 1940s
You may even be shocked when you hear that a synagogue was vandalized
You still might be surprised when you hear that Jews are being held hostage after services
"How could this happen?" you wonder "Only the Nazis hate Jews!"
That is where society has failed us
Me, my family, my community, and more
Those two little words are not enough
Remembering is not enough
That is not to say that improvements have not been made
A lot of people do great work and create
A healthy environment for all people, regardless of race
Because one should never feel what those poor souls felt
The true crime in the aftermath of the Holocaust is the lack of awareness
People need to know what happened
People need to know about the Nazis, the Neo Nazis, and other hateful groups
That way, we are aptly educated to combat anti-Semitism
Because that is what should never happen again
A lack of awareness
And only once everyone knows about the horrors can we truly say
"Never again"
And only once the ignorance is phased out of society can we truly say
"Never Again"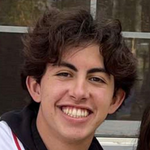 Matt Green is a a junior from Council Rock High School North. Matt is a proud member of the National English Honors Society whose love for writing come from childhood. When Matt was younger, their dad used to always read Shel Silverstein's poems to them. This, paired with an infatuation with creative writing, has led me to an enjoyment of writing poems today. Additionally, Matt likes to write about the world around them, so this prompt really fit that bill. It is always enjoyable to inform others about their surroundings while also being able to write creatively and express oneself.
---
Mother Decay
Gina Liu
"Sacrifice"
From bright eyes
To wilted smiles
(Mother decay)
From domestic bliss
To tear-streaked kiss
(Mother Decay)
Oh, how she both
Exemplifies the often-told story,
of the immigrant
(hard-working, is she)
(strong, is she)
And defies it,
(deteriorating, is she)
(compromised, is she)
(Mother Decay)
Brought here,
Lured by my father's dream—
Man's Ambition
Lured by America's Dream—
Social Advancement
Only to be let down
(Mother Decay)
Every look of her
That i dare to snatch
brings one more wrinkle—
Etched by abuse,
Carved by hardship
(Mother Decay)
(Mother Decay)
her disillusionment
(Mother Decay)
her pain
(Mother Decay)
her sacrifice.
Mother Decay.

//
Honey on my lips—
Sweet, pure, heavenly
Can only be paid for by
My mother's suffering.
Each step I take
Could only be brought about
By my mother's screams, anguished cry
Each step I make
Could only be preceded
By my mother's bruises, green-purple lies
Each success I gain
Could only be warranted
By my mother's wheezes, painful sighs
Perhaps?
My life
was meant to be
The product of
My Mother's Sacrifice
and
I was destined
to reap the fruits
Of My Mother's
Decay.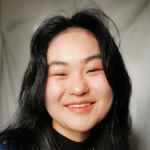 Growing up was a tumultuous experience for Gina Liu. Gina's parents came over from China in 2000 because their father received a job opportunity. Although they had envisioned a bright future (the white-picket fence sort), their plans eventually fell through. It became Gina's mother's responsibility to carry the family through this tough situation. It is the quintessential immigrant story. Strong, hard-working parents allow for their children to have greater opportunities. But at the same time, it isn't. The romanticized idea of the immigrant story often times does not acknowledge the darker truths of immigration. It does not acknowledge the trauma, the pain, and the damage that it can do. And, as an accomplished student, it can feel as though your success was built on the suffering of your parents.
---
Life as a Redwood Tree
Lila Schlissel
"Sacrifice"
The quiet I've achieved,
Soundless and still,
Is deafening
But broken, halved;
by the echoes of shouts
From those free souls frolicking below
rattling my branches
Knocking the dew from my leaves
And yet I've been minimized until I am
nothing but a grain of dirt in a
Well-trodden crossroads,
Phantom legs aching
To mark my own footprints:
My ribcage is threatening to fracture
With every thump of my swollen heart,
Fattened on the food of well-buried hopes
They were difficult to wrestle into their cages—
I had to get good at digging
Graves in my chest the
Right size for my youngest self;
Burials for the puppies
Of youth I've abandoned
To die
On the side of this road.
The time is too blurry to see
From this height,
But I can hear the shouts
Of a foreman and the
Whir of a chainsaw
Down below.
I will wait for ax to reach the innermost ring,
my heart to burst forth
From this petrified wood—so that it
Will splatter this path with passion,
Sinking into the dust to
Be painted with the violence
Of teenage recklessness
And my brain can be carved into
Fine cuts of filet;
Toppled from the platter at my helm,
My perch
To shatter on the
Forest floor below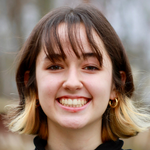 Lila Schlissel is a junior at Danbury High School, and two-year member of the Hatters Chapter of NEHS. Lila continues her passion for literature through the poetry club at DHS and school newspaper, and founded a book club to be able to connect with those sharing these passions. She also has her own English podcast and is writing a novel, in addition to playing softball, dancing competitively, and being a Girl Scout Ambassador. Lila's favorite works of literature are those that provoke thought, and her goal is to be able to channel this through her own writing, by portraying tensions and conflicts she experiences in her own life in an artistic manner.
---
A Mother's Work Day
Lauren Winslow
"Sacrifice"
The 3 a.m. buzzer sounds
But she still has a smile on her face
The baby starts crying in the next room
But she's still ready for the day
The men at work talk about her
But the smile remains
"How did she even get here," they say
But she just looks the other way
They comment on her skirt, her hair, and her weight
But she lets it all slide, already a moment away
They say she's too emotional
But she really just got too much on her plate
What's for dinner?
Who's watching the kids?
Why are you always working?
But never asking how she is
Yet she still smiles throughout her day
Because to her the sacrifice is worth it
Hearing the baby cry
Hearing the jealousy of the men
Hearing the misogyny spread
Just lets her know
Step by step
Smile by smile
She is paving the way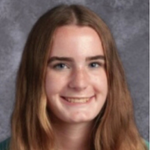 Lauren Winslow is a junior and a member of the National English Honor Society at Cherry Hill High School East. From a young age, she has loved writing and is currently a Global Commentary Editor for her school newspaper, Eastside. Lauren loves to use her writing to present social issues and start discussions about problems in society. 
---
Fair Lovers' Tryst
Isabella Kapllani
"Never Again"
A bleeding heart with no deceit kept
Oft tells lies with a different breath.
For true he may seem
Beneath the moon's bewitched beam,
The tears at his eyes remain unshed,
His sweetest secret written,
But unsaid.
She who is spurned
Recedes to the ash,
Asleep in the fire-worn cinders of midnight past.
Though kindly old stars twinkle never more,
Cruel wind thrashes through greener leaves as did before.
No pure Moon cries out onto the gilded plain,
Though the motley crickets resume their sordid refrain.
In rubble and dust came love to dear end,
And grasping young arms found Tender Death for a friend.
Lively eyes that gazed upon bright bluebells of the glen
Drift off yonder to open never again.
So to all young lovers,
A benevolent beware:
Take heed,
Lest ye bask in Brother Death's boring stare.
For a tryst seems a'right
on a warm summer's night,
But the fall of the leaves brings despair
As Romeo lies bleeding,
And the crimson red stains Juliet's hair.
In death they are only sleeping
Upon the marble Veronese stair.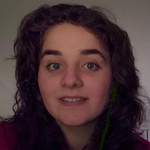 Isabella Kapllani is currently a junior at St. Anthony's High School and a member of the Pax et Bonum Chapter of the English Honor Society. She is currently tackling both AP Lang and AP Lit in an effort to maximize her learning for one year. She has nurtured a love of writing from an early age, honing her craft sporadically and intensely. She is an avid reader with a strong connection to theatre arts, participating enthusiastically in school plays, and finds her literary inspirations in lyricist Howard Ashman, novelist Stephen King, and playwright Tennessee Williams.
---
Never Again
Tryphena Pilli
"Never Again"
Never again should the less populous be dejected
Rejected
Infected
By the virus spread by majority rule
And the ones who stand by the cause of cruel
Treating those who are different as others
Forgetting they are their sisters and brothers
Denying them their rights
Losing sight
Of their liberties
Perpetuating a rivalry
They regarded the color of their skins
As sins
But when
The heat is added to the boiling pot
They shout never again
Instead
Let's not pretend
And change our minds like the wind
Because I know when the worries of the world come crashing down
It's hard to amend
The wounds
Of others
But remember they are your sisters and brothers
And the injustice they faced—never again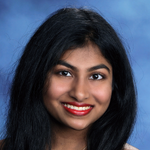 Tryphena Pilli is a senior at Briar Woods High School and is a part of the Briar Woods National English Honor Society Chapter. This is her second year being a member of the organization. Her love for writing began at a young age. She loved to build off of others, continuing the adventures the characters in the stories she read went on. She soon transitioned to writing works of fiction with original characters and plot lines. Writing to Tryphena is an escape from reality, each piece serving as transportation to an unpredictable, exhilarating journey. Yet, what she loves most is taking others with her on these journeys!
---
The Fall of the Aztecs
Audrey Nagel-Schoonmaker
"Sacrifice"
The evanescence of an empire:
ravaged by the ignominy of Conquistadors
bearing immorality and smallpox,
leeching opulence away from the grand ziggurat
until its spirit vanished, followed by its form.
Vanquished by a verdant cornucopia,
the temple dissolves into an apathetic heap
of decaying jungle vines.
Myriad loquacious monkeys chatter,
vivaciously repining, where once-powerful pontiffs,
in majestic gold, spilled blood
in sanguine sacrifice to terrible gods,
bartering a better world on borrowed hours.
The sole divinity remains: a vagrant snake,
coiled on the humus-laden altar, waiting
for the fatal supplication of primate priests—
one for the many—
until they, too, fade away.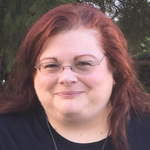 Audrey Nagel-Schoonmaker is the Lead Advisor of the Cardinal Letter Society, Antioch Community High School's (ACHS) chapter of NEHS. She has been teaching for 27 years, 23 at ACHS, and is National Board certified. She is proudest of creating both the curriculum for her school's Creative Writing course, and initiating/creating the Creative Writing Advanced course after seeing a desire in her students for a place to further their love of writing—and to receive credit for it. Audrey loves dark, lyrical poetry such as Edgar Allen Poe's, and her favorite thing about writing poetry is the language play: finding just the right word, just the right rhythm, to express her ideas. She wants to foster a writers' community for all who enjoy the art form.