I had a few different reasons for the texts that I chose to purchase with the money I received from the NEHS Classroom Library Grant. Many of the books I purchased were chosen because of specific student interests. If a student expressed interest in some classic text then I would make it a point to obtain a copy for them. When one student mentioned wanting to read more romance novels, she mentioned Jane Austen's Pride and Prejudice, so I made sure to get a copy of it. Now, a different student is reading it.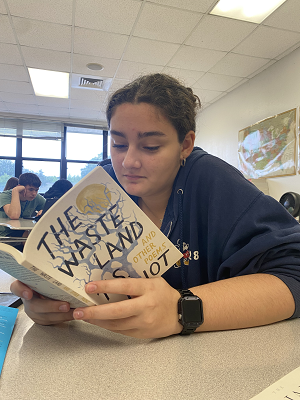 Another student was interested in poetry but was unaware of any poets beyond what might be seen on Instagram. I told him about T. S. Eliot's The Waste Land, and he became interested and asked if I had a copy. Within a few weeks, I did. One student's interest in psychological stories (developed after we did an exercise using Crime and Punishment) led me to buy a copy of Dostoevky's The Brothers Karamazov. Another student's interest in Tolkien led me to obtain a copy of The Lord of the Rings and The Hobbit.  
Besides these, I also selected texts that connected to material we were covering in class. My freshmen have been working through The Odyssey this year, and many of them have a deep interest in Greek mythology, largely due to its popularity in media such as the Percy Jackson series. Because of this, I decided to buy a copy of The Iliad, so that they could have reference for the events mentioned in its companion text.
I tried to build out my library so that it would extend upon the learning my students have already done in class. So far, several students have used the books to some capacity during class. A few students have taken the books home and are reading them on their own time. To encourage their use, I am offering extra credit to the students who finish a book and can write up a brief report about it.
I believe my biggest success with a student would be to cultivate a love of reading, and I am very thankful for the opportunity to supply my students with great books that match their interests. I would highly recommend this grant to other educators.
---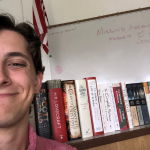 Joseph Botti
Classroom Library Grant Recipient, 2022
East Ridge High School, Clearmont, FL
---
Classroom Library Grants
NEHS Classroom Library Grant applications can be submitted between Monday, September 11, 2023 and Tuesday, October 10, 2023.
Classroom Library Grants help teachers generate interest in literature and language within NEHS schools, foster all aspects of English study including literature, language, writing, and media, provide teachers at NEHS schools with a range of compelling literature to share with the students they teach, and give students access to diverse, inclusive, and high-quality texts, particularly in areas where access to libraries or books at home may be limited.
NEHS Chapter Advisors at all stages of their career, but within their first five years serving as an NEHS Chapter Advisor, are welcome to apply.
NEHS offers up to $400 to grant recipients to create or expand upon classroom libraries with texts that will motivate students to read high-quality literature in different forms. Previous grant winners have used their funds to purchase selections of graphic novels, texts chosen exclusively by students, and to provide prequels and sequels to texts that students have already read.
---
More from NEHSXpress: August 15, 2023
Fall Enrollment & Induction Ceremony Resources
New Literary Initiative Grants
Intellectual Freedom Challenge
NCTE Intellectual Freedom Center & Book Rationale Database