World Poetry Day exists to honor poets; revive oral traditions of poetry recitals; promote the reading, writing, and teaching of poetry; foster the convergence between poetry and other arts such as theater, dance, music, and painting; and raise the visibility of poetry in the media.
UNESCO has celebrated World Poetry Day on March 21 every year since 1999 and this year the National English Honor Society is celebrating, too! We asked the Sigma Tau Delta/NEHS Central Office team to share their favorite poems, which include well-known and underground poets, and even poems written by themselves and their family members. Enjoy learning a little bit about what inspires the Central Office team.
Katie Mudd, Director of Communications
"The Panther" by Ogden Nash.
My father's first wife, Dinah, was a huge Ogden Nash fan and would regularly drop these little ditties whenever the mood struck. Her favorites were his bestiary collection, including "The Panther." While many of them have stuck permanently in my mind, this one is perhaps my favorite. Much like Dinah, I often find these little treasures coming to mind unexpectedly, always bringing with them a smile and fond memory of loving listening to her recite these when I was little.
Learn more about Ogden Nash.
Elfi Gabriel, Director of Marketing and Technology
"Leaving Limerick in the Rain" by Richard Blanco.
I chose "Leaving Limerick in the Rain," as I feel it ties in so well with the remembrances of Ireland and with the Irish cultural festivities happening this month in Chicago. The poem is particularly descriptive, so much so that I feel that I have been transported to that place and time.
Learn more about Richard Blanco.
Matt Hlinak, Executive Director of Sigma Tau Delta
"A Visit from St. Nicholas" by Clement Clarke Moore.
My favorite poem is "A Visit from St. Nicholas" (1832) by Clement Clarke Moore. My wife and I take turns reading this poem to our daughters on Christmas Eve. Then we set out cookies and milk for that "right jolly old elf" and get the girls "nestled all snug in their beds." This poem captures the cozy warmth of the holidays for me.
Learn more about Clement Clarke Moore.
Jeannine Szostak, Director of Society Operations
"The Road Not Taken" by Robert Frost.
Writing, hiking, and photography; each calls for me, one grasping for the other, intertwining, until it's impossible to know which begets the other. I often hike alone, looking for the beauty in the wandering stillness, knowing no one I know will ever be there, that I may never be again.
I bring places to them, keep the memories framed as I remember them, capture their existence, a moment frozen in time. As I walk, sometimes the only sounds I hear are my feet crunching on the surface below me, the water moving beside me, or my labored breathing, heart pounding as I climb over rocks and leaves and snow and earth.
Yet always in my mind are my thoughts about people, about faith, about work, about life. Then, before me, there comes a choice. With that decision to be made, the whispered words of Robert Frost bubble to the surface, challenging me, haunting me, inspiring me, moving me. And so, I take the road less traveled and yet I wonder what my journey would have been on the road not taken . . .

Learn more about Robert Frost.
Namon Kent, Web Support Specialist
"Because I could not stop for Death" by Emily Dickinson.
"Because I could not stop for Death" is like a bad blind date. Death shows up unannounced and takes the narrator for a long carriage ride, making awkward small talk about mortality along the way. It's a one-star experience on Yelp—would not recommend it. It's funny and sad at the same time.
Learn more about Emily Dickinson.
Dawn Jamrog, Enrollment Specialist
"Magic" by Bob "Grandpa" Tucker
This poem was written by my neighbor Bob Tucker, who was also known as Grandpa Tucker. This poem is from his book Grandpa Tucker's Rhymes & Tales. While most of his poems were humorous poems for children, this one resonated with me, and works as a little reminder! 
Learn more about Bob Tucker.
Magic
There is magic everywhere—you can see it.
It's the blue up in the sky,
And the twinkle in an eye,
Or the love baked in a pie,
And the rules of magic say—you can be it
Put some magic in your pocket—then just share it.
Laugh with someone who is sad,
Forgive a person who's been bad,
Really listen to your dad,
Spread the rest across your face—and you'll wear it.
Put the edges of your mouth—up in the air.
It's amazing how a smile,
Will last a long, long while,
And is never out of style,
Soon the magic that you seek—it will be there.
Joy Dertinger, Graduate Staff Assistant
"What Does a Seahorse Wear to Their Wedding?" by Nicholas Dertinger.
This poem is my favorite because my partner wrote it for me after I came out to him as nonbinary and pansexual. He has been incredibly loving and supportive and encouraging, and this poem is a beautiful expression of his deep and abiding love for me, and a reminder that regardless of my gender identity or expression, I am enough. This poem was first published in Troublemaker Firestarter in January 2023.
Learn more about Nicholas Dertinger.
What Does a Seahorse Wear to Their Wedding?
It would be enough
white lace or jacket blossoming
with flower trimmed neckties
unveiling their beauty
unveiling their body
unveiling they, themselves
the essence of all their days
no longer a whisper but a roar
a swelling of the sea and all their being
within the radiance of the tide
they've come to dance
to love
to be free
to reclaim their humanity
the depths have no claim on the past
they are more than enough
and in every tonight
every tomorrow
they will be all they have ever dreamed
clothed in wonder
adorned in light
basking in the peace of who they truly are
who they've always known they were
and who they will be
and then—when they're ready
the world will see them
the way they see themselves
and they'll wear whatever the fuck they want
and that is enough
Jeanette Gommel, Accounting Specialist
"Risk" by Anais Nin.
I think a part of the human condition (at least for me!) is to go with the status quo until it gets uncomfortable enough that we are willing to risk the unknowns involved in change. And we will be called to change as long as we live!
Learn more about Anais Nin.
Cailey Szostak, Support Assistant
"Dancing" by Cailey Szostak
I wrote this poem because it is symbolic of a moment in my life when everything felt perfect, followed by different thoughts afterward. Many of the lines are both literal and figurative, signifying how the two characters' love for each grew before it went bad. The "gracious crescendos" I write about signify the growth of love between the two people, while "along in the silence / Our music lost, my mind gone quiet" signifies the loss of the love and how only one person continues to hear the soft music of love.
Dancing
I danced with you
To the music we made
Never knew the next step
But was never afraid
Grabbing my waist, taking the lead
Staying in line, feeling so freed
Singing to the music, sometimes off-key
You're the perfect dancing partner for me
The song that we wrote had blown my heart away
And made me thrilled to sing it every day
With each step, we both felt more assured
With your arms around me I felt so secure
The gracious crescendos, each soaring note
I'd always tear up, get a lump in my throat
So happy to sing, so happy to dance
The beautiful ballad put us both in a trance
Dancing in the darkness, the silence, the cold
Knew we would dance till we were gray and old
We'd mess up, stomp each other's feet,
But our heart rates were one, in time with the beat
The dim light shining upon a child's big ol' teddy bear
The smell of the sweetest suga bosoms filling the air
Your baby cakes out for you to satisfy your sweet tooth
Might as well enjoy it while dancing in your youth
Now I'm dancing in the rain
To the music that we made
The rain so salty it hurts my soul
The rain I hide so no one knows
But as I stand now, alone in the silence
Our music lost; my mind gone quiet
I think aloud though no one hears,
"Have you felt the world's woeful tears?
Have you, too, forgotten how to sing?
Have you, too, stopped your dancing?
Does it pour by you like it does by me?
Or is it sunny? Is it bright? Is it free?"
Christopher Lockwood, Director of the National English Honor Society
"Atlas" by U. A. Fanthorpe.
I first came across U. A. Fanthorpe as a high school senior when I read her Safe as Houses collection. This poem really resonated with me as it moves away from the idea of love being something purely romantic and/or sexual, to being something that you encounter in the little day-to-day things that your partner or loved ones do to help you. I think, perhaps, this is something that you learn to appreciate more as you get older, but it certainly made me think twice about the concept of love when I was a teenager.
Learn more about U. A. Fanthorpe.
---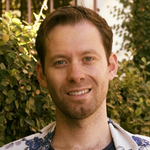 Chris Lockwood
NEHS Director
---
National English Honor Society
The National English Honor Society (NEHS), founded and sponsored by Sigma Tau Delta, is the only international organization exclusively for secondary students and faculty who, in the field of English, merit special note for past and current accomplishments. Individual secondary schools are invited to petition for a local chapter, through which individuals may be inducted into Society membership. Immediate benefits of affiliation include academic recognition, scholarship and award eligibility, and opportunities for networking with others who share enthusiasm for, and accomplishment in, the language arts.
America's first honor society was founded in 1776, but high school students didn't have access to such organizations for another 150 years. Since then, high school honor societies have been developed in leadership, drama, journalism, French, Spanish, mathematics, the sciences, and in various other fields, but not in English. In 2005, National English Honor Society launched and has been growing steadily since, becoming one of the largest academic societies for secondary schools.
As Joyce Carol Oates writes, "This is the time for which we have been waiting." Or perhaps it was Shakespeare: "Now is the winter of our discontent made glorious summer . . ." we celebrate English studies through NEHS.
National English Honor Society accepts submissions to our blog, NEHS Museletter, from all membership categories (students, Advisors, and alumni). If you are interested in submitting a blog, please read the Suggested Guidelines on our website. Email any questions and all submissions to: submit@nehsmuseletter.us.