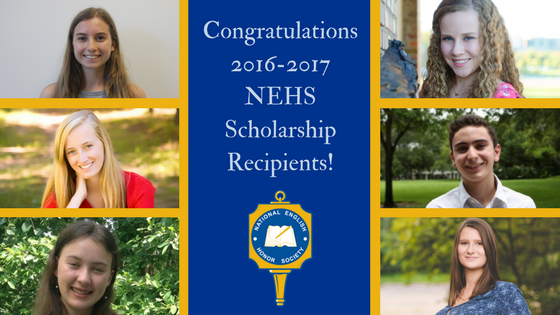 Please join us in congratulating the 2016-2017 National English Honor Society (NEHS) Scholarship Recipients. Read on to learn more about this year's winners of the William C. Johnson Scholarship, the Director's Scholarship, the Advisory Council Scholarships, and the NEHS Distinguished Scholarship.
---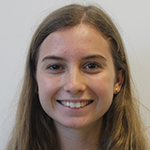 Olivia Field
William C. Johnson Scholarship Recipient ($5,000)
Coral Gables Senior High Chapter
Coral Gables Senior High School, Coral Gables, FL
Whether planning poetry slams as NEHS president of Coral Gables Senior High School, writing an article as Editor-in-Chief of the school news magazine, or just reading a good book, Olivia Field spent much of her high school career appreciating the English language. Although she was born and raised in Coral Gables, FL, Olivia has been fortunate to travel throughout Europe and Latin America with her family. Now, she is off to study political science at Wake Forest University, where her passion for government, along with writing, hopefully will prepare her for a career in journalism.
---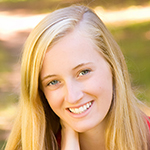 Madison Kuehl
Director's Scholarship Recipient ($3,500)
PORTA English Honor Society Chapter
PORTA High School, Petersburg, IL
Madison Kuehl is the daughter of lives in Petersburg, IL, where she attended PORTA High School.
She served as the President of PORTA's National Honor Society chapter and was Secretary of her NEHS chapter. Through these societies, she participated in PORTA's Closet, a service project that collects gently used clothing articles to provide to less fortunate individuals; helped to implement a junior high book club at her school; and served as chairperson for a Barnes and Noble bookfair.
This fall, she will be entering the Pre-Professional Program at the University of Notre Dame. After graduation, she hopes to enroll in Optometry School to obtain her doctor of optometry degree and eventually open her own practice. 
---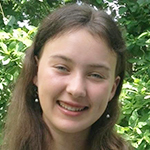 Madison Plunkert
Advisory Council Scholarship Recipient ($2,500)
Hereford High National English Honor Society Chapter
Hereford High School, Parkton, MD
Madison Plunkert graduated from Hereford High School in Parkton, MD, and lives in Baltimore County with her parents, younger brother and sister, two cats, and a handful of chickens. She enjoys playing her violin, birding, and perching on the lower branches of trees to read. Madison is interested in Spanish and all things STEM, and will pursue a major in Biological Sciences: Ecology and Evolution at the University of Maryland, College Park.
---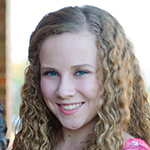 Keeley Logsdon
Advisory Council Scholarship Recipient ($2,500)
PORTA English Honor Society Chapter
PORTA High School, Petersburg, IL
Keeley Logsdon attended PORTA High School in Petersburg, IL. She is grateful to the PORTA School District and their the supportive teachers for helping her to reach the place she is in now. In high school she was Captain of the Cheerleading team, President and Drum Major of the Band, NEHS President, and NHS Secretary, as well as being a member of Thespians, Key Club, and History Club. She received many honors, such as Illinois State Scholar, State History Fair Superior Division, Scholastic Writing Awards, and Letters About Literature State Champion. The contest for Dinner at the Homesick Restaurant is her second with NEHS, following her 2015-2016 Crafton Award for Intellectual Freedom writing. This fall, Keeley plans to major in Biology with a concentration in Genetics on the Pre-Medicine Track at Northwestern University where she will continue cheering.
---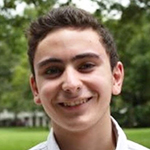 Christopher R. Vazquez
Advisory Council Scholarship Recipient ($2,500)
Fred Panzer Chapter
Christopher Columbus High School, Miami, FL
Christopher R. Vazquez is a senior at Christopher Columbus High School in Miami, FL. He was a member of the Mas Scholars Program, participated in several extracurricular activities, and was a Silver Knight Nominee for English and Literature. He was Historian of the Panzer Chapter of the National English Honor Society and Secretary of his school's Key Club. In addition, Christopher was Executive Producer of the school's national award-winning news network, CCNN Live. In this role, he won three Student Emmy Awards and various All-Florida and Best of the Best Awards from the Florida Scholastic Press Association. He also received multiple accolades from the Student Television Network, including First Place in Crazy Eight Broadcast News Magazine and Best Documentary Film. Christopher has been admitted to Northwestern University where he plans to major in Journalism.
---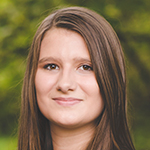 Katherine Conklin
NEHS Distinguished Scholarship Recipient ($2,000)
PORTA English Honor Society Chapter
PORTA High School, Petersburg, IL
Katherine Conklin has attended school in the PORTA School District her whole life. She has participated in many different school organizations such as National Honor Society, Key Club, Teen Mentoring, Basketball, Class Officers, Band, Thespians, and, of course, National English Honor Society. In these organizations she has held many positions, including NEHS Vice President, as well as treasurer for Band, Thespians, and for leadership. Katherine has a passion for serving, so along with academic organizations she also participates in community organizations such as Operation Christmas Child. During summers she goes on mission trips around the country with her church, when she is not working as a bank teller. Katherine will attend Illinois College to major in Accounting. She also plans to continue her Spanish studies while participating in their Honors Program.