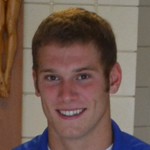 by Tanner Fangman
Covington Catholic High School
Park Hills, KY
Many people suppose that the National English Honor Society was formed by a group of humdrum Robin Williams enthusiasts who decided to create their own, more exclusive Dead Poets' Society and carry on its legacy today as an aristocratic book club. Granted, for some NEHS chapters, this assumption may be factual; however, one chapter in particular constantly disproves every criticism and, therefore, has risen above all expectations.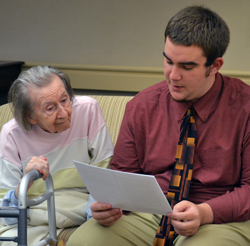 As the recipient of the NEHS Outstanding Chapter Award for 2011-2012, the Covington Catholic Chapter has raised the bar for all other chapters nationwide. Whether we sponsor a Veterans' Day assembly, read to the elderly, or sponsor a writing competition, we at Covington Catholic find a way to incorporate the fundamental element of English into our daily activities. At Covington Catholic, we are not only concerned with English and its artistic components infiltrating into our own lives, but we attempt to enrich the lives of others as we serve the community.
Mrs. Diane Ruth, Advisor for our chapter, encourages the members to express their own ideas and build upon the ones she puts forth. The time and effort Mrs. Ruth puts in as Advisor exemplify the path to excellence to which all NEHS members should strive. Quite frankly, Mr. John Keating and his Dead Poets' Society would be jealous of the excitement and entertainment Covington Catholic provides through the art of English.