Natalie Ann Rebetsky
Chapter Advisor
Linganore High School Chapter
Linganore High School, Frederick, MD
"Bellomancy" is the ancient art of divination using arrows, and was just one of the winning words at Linganore High School's annual National English Honor Society (NEHS) spelling bee last year.
The Linganore High School Chapter's annual January/February project is our spelling bee. We host three teams—NEHS, Academic Team, and Staff—in a fight-to-the-finish spelling bee. Usually, we field 5-8 members from each group, rotating in and out of each three-person team, and we even borrow buzzers from the Academic Team, so the event looks more official.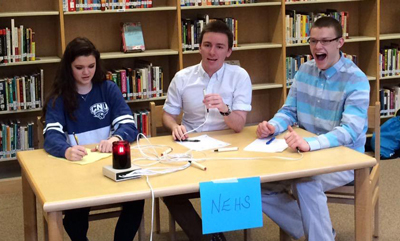 The first year, we provided lists of words to each team to practice in advance. The staff are the ones who took that most seriously, and they crushed the other teams. Now, there is no pre-game list. The Master of Ceremony, our Student Government Association advisor, Jeremy Brown, selects the words, usually the ones that give the "real" national spelling bee contestants difficulty. He varies the rules, but there is an open round where any team can buzz in, a 10-question round for each team, and then a lightning round. Our NEHS officer in charge of the event signs up the participants, advertises the event, helps to keep score, sets up, and cleans up.
The event is held in our media center and there usually is an audience of 50 or so NEHS members, teachers, and curious bystanders. We have held this contest three consecutive years and the interest continues to grow.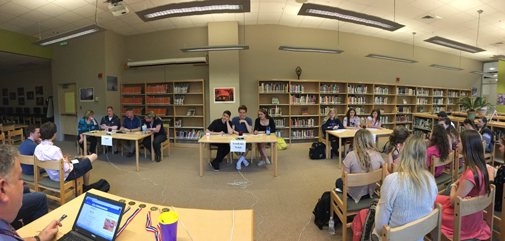 At the end, we award spelling bee medals. (I get these online, very inexpensive) and jars of "Spelling BEE" honey. The honey is a little odd, but people seem to like it.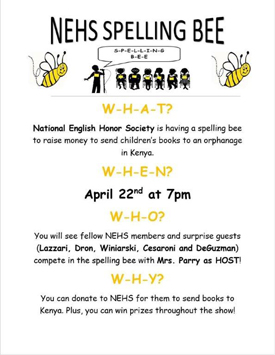 The popularity of the event may be due in part to Mr. Brown. He has been a spelling bee junkie for many years and never misses the annual national spelling bee on television. He injects a great deal of humor into the event and likes to tease the contestants.
Mr. Brown said, "It's exciting to see the students and faculty members get excited about the competition. They have so much energy to show off their spelling skills in a fun, but still competitive way. I also like being the official pronouncer. It's fun to channel Dr. Jacques Bailly!" He added, "[The spelling bee] has lots of different parts of the planning, the preparation, and the execution of the event for NEHS members to use their various skills, including leadership, problem solving, organization, and speaking. AND it culminates in a great event that fosters interests in learning and in the NEHS."
Current NEHS president and former competitor, Ryan Stark, said, "I enjoyed the friendly competition of it. Attempting to show off my English skills in a competition was very fulfilling, no matter what the final outcome came to be. It's an entertaining way to promote English proficiency, I think. Spectators at the event seemed entertained by both comic misspellings and the rush of spelling difficult words correctly. Any enthusiasm for English at all is a good thing."
Linganore hosted its fourth annual spelling bee on March 9, 2016. After a tie-breaking round between the Staff and Academic teams, the Staff once again were victorious! The Linganore Chapter's students hope you are inspired to try a spelling bee of your own. Send your successes, ideas, or questions to Natalie.Rebetsky@fcps.org.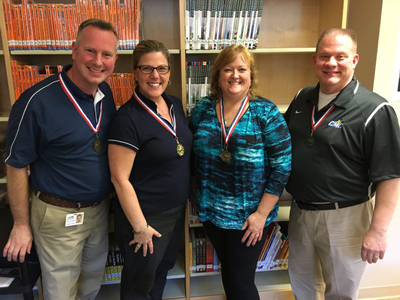 ---
More literary NEHS chapter event ideas can be found at  National English Honor Society Noteworthy Chapter Activities.