The National English Honor Society (NEHS) motto, "Gelest Sceal Mid Are," is Old English for "duty goes with honor." Every year, chapters engage in outstanding projects that exemplify putting the motto into action. This year, NEHS has the opportunity to participate in a joint project with Sigma Tau Delta, the university-level English honor society, and with Sigma Kappa Delta, the honor society for Two-Year Colleges. The project will help raise funds for Dolly Parton's Imagination Library, which provides books to enhance the literacy of children in low-income communities.
Dolly Parton's Imagination Library
The Imagination Library fosters a love of reading among preschool children and their families by providing one specially-selected book each month from birth to the child's fifth birthday. According to David Dotson, the president of The Dollywood Foundation, "Dolly started the Imagination Library as a gift to the children in her home county [in East Tennessee]. We never dreamed this effort would now span several countries and will soon attain an incredible milestone—gifting books to 1 million children per month." The Imagination Library's 2015 Annual Report highlighted some of the program's achievements during its 20th anniversary year:
2 million books donated in 2015
9 million books donated since 1995
A new book is gifted every 3 seconds
Over 915,000 children received a book in December
The program has expanded far beyond America and now operates in Canada, the UK, and Australia, with additional efforts in Belize to discover the program's potential effectiveness in emerging countries.
Fostering Literacy at the Chapter Level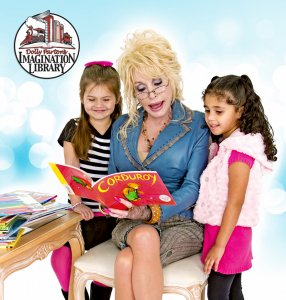 NEHS has the opportunity to help the Imagination Library reach more students and gift books to over 1 million children in need. We challenge all chapters to sponsor ten children. That is only $250 to provide ten children with a year's worth of books! This year, proceeds will be split among South Carolina, Arkansas, and Kentucky—three states greatly in need of our help—along with the company that produces books in Braille.
Chapters should mail a check for the money collected to the Central Office by June 1. Checks should be made out to National English Honor Society (NEHS), and the chapter and school name should be entered in the memo line.
NEHS Central Office
Attn: Imagination Library
Department of English
Northern Illinois University
DeKalb, IL 60115
All money raised will be presented to the Imagination Library in a single check. Please do not send money directly to the Imagination Library.
Resources