Saint Mary's Hall hosted its 7th annual Holiday Literacy Celebration last Thursday, welcoming students from the Jubilee chapter of Boys and Girls Club of San Antonio on our campus. We spent most of our time talking to the Jubilee students, learning everything from their favorite subjects to their birthday plans, as we decorated cookies and colored pictures of Santa Claus and Rudolph. I sat with seven-year-old Alyssa and six-year-old Jeremiah, eventually learning that while Alyssa loved talking about animals (specifically puppies and alpacas), Jeremiah was more interested in just eating his pizza.
Next, all of the students listened to our guest reader, Miss Anastasia, read Llama Llama and Santa Claus is Comin' to Town. As Miss Anastasia narrated the stories, both the Jubilee students and NEHS members were enthralled with her animated facial expressions and voices. Needless to say, all of the children loved her.
As our night reached its end, we carefully spread red and green icing on our cookies, and for the first time, I saw Jeremiah talking, laughing, and jumping just as much as his friends. He intently dusted green sprinkles on his Christmas tree cookie, and, with the rest of the kids, picked out a book to take home. Finally, Alyssa, Jeremiah, and all of our newfound friends lined up to go to the bus, and believe it or not, their smiles had even grown a little bit wider.
---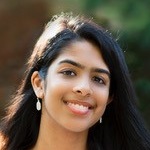 Madhavi Subramaniam
Charles Dickens Chapter, Chapter President
Saint Mary's Hall, San Antonio, TX