Caroline Hammond
Senior Member
Seahawk Lyceum Chapter
Stephen Decatur High School, Berlin, MD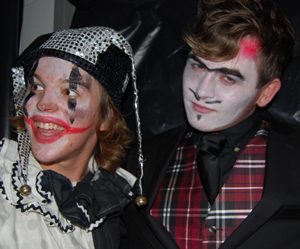 On an October evening last year over 120 community members gathered to brave a stroll through the Poe's Place Haunted Hallway. Winding through the maze-like hallway and adjacent classrooms festooned with spider webs, visitors faced their fears in the "Tell Tale Heart" and "The Pit and the Pendulum" themed rooms, navigating props like a giant pendulum and actors dressed in eerie costumes inspired by Edgar Allan Poe's masterpieces. Overall, 31 National English Honor Society (NEHS) members were joined by 21 nonmember volunteers and 4 teacher advisors to put a Poe-themed twist on a fundraiser favorite: the Haunted Hallway. In the matter of just a few hours, Stephen Decatur High School's (SDHS) English hallway, fittingly dubbed "Poe Place," was transformed into a spooky exhibit of Edgar Allan Poe's literary works.
Planning this event took over a month, with planners Monica McInerney and Barrett Moncure serving as the NEHS chairpersons of the committee. The event was put together with a budget of $200, along with the support of the SDHS community, which propelled the project by contributing set items, costumes, and decorations, all of which were labeled and returned to the owners afterward. The students were responsible for writing a fundraising proposal, selecting texts to influence the visual display, and reserving rooms and the hallway for the event, as well as all of the set-up, clean-up, costuming, set design, sound, sign making, kiddie design (for those too young or scared), make-up, and the bake sale.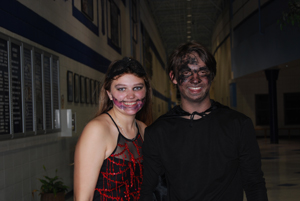 McInerney, now a college student, reflected on the experience: "Everybody got really into the haunted house whether they were in NEHS or not," explained McInerney. She hopes the Seahawk Lyceum will continue to host the Haunted Hallway annually. "The turnout was incredible and it would be amazing if the tradition could continue," relayed McInerney.
Dozens of student volunteers contributed to the project in a variety of ways, including set decoration and costume design. Some of the many students also served as actors during the Haunted Hallway. On the day of the event, volunteers started immediately after school moving desks and stacking chairs in the extremely large classrooms. In order to limit the space that needed decorated, black plastic sheeting was hung from the ceiling, hiding the room's contents and offering actors hiding places. Dark colored bed sheets and screen dividers were used to section off the hall to make it maze like. It was a feverish frenzy to get everything staged in only three hours.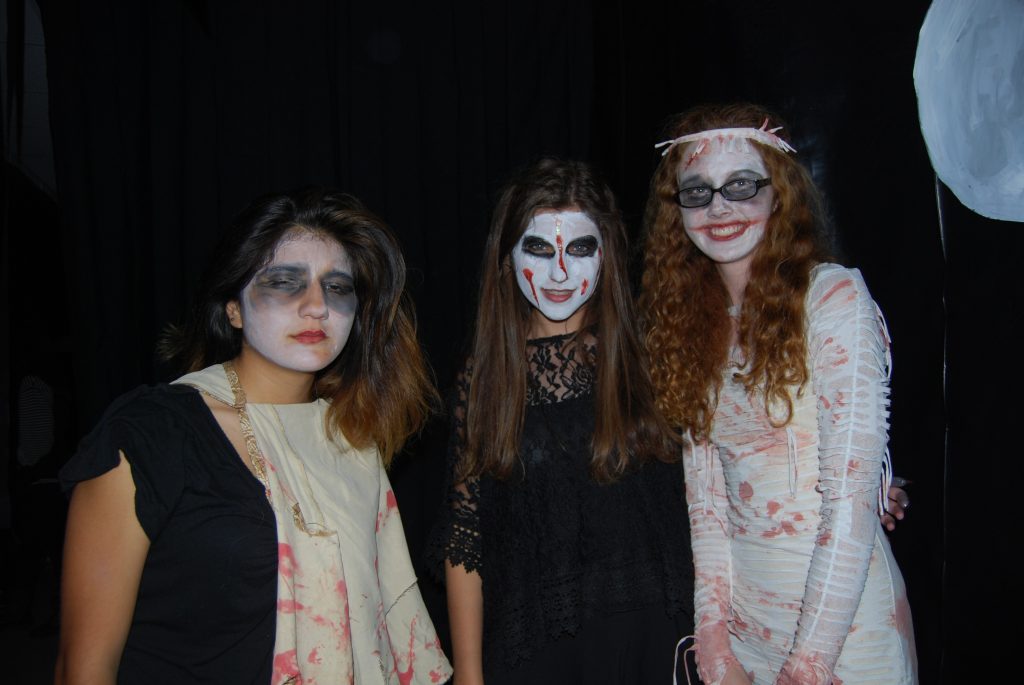 Then-freshman Maggie Bunting was one of the many student volunteers who made this event possible. As part of a service-learning project required for all freshmen, Bunting assisted in set design and also portrayed a zombie. "I went to the meetings where we planned materials and costumes, helped set up after school, acted, and then took the set down." Bunting clearly was one of the many devoted helpers who contributed to the Haunted Hallway's success. She exclaimed, "It was so much fun, I can't wait to do it again this year!"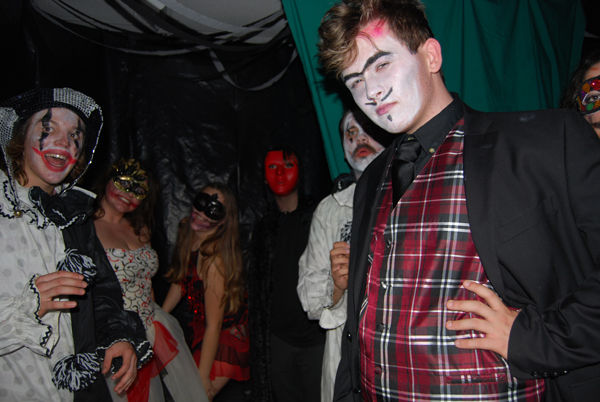 One of the best compliments the students received came from the Worcester County's Chief Operating Officer, Mr. Louis Taylor, who was principal of SDHS for many years. He said he couldn't figure out where he was in the building once he entered the hallway. The students were proud to have fooled Mr. Taylor in his home-away-from-home and honored to have him as one of the first guests in the Haunted Hall of SDHS. Spencer Stinebiser, a ninth grade government student said, "It was really fun, and I made friends with the people involved. It helped me get a good grade on my project."
The second annual Haunted Hallway will be held later this month with a Stephen King theme. The Seahawk Lyceum students hope you are inspired to try a haunted hall of your own. Send your successes, ideas, or questions to klterlizzi@mail.worcester.k12.md.us.
---
More literary NEHS chapter event ideas can be found at  National English Honor Society Noteworthy Chapter Activities.