Upper Darby High School (UDHS) has remained totally virtual this past year. Located right outside of Philadelphia, UDHS is a Title 1 High School, with over 3,800 students, and over 70 languages spoken on a daily basis. Our COVID-19 positivity rates have remained above 10% since August. Many of our students and many in our community have been touched by COVID-19. Our members meet virtually once a month and consistently discuss how we can help our community—we miss being out there volunteering our time and sharing our love of all things ELA related!
National English Honor Society members continued their pledge to serve their community through virtual tutoring. During this time, students are still in need of help and so members have volunteered to tutor students on a variety of subjects including math, reading, social studies, and science. Tutoring sessions are offered after school during times that work best for the students and sessions are thirty-minutes. Students who are being tutored are those from elementary schools such as Walter M. Senkow, Hillcrest, and Bywood.
One of our tutors, Alvina Yousha, describes her experience that her student exceeds her expectations every time, "I am really enjoying being her tutor!"  Yousha enjoys teaching math and delving deeper into math-related concepts so that her student can excel even further in Mathematics. Another tutor, Maymona Talukder, taught math and appreciated her experience as long as there weren't too many pesky internet disruptions.
As more and more students from elementary schools continue to sign up for tutoring sessions, there are more and more NEHS members willing to help. The push to virtual schooling has been difficult for most, but no child should be left behind in their educational pursuit. Members of NEHS are always here to give back to their community in any way that they can.
How did your chapter remain active in their service endeavors this year?
---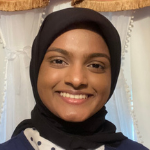 Tasneem Siddique
Royal Oak Chapter, Secretary
Upper Darby High School, Drexel Hill, PA