Collision
Eliana Mendoza
"Connection and Separation"
I have always lived in two completely separate worlds
My first world is always evolving and changing
And though there are new surprises every day
It is also formed by facts
It is filled with flesh and bones
It lives and breathes
It's real
Though the other is written on pages and hidden behind screens
The characters often seem to have more life
Though they do not bleed the same blood as me
Their ink still seems to seep into my veins
Before this,
All of the wonderful and terrible this,
They were separate
I was aware of where I was at all times
I was here or there
There was no in between and I loved it
Because when I lost a loved one,
Whether it was my own dog in West Covina
or Old Yeller in Salt Lick,
I knew that I would always have a shelter somewhere
But somehow
between March 13 and now
The line has become blurred
I can no longer read Pride and Prejudice
Without Mr. Darcy morphing into every prideful protester
Demanding to go outside with guns on their backs
And the prejudiced police who allow this
Simply because they are men
Simply because they are white
Simply because this pandemic to them is nothing but a
Simple inconvenience
When I read Lord of the Flies,
See the chaos that those boys devolve into
I can't help but wonder how long it will take before households turn into islands
Before little boys become men
Before help comes and saves us from the fire
From the fighting
From each other
Now every time I read Waiting for Godot
I see myself in Estragon and Vladmir
I wonder if we are all just waiting for an answer that will never come
Hoping for something without truly knowing what to hope for
But somehow
Even though my worlds are closer than I could have ever imagined
I have never felt so distant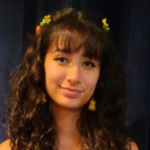 Eliana Mendoza is in the twelfth grade at Edgewood High School. This is her third year as a member of the National English Honor Society and her first year as NEHS President. Eliana is extremely interested in the arts and enjoys creative writing, dance, and theater. She has had an interest in poetry since the sixth grade, but it is only the past 4 years that she has begun to write and perform her own poetry. Her poetry has been influenced by many modern poets such as Amanda Lovelace and Olivia Gatwood.
---
Found In the Lost
Zoe Steelman
"Connection and Separation"
I've found myself among the lost
Among those who are broken
Around those who pay the cost
I spent all this time in the search
Looking and hoping to find myself
Around those held high on a perch
I hoped to be among the winners
But all I found there
Was confusion among sinners
I went toward the popular and pretty
Look for me everywhere
But all I found was sadness and pity
I went to those known to be smart
But all I was left with
Was another broken heart
Then one day I stopped looking for me
I found some people
Who didn't know how to be seen
And only there did I finally see
That those who helped me stop looking
Helped me find me
I've started to find who I am
Surrounded by people I love
Where this journey began
None of us know where we're going
Or even where we've been
But we know that we're together
And we've finally found some friends
So when I stopped looking around the clock
I found myself among the lost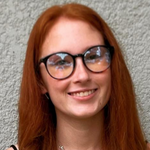 Zoe Steelman is a senior at All Saints Academy. She is a member of the Hemingway Chapter of NEHS. Zoe is driven to write because it allows her to release her emotions and deal with her mental health. As someone with several mental illnesses, writing has saved Zoe from her emotions many times and she hopes she never loses that part of herself.
---
Without an End
Hanley Renney
"Good vs. Evil"
Pictures hung on fraying strings
sag low on the walls, over tarnished rings—
gold reflects softly though the light is spare,
chrysanthemums wilting in the stagnant air.
The floors, untouched, cold on bare feet,
the shadow glides through the silent heat,
a spirit, nay, a ghost, they claim,
the spirit of an old man long ago slain.
He wanders the halls, watching and waiting,
his shuffling soft, though in the silence, grating—
souls skittering under the damning eye,
bidding them, be still, for he is standing by.
Metal scrapes metal as a blade leaves its sheath,
a grim smile in the dark, sharply glinting teeth,
the moment of pause and thickening dread,
then swiftly done, with a hanging head.
Is it in him that evil thrives?
Or could he be good, who takes such lives—
life, that which one is so quick to defend
would have no meaning without an end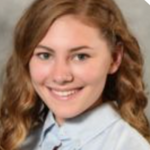 Hanley Renney is a junior at All Saints Academy in Winter Haven, FL, and a member of the Hemingway Chapter. Her passions include writing, the performing arts, literature, soccer, softball, and hunting. She is inspired by many authors, but her favorites include Neil Gaiman, John Green, and Kate Chopin. She has been writing creatively since she was three years old and plans to continue writing as a career.
---
Two Sides of The Same Coin
Amanda Vasquez
"Good vs. Evil"—a reverse poem
You're evil
now don't go thinking
you're actually good
you should know
someone might say
you're trying and doing your best
but they're wrong
People say crazy things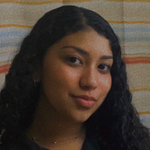 Amanda Vasquez is an eleventh grader at Pembroke Pines Charter High School and this is her second year in NEHS. She joined this society because she's always enjoyed English and language arts. Reading and writing have always been an outlet for Amanda, writing gave her the ability to explain her feelings in the precise way she felt them, and reading became an escape from reality when she was stressed or overwhelmed. In her free time she enjoys writing poems about her current emotions and reading all genres of books.
---
Connection and Separation
Disha Kumar
"Connection and Separation"

A group of friends, sitting together
But not once do they look up or speak to each other
They stare intently at the devices in their palms
This is their solace, the eye of the storm that is calm
Amid the stresses and pressures of peer interaction
The students look to their phones for this profound connection
To talk to anyone at any time of day
Fervently texting, typing away
But as they watch the three dots, awaiting a reply
They ignore those sitting right by their side
Seeking a strong signal strength and a full battery charge
Desperate for a Wi-Fi connection of three bars
Their eyes glued to the screen without a glance away
Absorbed in the plexiglass realm all day
Connecting to power outlets, connecting with others on social media
But separated by facades of profiles they know nothing of
These young adults prefer their technological attractions
Over the now-forgotten joys of face-to-face communication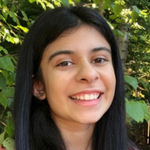 Disha Kumar is a Junior at Northview High School. An avid reader, Disha loves to try books by diverse authors and learn more about the world around her. Although her favorite book is Between the World and Me by Ta-Nehisi Coates, she occasionally dabbles in fiction—namely Agatha Christie's mystery novels and John Grisham's courtroom dramas. Disha is an editor for her school's newsmagazine, the Messenger (follow on social media at @nhsmessenger), and she credits her writing style to this course as well as her AP Lang class. Aside from constantly correcting people's grammar, Disha loves spending time with her dog, baking for friends, and listening to classical music (and if you couldn't already tell, she loves the Oxford comma).
---
Blurred Opposites
Grace Ogden
"Good vs. Evil"
When I think of history
I see it in clear opposition:
Night and day,
Up and down,
Wrong and right.
If movies were in black and white,
Then surely life followed the same even split of antithesis.
The juxtaposition between fairness and corruption,
Love and hatred,
Ending and beginning,
Life and death,
Is crystal clear through the polished lens of hindsight.
But reality is now and has always been multicolor
And the contrast between good and evil is much harder to see
When evil wears a mask of generosity
And promises greatness
And good says nothing
And I wear rose colored glasses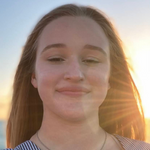 Grace Ogden is currently a junior at Saint Mary's Hall in the Charles Dickens Chapter of the National English Honor Society. She has loved reading and writing since she was little and has written poems, short stories, essays, and even attempted to write novels when she was 8 (though they didn't get very far), and her love of English has grown with her throughout her high school career. She currently takes AP English Language and is looking forward to watching how her skills as a writer continue to improve and develop as she learns more about the intricacies of crafting rhetoric.
---
Lightbringer
Ali Dunn
"Good vs. Evil"
It always struck me as quite strange:
We think dark's evil, death and mange;
Why does the sun, with searing light,
Seem gentler than a starry night?
Why do we fear what we can't see
(From nighttime we are ought to flee),
When in the day, with scheming sky,
There just as many horrors lie:
A gun that sparks, that awful flash,
And brightly burning bombs that crash;
A smoky blaze that beats and burns,
Devouring trees and gentle ferns.
And from the dark that we so fear
You'll find the things we should hold dear:
The spaces quiet, soft, and calm,
These things will give your soul a balm.
The sweet black cat, the loyal crow,
A mother's womb, its pitch-black glow;
A darkened room, dancing the seam
Of wake and sleep, the mind's dark gleam—
What's darkness for, if not to dream?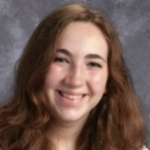 Ali Dunn is a member of the Charles Dickens Chapter of the National English Honor Society at Saint Mary's Hall. She is currently a high school junior, and discovered her love of writing in the fourth grade, after writing a poem for the Young Pegasus Poetry Competition. She enjoys writing ghost stories and metered poetry, and loves the rich, descriptive styles of authors like Gary Soto and Nora Ephron.
---
Outside Connection
Maria Fischer
"Connection and Separation"
I found a poem
(Like Hugo said I would
In his The Triggering Town)
When I wore Haley down
With her Google translate
And Sarah's homework on pg. 25
And my student teacher's drive
To learn and teach
While I reach for my book
And leech words that rhyme
From dear Richard
When all I really wanted to do
Was write more poems
About you.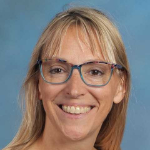 Dr. Maria Fischer teaches English at Joliet Catholic Academy in Joliet, IL. She was featured on her school's broadcast channel WJCA for the workaholic trick of moderating not only the JCA NEHS chapter, but also the Accepting Cultural Diversity Club, the German Club, the American Sign Language Club, and the Future Teachers of America. She also reads a lot.
---
Vampire's Lament
Audrey Nagel-Schoonmaker
"Good vs. Evil"
Moonlight whispers slip into his ears:
the simplest hint of hunger on the wind.
He turns to feel the urging of his fears
overcome him, push him into sin.
He longs to taste the sweetness of her life,
to hold her heart, still beating, in his grasp.
Though his humanity causes him strife,
he cannot turn his head from his grim task.
She swoons within his arms, her scarf comes loose;
her pulse beats rapidly beneath his kiss.
He feels his fate—the tightening of the noose—
But struggles 'til he ultimately resists.
He leaves her on the earth, strangely elated,
despite the gnawing need in him unsated.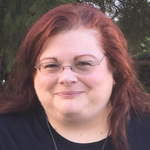 Audrey Nagel-Schoonmaker is the Lead Advisor of the Cardinal Letter Society, Antioch Community High School's (ACHS) chapter of NEHS. She has been teaching for 25 years, 21 at ACHS, and is recently National Board certified. She is proudest of creating both the curriculum for her school's Creative Writing course, and initiating/creating the Creative Writing Advanced course after seeing a desire in her students for a place to further their love of writing—and to receive credit for it. Audrey loves dark, lyrical poetry such as Edgar Allen Poe's, and her favorite thing about writing poetry is the language play: finding just the right word, just the right rhythm, to express her ideas. She wants to foster a writers' community for all who enjoy the art form.