Christina Shin
Chapter Advisor
McLean High School Chapter
McLean High School, McLean, VA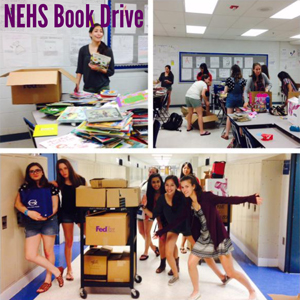 Each year the National English Honor Society (NEHS) recognizes a local chapter which has exhibited outstanding motivation, creativity, and service in the preceding year with the Outstanding Chapter Award. The McLean High School (MHS) Chapter's numerous activities, which went above and beyond to improve community outreach and literacy efforts, key aspects of the NEHS mission statement, have earned them the honor of receiving the 2014-2015 Outstanding Chapter Award.
Over the course of the year members of the MHS Chapter participated in six different events.
1. Operation Gratitude
Operation Gratitude aims to support soldiers through letters of gratitude and encouragement. Students put their literary gifts to use and wrote letters to active-duty soldiers as part of their service requirement.
2. Literary Awareness Campaign
To both improve the appearance of the school and also promote a love of literature, members created posters highlighting literary events and authors to display around the school. They highlighted specific literary holidays such as World Reading Day and National Poetry Month.
3. Book Drives
Throughout the course of the year MHS Chapter members held two book drives to donate gently-used books to Stanton Elementary School in Washington, D.C.
4. After-School Writing Center
The chapter opened and operated the After-School Writing Center to offer extra writing help for anyone seeking peer-review and additional writing instruction.
5. Youth Mentorship Program
MHS also offered youth mentoring to elementary students at Haycock Elementary School. High school students facilitated discussions, offered reading instruction, and served as role models for younger students. Mentors also wrote response letters to their mentees and created book recordings to aid younger students in their reading.
6. Speak Up Initiative
The MHS Chapter partook in the Speak Up Initiative, a public-speaking initiative created to empower youth with effective speaking and debating strategies. Seasoned award-winning debaters from the school worked closely with students at Stanton Elementary School. High school students also discussed future career goals and college plans with students.
The McLean High School Chapter's students hope other chapters are inspired to try some of these projects in their own chapters. Send any questions you might have about these projects to cyshin@fcps.edu.
---
NEHS Outstanding Chapter Award
2015-2016 Applications will be due on Monday, September 12, 2016.
If you have questions about applying for the award next year, please contact Dave Wendelin, NEHS Director, at dwendelin@niu.edu.